Tottenham Hotspur All-Time Premiership XI Vote: Goalkeeper
November 2, 2011
Julian Finney/Getty Images
Hello there, and welcome to the first in a series of articles dedicated to finding the best Tottenham Hotspur XI in the Premiership era. Each article will introduce the players up for selection, position by position, and will throw the vote out to you, the reader.
Comments left on each article will also go towards deciding any particularly close decisions, so back up your vote with a comment supporting your choice. Where else to start but with the Goalkeeper? Here are the contenders:
Ian Walker
The former England international kept goal for Spurs for five full seasons with distinction, making 173 Premiership appearances in the process and earning three England caps. Although Walker is widely considered responsible for England's 1-0 reverse against Italy in a World Cup qualifier, his appearances for Tottenham were consistent. He took over as first-choice from Norwegian Erik Thorstvedt in 1995 and held the shirt until Neil Sullivan's arrival in 2000.
Walker kept goal during a time when Tottenham largely underachieved in the Premier League, but he did play in the 1999 League Cup triumph over Leicester City at Wembley. England international—check. Trophy winner—check. Terrible haircut—check.
The man was a Tottenham player through and through.
Neil Sullivan
The next contender was only at Spurs for two full seasons, playing under both George Graham and Glenn Hoddle. Sullivan is the only candidate in this vote to have won the club player of the year award (2001); he also won 13 international caps for Scotland during his time at the club.
Sullivan will remembered at White Hart Lane for pulling off seemingly impossible saves, often from point-blank range, but mainly, like Walker, contributing (through little fault of his own) largely to a mediocre period in the club's fortunes.
With mid-table finishes and nothing in the trophy cabinet, Sullivan has little other than his club award to distinguish his Tottenham career. But that isn't to say that he wasn't a top-drawer stopper—he indisputably was.
Paul Robinson
Robinson was signed from Leeds United in the summer of 2004 following their relegation from the Premier League. Robinson's time at White Hart Lane coincided with an upturn in fortunes at the club. During that time, Robinson earned 37 of his 41 England caps.
Playing largely under Dutchman Martin Jol, the Yorkshireman contributed to Tottenham's consecutive fifth-placed finishes (2006 and 2007). He enjoyed a fruitful time between the sticks at Spurs, including scoring a goal in a 4-0 victory over Watford, as well as helping the club to their 2008 League Cup triumph over Chelsea.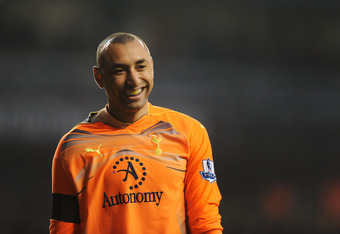 Michael Regan/Getty Images
Always a fan favourite, Robinson's form dipped towards the end of his spell at the club under the dubious stewardship of Juande Ramos, resulting in his surrender of his England place. He was eventually sold to Blackburn Rovers, where he is slowly re-building his reputation.
Despite this, he is rightly remembered fondly by fans for the successful spell the club enjoyed during his stay.
Heurelho Gomes
The inclusion of the error-prone Brazilian as a contender in this vote might surprise some, especially given the fact that he is still at the club, unable to shift a 40-year-old free transfer in Brad Friedel from the starting 11.
But it would be unfair to exclude the goalkeeper who played for the side during the club's two most successful campaigns in recent history. For anyone who wishes to doubt Gomes's contribution to this success, recall the man-of-the-match-worthy saves made in the crucial 2-1 victory over Arsenal, as Tottenham ascended into the Premier League's top four, as well as countless other incomprehensible saves.
Without Gomes's contribution, those memories of playing the Milan clubs in last season's Champions League would be nothing but fantasies.
For that alone, he deserves serious consideration.
So there you have it—four goalkeepers to choose from. Place your vote to help get your favourite into the final 11—and remember to leave comments to back up the support of your choice. That could go a long way in deciding who makes the cut.
Vote now!