Tottenham Hotspur All-Time Premiership XI Vote: Central Midfield
December 5, 2011
Julian Finney/Getty Images
So here we go again—the defence has almost taken shape. Now it's time to start formulating the greatest Tottenham Hotspur (also known as Spurs) midfield of the Premiership era. You'll be asked to vote for your favourite from a list of candidates, but be sure to back your vote up with a comment. If it's close, the arguments made for and against each candidate could prove decisive.
We'll start the midfield with two central players. Before we do, click on the links below to place your vote for the goalkeeper and defenders that you think should make this team if you haven't already:
Tottenham Hotspur All-Time Premiership XI Vote: Goalkeeper
Tottenham Hotspur All-Time Premiership XI Vote: Right-Back
Tottenham Hotspur All-Time Premiership XI Vote: Left-Back
Tottenham Hotspur All-Time Premiership XI Vote: Centre-Back
I'll be making the case for six different central midfield candidates from Tottenham Hotspur's Premiership teams past and present. Vote for your favourite (remembering to follow-up with a supporting comment), and the top two will make it into the final XI.
Steffen Freund
After decorating himself with prestigious honours at both club and international level with Borussia Dortmund and Germany respectively; including the Champions League and European Championship, Steffen Freund moved to White Hart Lane and won the League Cup. But in all seriousness, Freund played over 100 games for the Spurs with distinction. Despite being most famous for a growl, and the fact that he never scored a goal, he was and still is a real fans' favourite. After spending five years at the club before returning to his homeland in 2003, he was inducted into the Tottenham Hall of Fame in 2009.
Gustavo Poyet
The 18 goals scored in 82 appearances over the course of three seasons might not make Poyet the best statistical argument for a place in this XI. However, he played a part in the early stages of Tottenham's transformation from mid-table underachievers to more consistent challengers for cups and European places. Despite falling short at the final hurdle in the 2002 League Cup final, Poyet has been a solid performer for Tottenham. As a goalscoring central midfielder, he has given the club an asset they had not had before in the Premiership era. Perhaps it would have spear-headed a greater surge up the table had his spell not been interrupted, and ultimately ended by knee injuries.
Carrick joined Tottenham under a cloud of controversy. Initially he was not selected by then manager, Jacques Santini, on the basis that he was purchased by the club's "hierarchy" rather than the manager himself. Yet with the end of the Frenchman's reign and the appointment of Martin Jol, Carrick emerged as a key player in the dutchman's Spurs revolution. In Jol's first full season in charge and Carrick's first full season in the team, the Hotspur seriously challenged the Premiership's top four for the first time. Carrick was at the centre of everything good that the Spurs did during a match. Jol made it clear when interest emerged from Manchester United that his man was not for sale.
But after falling short in the last game of the season at West Ham (no one mention lasagna), the lure of the Champions League football at Old Trafford was too much for Carrick to resist. He was eventually the subject of a reluctant £18 million sale. Although the Spurs finished fifth again the following season, it was at a great distance from fourth place as Carrick's absence was felt. He may not be remembered fondly for his perceived defection to Manchester, but Carrick was a quality player. He played a pivotal role in the best Tottenham team of the Premiership era before Harry Redknapp's arrival to the club.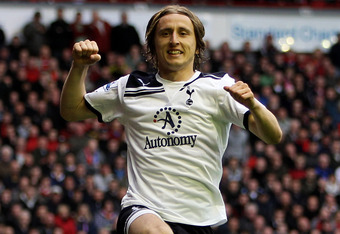 Michael Steele/Getty Images
Luka Modric
At the risk of revealing the author's hand in this game, Luka Modric has to be considered as one of the best players in the Premier League today. Rivalled only by Manchester City's David Silva for creativity and passing ability. The Croatian temporarily split loyalties among Tottenham supporters over the summer during his eventual non-transfer to Chelsea. Although some fans expressed anger towards him, Modric's stunning opening goal against Liverpool in the 4-0 victory, and his virtually flawless performances have made the unwelcomed news stories a distant memory.
He has long been described by Harry Redknapp as a world class player. He is unquestionably the heartbeat of the entire Spurs ethos. Some would argue he needs to add goals to his game. He has yet to score more than five goals in a single season with the club. Without Luka Modric, the Tottenham Hotspur football club are only half the team we've seen recently. The very fact that the normally frugal Daniel Levy is reportedly considering making Modric Tottenham's first ever £100,000 per week player, is testament to the man's ability and his importance to the team.
Tom Huddlestone
It seems odd to include Huddlestone in this list against some of the other contenders given that he would arguably struggle to get into the current team when fit. But he played a massive role in what still has to be considered the best Spurs team of the Premiership era. He played more matches in midfield than anyone in the 2009-10 season; in which Tottenham finished fourth to clinch Champions League football. Not to mention the fact that he captained the team on their most famous night in recent memory, their 3-1 win over Internazionale Milano.
Huddlestone was also a member of the 2008 League Cup winning team. He broke into the England team in 2009 on the strength of his performances in Tottenham's midfield. Known for his ferocious shooting ability and strong range of passing, Huddlestone is one of the most stylish players in Tottenham's Premiership history. He deserves serious consideration for this XI.
Scott Parker
He may not have been at the club for long, but Scott Parker's arrival at White Hart Lane has coincided with one of the most dramatic turnarounds imaginable. After two defeats at the beginning of the season prior to Parker's arrival, the Spurs had zero points. They were bottom of the table with a minus eight goal difference. Then Parker made his debut. What happened next? Ten wins from 11 matches, 31 points from a possible 33, unbeaten and third in the table with a game in hand. If they had won, it would have taken the club above Manchester United into second, behind only Manchester City.
Parker certainly can't take all of the credit for that. However, his role in the run of form the Spurs are currently on cannot be understated. He has gone from an international, ran at becoming the first name on Fabio Capello's team sheet, and his energy and work-rate have galvanised every player around him to perform to the absolute peak of their abilities. He is a natural leader —a captain in all but name—and last season's Football Writers' Player of the Year could well be on his way to another similar award, if Tottenham can once again breach the top four and break into the Champions League.
So there are your choices—this is going to be a tough one. Remember to leave a comment after you vote. Because if it's close, it could be the difference between your favourite making the team or not.