New York Jets: Playoff Hopes on Life Support After Loss to Giants
December 26, 2011
Christopher Pasatieri/Getty Images
Although mathematically still alive, the Jets don't look like a playoff team.  
Saturday's game against the Giants might as well have been a repeat of the game against the Eagles. Just change the color of the opponent's uniforms. All the ingredients were there: A Christmas Eve wish list that turned out to be nothing more than lumps of coal.
Over-confident boasting not backed up by a competent game plan? Check.
Solid run game inexplicably abandoned for a pass-happy offense when the game was still within reach? Check?
Complete dereliction of duty by the offensive line with regard to pass protection? Check.
Jumpy, skittish quarterback play punctuated by brutal sacks and costly turnovers? Check.
It's almost like I can autofill the text above for every Jets loss this year. And that's the most disheartening thing. The Jets haven't learned from their losses. They can't seem to identify their mistakes, and even if they can, they seem unable to implement a plan to surmount them—which are basically flip sides of the same coin.  
Lo, how the mighty have fallen. From 11-5 and within three minutes of the SB last year to a likely 8-8 finish.  
You really think the Jets can beat Miami? I have my doubts. The Dolphins were up 17-0 on the Pats this weekend. It took Tom Brady heroics to bail them out.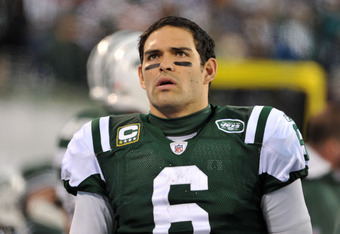 Christopher Pasatieri/Getty Images
Mark Sanchez can't bail this team out. Not right now, at least. I fear that his shoulder and neck are more seriously injured than he or anyone on the team is letting on. If you watch his pocket demeanor, he is clearly trying to minimize the impact of any potential hits to his throwing shoulder and arm. So, what does Brian Schottenheimer do? Call 59 pass attempts.  
But why?
Am I the only one who is tired of Schotty skating off scot free after games without ever having to face the music in postgame press conferences and answer for his inexplicable play-calling?  
Why go away from the run?  The Jets were doing a fine job with it. The score wasn't out of hand.  
The run sets you up for everything Sanchez does well: play-action, roll outs, screens...but once again, Schotty started calling a game like his QB is Drew Brees. I'm sick of hearing myself complain about it. 
Yes, the 99-yard Victor Cruz TD was demoralizing. But if that is what makes you fall apart, you need to take a serious look at your mental toughness and resiliency. Yes, the Giants secondary can be picked on. But that doesn't mean that should be the entire game plan, especially since a pinpoint downfield passing attack is not the strength of your QB.  
In the end, all this year, I keep coming back to that one idea: The game plans do not maximize the (considerable) strengths and talents of the entire offense.  What you have is a mobile, athletic QB who is not great at constantly winging it downfield. Maybe he'll grow into that.  But it is moot because you lack the most important ingredient for him to evolve into one and be successful: an offensive line that can protect him.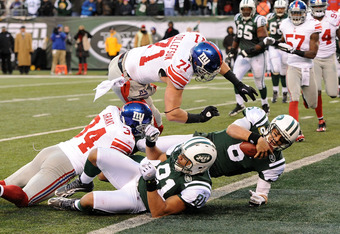 Christopher Pasatieri/Getty Images
You can still win, though, by controlling time of possession and moving the chains with short passes, roll outs, screens, bootlegs and a smartly deployed run attack.  
It is long past the time for there to be some accountability for the offensive game planning. It's sometimes seems like the play that is relayed in bears no relation to what is actually unfolding on the field.
I'll give you a perfect example. Over and over, Sanchez had passes batted down at the line. That should tell the coaches two things: The Giants know you are going to target the middle of the field, and it is easy for them to anticipate it and stop it.  
Predictable play-calling is a recipe for getting beat.  
Ultimately, this likely lost season rests at the feet of Rex Ryan. I'm all in favor of building up one's players and proclaiming your belief in them. But there is a fine line between building up your team and expressing confidence and what Ryan spent all last week doing: pouring gasoline on the smoldering embers of the Giants' season and then letting all his hot air fan those flames to a Giants victory that was very, very personal. Look no further than the Giants' postgame comments.  
This loss was another heartbreaking missed opportunity. The Jets controlled their playoff destiny and they threw it all away—a combination of lack of execution, stubborn refusal by the coaches to meet reality head on and wishful, magical thinking instead of a clear-eyed assessment of both the both talents and limitations of your squad and then putting them in position to maximize the first and minimize the latter.
Change is coming in the offseason.
You can't go 8-8 or at best 9-7 and not expect it. What scares me is that I have no confidence that a Jets team that has been unable to clearly diagnose and implement cures for the issues that have dogged them all season will be able to see any clearer in 2012.
Happy new year? I'm still waiting for forward progress.