Cleveland Cavaliers Early Impressions: The Good, the Bad and the Ugly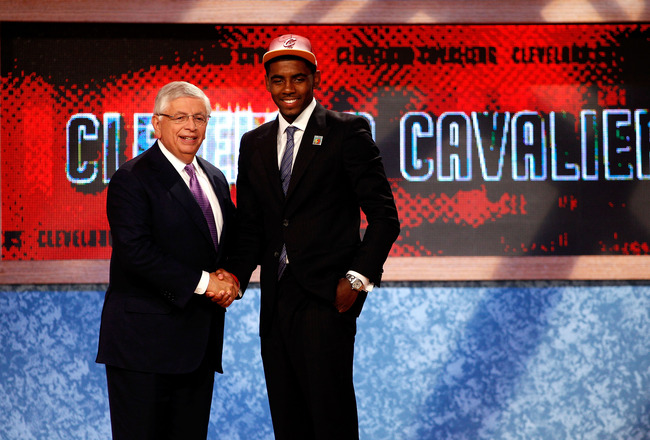 Will the Cavs experience deja vu come next June's NBA draft?
Mike Stobe/Getty Images
The 2011-2012 Cleveland Cavaliers are a work in progress.
Anyone who thinks this year's Cavs squad is playoff-bound is as delusional as owner Dan Gilbert in his attempts to erase LeBron James from the team history. (Believe it or not, Gilbert's tried to do this. Walk around Quicken Loans Arena, and there's literally NO mention of LeBron nor his contributions to the Cavs' recent success).
After last season's abysmal 19-win showing, it would be easy for the casual fan to be indifferent to the team's development going forward.
Dan Gilbert surely hasn't endeared his team to potential free agents following his anti-LeBron campaign and efforts to block the Chris Paul-to-the Lakers trade.
Tuesday night's preseason game with the Pistons was the dress rehearsal for the 2011-'12 season.
Many of the players were still rusty from the time off, and after all, this was still the preseason. After attending the game, however, I came away with several distinct impressions about the roster going forward.
The following slides discuss the good, the bad and the ugly.
The Good: Kyrie Irving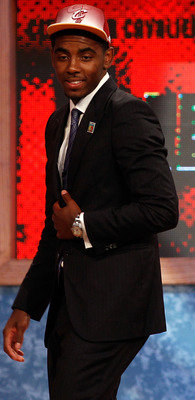 Kyrie Irving should start from Day 1.
Mike Stobe/Getty Images
Kyrie Irving is as good as advertised.
He's not going to be an elite point guard in his first few NBA seasons, but if the Cavs can build around him, he will develop into a perennial NBA All-Star. It's not a stretch to say that right now, he's the most gifted player on the team.
The second unit clearly looked better with Irving running the point than the starters did with Ramon Sessions. Irving is quick, and has great handles and a reliable jumper.
Although he didn't shoot the ball well from the field in the two preseason games, he has a much more diverse offensive game than either Sessions or Daniel Gibson.
With Baron Davis gone, Kyrie should be handed the keys to the Cavaliers offense from Day 1. With limited passing options, the 19-year-old will undoubtedly hit some stumbling blocks, but he wasn't the No. 1 pick for nothing.
The NBA is a trial-by-fire league, so there's no point in holding him back.
The Good: Omri Casspi
Casspi will be a fan favorite in Cleveland.
Christian Petersen/Getty Images
Omri Casspi has made a believer out of me. I wasn't thrilled when the team traded forward J.J. Hickson for Casspi in June after drafting Tristan Thompson; Casspi had an uneven first two seasons in Sacramento.
Watching him play, however, it's apparent that he's a strong competitor who impacts the game when on the floor.
Long, athletic and gritty, Casspi is a scorer who can finish at the rim, crash the boards and hit the three, although his shot doesn't have the prettiest rotation to it.
Casspi's passionate play had a noticeably positive impact on his teammates much the way Anderson Varejao's hustle changes the outcome of 50-50 loose balls.
Like Irving, Casspi came off the bench yesterday, but needs to be moved to the starting lineup once the season begins.
The Good: Anderson Varejao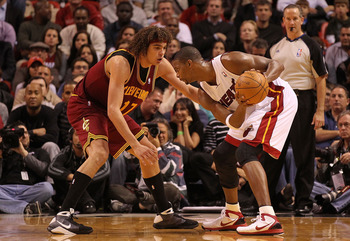 The Cavaliers are clearly a better team with Varejao on the floor.
Mike Ehrmann/Getty Images
The Cavaliers missed Anderson Varejao dearly last season.
Andy was on his way to a career season until suffering a torn ligament in his ankle. He proved that he can be a productive player even without LeBron, and that his energy, hustle and rebounding are invaluable contributions to the mostly passive Cavaliers roster.
After trading Hickson, Varejao is far-and-away the best rebounder on this year's squad. His emotional leadership and team-first attitude will undoubtedly help the team get through another tough upcoming season.
Hopefully his hustle and guidance also will help accelerate the development of Tristan Thompson.
The Good: Anthony Parker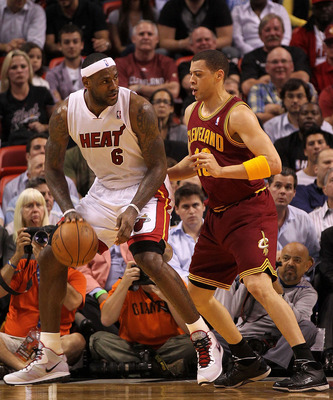 Parker's defense is his greatest asset to a young Cavaliers team.
Mike Ehrmann/Getty Images
GM Chris Grant's decision to re-sign 36-year-old shooting guard Anthony Parker was puzzling.
The team could have given the starting minutes to Manny Harris or Christian Eyenga to see what they've got in the two young prospects going forward. Once Baron Davis was waived, however, re-signing Parker made more sense.
In yesterday's game, Parker showed he still has some game left, and can score with ease against lesser opponents. His defensive awareness is also a vital asset for a young team searching for an identity.
The Bad: Tristan Thompson
Tristan projects primarily as a defensive stopper.
Ronald Martinez/Getty Images
Rookie Tristan Thompson showed a mixed bag of results in Tuesday's game.
An aggressive rebounder and defender, Thompson will do well to take his cues from fellow hustler Anderson Varejao. I liked Thompson's aggressive approach attacking the rim.
Unlike J.J. Hickson, he knows he doesn't have a reliable jumper, and likely won't settle for many.
Like J.J., however, Tristan seemed to forget he had four other teammates to pass to. His offensive game is definitely raw. Hopefully crafty vet Antawn Jamison can help him refine some low-post moves.
The Bad: Daniel Gibson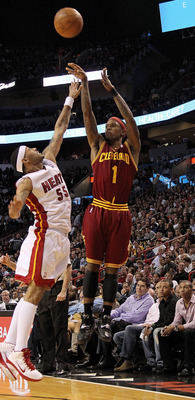 Boobie's never met a three-point-shot he didn't like.
Mike Ehrmann/Getty Images
Daniel Gibson continues to make a living as a one-dimensional player.
After showing initial flashes of improvement early last season, Boobie has returned to his predictable ways of jacking up threes and dribbling with his head down.
The Pistons exposed a glaring weakness in his game whenever applying tight defense to the 6'2'' guard.
Along with Ramon Sessions and Kyrie Irving, Gibson makes up a trio of shoot-first Cavalier point guards.
The Bad: Ramon Sessions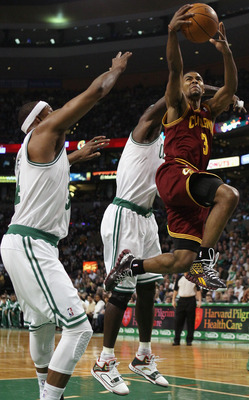 Sessions is aggressive but expendable.
Elsa/Getty Images
Unlike Gibson, Ramon Sessions continues to prove he can't shoot, but can score by going to the rim.
Yesterday's game was an ugly showing for Ramon, however, as he blew a few wide-open layups and couldn't get into a rhythm with his teammates.
With either the starters or reserves, the offense looked clearly better with Kyrie at the point. If Cleveland is lucky enough to find a willing trade partner for Sessions, he should be moved.
The Ugly: Ryan Hollins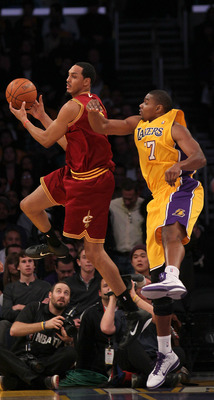 This may be the highest I've seen Ryan Hollins jump.
Stephen Dunn/Getty Images
Pound-for-pound (or inch-for-inch), Ryan Hollins could easily be the worst player in the NBA.
I've never seen a 7-footer so routinely outplayed by shorter, smaller opponents. Unable to finish at the rim and passive on the glass, Hollins is only seeing the floor due to Semih Erden's broken thumb. Somehow, he managed to foul out in a preseason game.
Hollins elevated his game last season following the acquisition of Baron Davis.
Now that Baron has departed, however, he'll have to find another source of inspiration to elevate his level of play. An inability to do so should cost him his job as reserve center once Erden recovers from injury.
The Ugly: Luke Harangody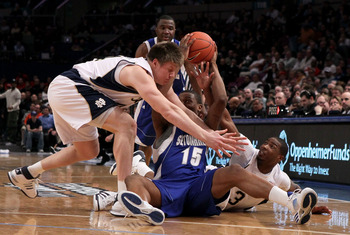 No one will ever accuse Luke Harrangody of being graceful.
Jim McIsaac/Getty Images
No one was anticipating Luke Harangody to be a difference-maker this season.
The 6'8'' forward from Notre Dame showed occasional glimpses of promise last season, scoring 18 points in an upset win over the Knicks in Madison Square Garden.
With Manny Harris waived and Christian Eyenga behind schedule in his development, Harangody's preseason performance could earn him extended reserve minutes in December and January.
Despite his opportunity, Luke didn't help his cause by clanking a wide-open game-winning 12-footer off the backboard in yesterday's loss.
Keep Reading

Cleveland Cavaliers: Like this team?