Fantasy Basketball ADP Report: Finding Sleepers and Busts
December 20, 2011
Streeter Lecka/Getty Images
Everyone wants to know who the sleepers and busts of the fantasy basketball season are going to be. But you can't just ramble off names of guys you like or don't like. Sleepers and busts are all based on value and value is determined by where a guy is going to be drafted.
If you are taking a flier on a guy like Jordan Hill in the last round and he flames out, that's not a bust. That's the risk you take at that point in the draft. However, if you take a guy in the Top 25 and he finishes the season as the 50th best player in the league, that's a bust. A guy doesn't have to play poorly to be a bust—he just has to play worse than expected. And a guy doesn't have to play great to be a sleeper—he just has to exceed expectations.
All of that is to say that I have been studying the average draft positions of guys in ESPN's drafts and here are four guys I think are being drafted too high and four I think are going too low. In parentheses is their current ADP.
Too High
 
Blake Griffin (13.6): I love Blake Griffin. I love to watch the guy play basketball. I can't wait to see him playing with Chris Paul. And I would love to have Griffin on my fantasy team. However, you won't ever find me taking Griffin 14th overall.
Right now Griffin is being drafted above Pau Gasol, Dirk Nowitzki, Al Jefferson and Monta Ellis.
No matter how much you like Griffin, you have to realize you don't get style points. Playing with Chris Paul elevates Griffin's draft stock, but until he takes another step forward and becomes more than a two-category contributor—or dunks becomes a category—he can't be drafted ahead of Gasol and Nowitzki.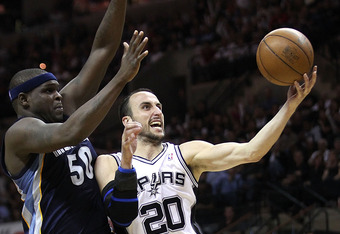 Jed Jacobsohn/Getty Images
DeMar DeRozan (72.4): Speaking of players limited in category production, DeMar DeRozan is for all intents and purposes a one-trick pony. DeRozan is a very good scorer, but he doesn't shoot threes and doesn't get assists or rebounds. He will get about a steal per game, but that, coupled with his 18-20 points per game, isn't enough for me to justify him being selected above James Harden, Jason Richardson and Jason Terry.
Right now DeRozan is the No. 10 shooting guard off the board, which seems crazy to me.
Jimmer Fredette (104.4): I have Jimmer fever. I would love to see this guy's skills translate from college to the NBA and for Jimmer to be a valuable player for the Kings and his fantasy owners. But there are a lot of question marks here—too many of them to validate this draft position.
Fredette should be a fringe pick for the last round of a standard league, but instead he's going ahead of Jordan Crawford, Rip Hamilton and Tony Allen. There's nothing wrong with having Jimmer fever, but don't let it make you do crazy things.
Tyson Chandler (69.9): This one is not a travesty or anything like that. Chandler is currently the 15th center coming off the board. I have Chandler as the 19th center off the board, but I won't go to the mat fighting against Chandler at 15.
This is all about value by comparison, though.
Chandler is going in the Round 7 of a standard 10-team league draft. Emeka Okafor is going 25 picks later in the 10th round. Last season, Chandler had 10.1 PPG, 9.4 RPG and 1.1 BPG. Okafor had 10.3 PPG, 9.5 RPG and 1.8 BPG. I don't anticipate that either guy's stats will change much this season, and that means by taking Chandler, you're getting the same guy you could get three rounds later.
For reference, DeAndre Jordan and Chris Kaman are all going around the same area as Okafor. Chandler's signing with the Knicks makes the Knicks a better team. However, playing for the Knicks doesn't enhance Chandler's stats drastically in my opinion. Chandler's stock is going up based on the team he plays for and that's dangerous.
Too Low
 
Jeff Teague (116.3): I am higher than a lot of people on Teague this season, and so I might be a bit partial, but this draft spot seems crazy to me. Teague is getting picked after several guys who aren't guaranteed starting jobs and some who we know won't be starting for sure. The list includes Andre Miller and Mo Williams.
Teague has been the point guard-in-waiting for a couple years now, and finally the job is his. Teague made a name for himself in the playoff series against the Bulls last season when he scored 21 points in three of the six games. I think Teague could finish this season with 14 PPG, six APG, one SPG and one 3PG.
Those numbers aren't far off from those of Devin Harris, who is going about six rounds higher.
J.J. Hickson (114.8): I've been a big fan of Hickson's all offseason long, and I think this draft position is a bit crazy. The news about Chuck Hayes failing his physical is very saddening and I wish him the best. But it does have a fantasy impact, and that is that J.J. Hickson's value goes up a bit more with one of the Kings' many big men not able to play.
I know that Hickson stats gouged a little on a bad team at the end of last season, but you shouldn't just ignore the numbers he put up. Hickson averaged 16.8 PPG, 10.8 RPG, 0.7 SPG and 0.7 RPG after the All-Star break last season.
Cousins won't be an easy guy to share the paint with, but Hickson won't be just some afterthought. I really like the upside of a guy like Hickson in the 12th round.
Manu Ginobili (42.2): I like Manu more than most and that's what puts him on this list, but for most people, 42 is probably about right and that's where you can get him in your league. I have him at 32, though, and I think he's that good.
People tend to underrate Manu because he doesn't blow you away in any category, but he contributes in a bunch of them. Manu will get you 16-17 points, 4.5 assists, 3.5 rebounds and close to two three's without hurting you in a single category.
I know that he's 34 and some people think he's declining, but I haven't seen it on the court. Until I do, I am going to keep calling him underrated and happily taking a borderline top 30 player with the 40th pick or worse.
Ed Davis (108.6): Davis is winning me over and I think he's a legitimate top 100 pick at least—I am starting to like him inside the top 90. In the middle rounds, you typically find one- or two-category specialists and guys who can do a couple things decently, but nothing very well. Davis has the potential to be a serious contributor in multiple categories, though.
People are afraid of a time-share with Amir Johnson, but I think Davis wins the starting job and Amir plays backup to both Davis and Bargnani. Both guys could easily get 25-30 minutes per game and be productive. Initially, I was higher on Amir, but have gravitated towards Davis recently. If you can get him at 108, then you have gotten a steal.
Who do you guys think is going too high or too low in your drafts? Has anyone noticed trends in mock drafts? Give me your thoughts and feel free to ask any questions.