LeBron James: Time for the "Villain" Label to Fade to Black
December 19, 2011
Last week, the Miami Heat unveiled all-black alternate road uniforms, re-opening the asinine talk of LeBron James playing the villain. Granted, it will be easier for James, Dwyane Wade and Chris Bosh to wear the black hats in black unis, but the time has come for LeBron's villain label to die.
When LeBron took his talents to South Beach, he offended the sensibilities of millions. He dashed all hopes for a fairy tale people are suckers for; the local boy did not make good, he left town. He escaped the down-trodden, long-suffering city of Cleveland for the glamour, bright lights and tropical climate of Miami.
Athletes in every sport leave their teams every season without having their character assassinated for it.
Chris Paul just left New Orleans for Los Angeles. Why is no one calling him a traitor? Where is the video of Hornets fans weeping in bars on Bourbon Street or burning CP3 jerseys in a unified display of disgust? At least LeBron left Cleveland when he was a free agent, instead of demanding a trade out of a small market like Paul did.
Meanwhile, at least Chris Paul had the good sense not to announce the trade himself on a 30-minute ESPN special. Many people do not take umbrage with James' move to the Heat, but they despise the media circus he orchestrated to announce it. The Decision was audacious and condescending, but villainous?
Not a chance.
That being said, even the LeBron/CP3 comparison misses the point.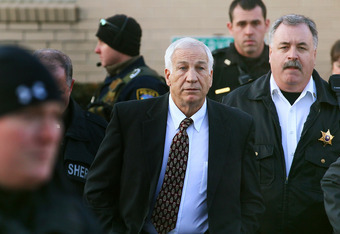 Mark Wilson/Getty Images
As sports fans, we have to grow up. Making an unpopular business decision does not make an athlete a villain. It does not matter if he leaves for more money or more fame; it does not matter if he leaves his hometown like LeBron did. Choosing to leave a team—or stay with one, for that matter—does not reflect one iota on a man's character.
This year has given sports fans our fair share of villains. If you are looking for someone to spew vitriol upon, you have several candidates.
College assistant coaches Jerry Sandusky and Bernie Fine allegedly molested young boys. In Sandusky's case, university administrators knew and did nothing about it. If the allegations are true, those men are villains of the lowest order.
Chicago Bears wide receiver Sam Hurd allegedly attempted to buy enough pot to fill Soldier Field. This was after he signed a lucrative contract with the team. A millionaire athlete who does not appreciate his good fortune and tries to sell drugs to make even more money is certainly a villain.
Barry Bonds committed obstruction of justice against the Federal Government, and if that wasn't villainous enough, he received star treatment at sentencing, receiving 30 days house arrest and two years of probation for a crime the Average Joe would do serious time for. A rich criminal who gets away with a crime: that is an old-school Charles Dickens villain.
LeBron James left one basketball team for another. He did not hurt anyone; he did not commit a crime.
No matter what color jersey he is wearing, Lebron James is not a villain. We all need to stop pretending that he is.