Mat Latos Traded to the Cincinnati Reds Via San Diego Padres—Fully Digested
December 19, 2011
Stephen Dunn/Getty Images
Mat Latos is now a member of a Cincinnati Reds team that was in desperate need of a top-of-the-rotation pitcher. In layman terms, Latos is the ace arm who will lead the club to the NL Central crown, and possibly much further.
A deal of this magnitude should not be written with knee-jerk sentiment. Time is needed to dissect all players involved and remove initial emotions so to study all players in a proper fashion.
The Reds gave up a ton to acquire their prize, namely first baseman Yonder Alonso, pitcher Edinson Volquez, catching prospect Yasmani Grandal and pitching prospect Bradley Boxberger.
Alonso is blocked at first by former MVP Joey Votto. He could play left field, but judging by last season's horrific defense, he would have been a liability. Would his bat have made up for poor play in the outfield? Probably so, but not by much.
Volquez, as a Reds blog said, "is now someone else's problem." While not quite a clubhouse cancer, his lazy attitude, combined with poor pitching, could easily lead to terminal-team tumors.
Grandal, while a tremendous prospect as defensive backstop and game caller, is unlikely to hit his body weight anytime in the near future. After that, it's doubtful that he'll be anything better than a .260 hitter with limited power.
Boxberger is the toughest pill to swallow. The potential set-up man and possible future closer would have likely broke camp with the big club.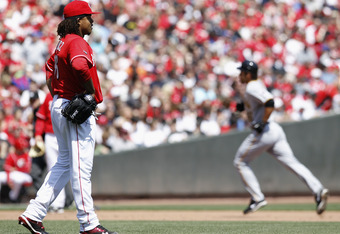 Joe Robbins/Getty Images
Hal McCoy quoted General manager Walt Jocketty, "The Padres wouldn't do the deal without Boxberger and that was a tough decision because he had a very good second half last season and a good Arizona Fall League."
But Walt did add, "We have a couple of things on the back burner and maybe one on the front burner. We'd still like to obtain another pitcher."
So what makes Latos so special? Simply put, he is a young stud not eligible for free agency until 2016.
With over 40 years of covering the Reds, McCoy knows what he's talking about. He says, "Latos has a fastball that touches 97 miles per hour, but he has four pitches and good control."
The 6'6" right-hander's best pitch is his electric four-finger fastball averages about 93 MPH and tops out at 97 MPH. He also throws a two-seamer. He keeps both down in the strike zone. In other words, a near perfect fit for the Reds' cracker-box home stadium. 
His breaking stuff, you ask?
Latos' curveball comes in hard with good rotation.
The slider is his "out" pitch. According to ESPN.com, "Latos' .123 batting average allowed on the pitch and his miss percentage of 49 percent against all hitters both ranked second-best among the 90 starting pitchers that threw at least 300 sliders."
Ezra Shaw/Getty Images
He can also throw a change, but doesn't rely on it often. With the aforementioned assortment of hard stuff, why would he?
Last season, Latos' ground ball/fly ball ratio of 0.81 was good enough to rank 16th in the league, better than Cy Young Award winner Clayton Kershaw. 
Even when he does throw flies, only 7.6 percent leave the yard, 2.2 percent better than division rival Zack Greinke. Granted, he was throwing in pitcher haven Petco Park last year.
Yet in 2011, Latos only allowed 16 home runs. Eight on the road and eight at home. And in 14 career innings pitched versus the Reds at Great American, Latos allowed only one ball to leave the yard.
It's safe to say that last season's 304 fly balls consisted mostly of dink pops to infielders.
Latos' other notable numbers: Career 3.37 ERA (3.47 in 2011), 1.15 WHIP (1.18 in 2011), K/9 of 8.7 (8.6 in 2011) and a career 3.06 K/BB (2.98 in 2011).
Now it's time to ask who got the better end of the deal?
Difficult to answer.
With the Joey Votto window slamming down likely after the 2013 season, the Reds needed a shut-down ace—they got one.
The Padres are in rebuilding mode, and they got a mother load of potential talent.
Only time will tell.
Here is a great video with Jocketty and Latos talking about the deal with highlights galore.