NBA Free Agents 2011: Nene and The Worst Contracts of Frenetic Free Agency
December 14, 2011
Dilip Vishwanat/Getty Images
The NBA lockout was supposed to stop owners from overpaying for washed-up and overrated players; instead it has enabled more of the same.  
A plethora of bad deals have already been inked, and it makes you wonder what the point of a lockout was in the first place. Here are the worst deals of the new CBA where the ink has barely had enough time to dry:
Nene Re-signs with Nuggets for 5 Years, $67M
The Nuggets should have let him walk.
Nene has spent his entire nine-year career in Denver, and they have reached the second round of the postseason a grand total of once.
He hits over 60 percent of his jumpers which is nice, but he offers no real defensive tenacity. He's a finesse player who can't be relied upon to be the defensive enforcer in the paint. Serge Ibaka and Kendrick Perkins abused him in the playoffs last year.
In other words, the Nuggets just spent over $13 million a year for the next five on a player who is a solid mid-range jump shooter who is pretty athletic.
Rip-off.
Chuck Hayes Signs with Kings For 4 Years, $21.3M
Hayes always hustles, is a great teammate and squeezes every ounce of talent out of his abilities.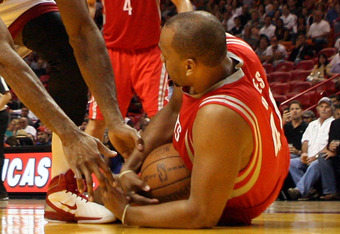 Marc Serota/Getty Images
Problem is, he is about five inches too short for the center position and he really has no offensive skills to speak and shoots under 50 percent from the field.
The money-strapped Kings are going to regret this one in a hurry. Isn't he the same exact player as JJ Hickson…who they already have?
 Tyson Chandler Sign-and-Trade to New York Knicks For 4 Years, $60M
I think Chandler is a great fit for the Knicks as his defense will be of vital importance with Carmelo Anthony and Amar'e Stoudemire around.
You just have to wonder what could have been if the Knicks had been patient and waited to see how the situations with Deron Williams, Chris Paul and Dwight Howard played out. All of them would be mesmerized by the thoughts of a new big-three and all of the promotional opportunities that come with it.
Also remember that the Knicks are paying Chandler $15 million a year for a guy who averaged 5.5 shot attempts a season ago.