Lakers Rumors: Josh McRoberts Won't Fix Los Angeles' Huge Flaws
December 14, 2011
Kevin C. Cox/Getty Images
The LA Lakers finally started adding to their roster rather than selling it off. Josh McRoberts comes in as a second-rate player on a star-studded team. Excuse me while I yawn. 
Tuesday was hardly a banner day for one of the most successful teams in all of sports. In fact, we will hardly remember what was a forgettable signing that does nothing to quell the aftermath of losing Lamar Odom, which came after a Chris Paul trade debacle. 
LA beat writer Mike Bresnahan tweets the deal consummated on Tuesday afternoon.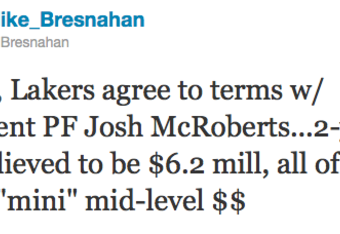 We all know that the Lakers are in a state of transition. With new head coach Mike Brown at the helm, there is sure to be a departure from a Phil Jackson run offense. 
Yet, I fail to see how McRoberts makes up for losing one of the best big men in the business. I would go so far as to call Lamar Odom the most versatile big in the NBA. He can shoot and run the floor like a guard and still guard the low block with efficiency. 
I like McRoberts as a big that can shoot and pass. He will stretch the floor and be a great asset for this team. This would be an amazing signing if the Lakers were still with Odom. 
Granted, the money would preclude such things, but there is no way this makes the Lakers better than they were a mere week ago. 
The issues that Lakers had going into the season are still the holes they suffer from right now. They need a point guard that isn't elderly and a big man that isn't going to be injured as soon as January comes around. 
This team still has problems in the back court as far as defense, and are much thinner than the squad that was demolished by the Mavericks in the playoffs. 
ESPN reports sources that state Dwight Howard includes the Lakers as a team he would sign a long-term deal with. 
Now that is the move that makes sense with a franchise that has supposed aspirations for a couple more titles while Kobe Bryant is still in his prime. 
If the Lakers are going to maintain confidence from their fanbase, they are going to have to do a lot better than Josh McRoberts.