Dwight Howard Trade: Magic Star Needs to Land in LA to Save Lakers' Season
December 12, 2011
Chris Graythen/Getty Images
Mitch Kupchak is selling some nonsense to the Lakers faithful. Sift through the garbage and you realize the Lakers need Dwight Howard to salvage the season. 
Lakers fans are fuming like the piles of burning dumpsters that were strewn around Los Angeles when they were ousted by the Dallas Mavericks last season. 
How did the Lakers handle the humiliation at the hands of Mark Cuban's boys last year? Well, they made them stronger by trading the best sixth man in the business to them for nothing. Now they are left to lead the conversation that Lamar Odom would have been a problem child. 
The LA Times quotes Kupchak who said his hands were tied in trading Odom to the Mavericks. 
Lamar was sent to Dallas because he requested to be traded. In this case, he couldn't get over the fact that something like that could took place. I was hoping that things would change in a day or two but his representative called me on Saturday and said that's not going to change.
Essentially, Kupchak would have us believe that Odom was going to dig his heels in and pout for the entirety of a season like a tall Veruca Salt with an amazing propensity to go left with the ball. 
This trade simply has to lead to something far bigger than a pick in 2012 and cash flexibility. This is a franchise that has never put an emphasis on pinching pennies. 
You simply can't go into a weekend hoping to get Chris Paul and Dwight Howard as they did and instead come away weaker, thinner and ridiculed by just about everyone, including Lakers players themselves. 
The only thing that makes sense is for Dwight Howard to land in Los Angeles amidst the loss of one of the best and most versatile big men in the game. 
Dallas Mavericks beat writer Dwain Price tweets what we assume to be true.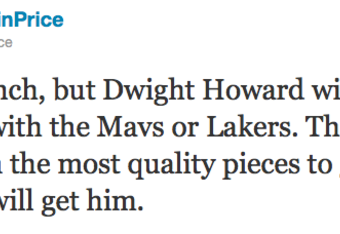 The Lakers may have to part with not only Andrew Bynum, but Pau Gasol as well. That kind of loss would send the Lakers to the depths of the conference. 
The big three would be relegated to "the only two" in Los Angeles. Kobe Bryant and Superman, alone, do not make a title team. 
Lakers reporter Mark Trudell tweets the following: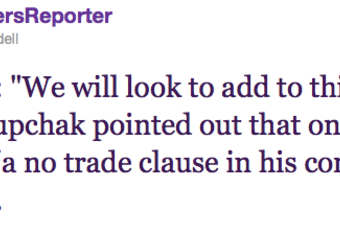 I am confident that the wheels to make this team stronger than it was last year are still very much in motion. You don't take a step backwards during some of the last great years Kobe Bryant has as a Lakers player. 
I don't buy that Kupchak sent off Odom for nothing because of chemistry issues. That is the hope anyway. There has to be something up the Lakers' sleeve to deliver some huge talent to Los Angeles. 
If not, the team to represent the Western Conference in the Finals will not be the Lakers.