Will Steve Spagnuolo Be the Next Coach Fired Before the Season Ends?
December 12, 2011
Dilip Vishwanat/Getty Images
The coaching trees of both Bill Belichick and Bill Parcells took a major blow on Monday after Todd Haley of the Kansas City Chiefs and Tony Sparano of the Miami Dolphins were fired from their head coaching jobs. 
Haley's firing was the first to be made public. 
Haley led his Chiefs to a 10-6 record and a AFC West division title in 2010, but injuries to key players such as Eric Berry and Jamaal Charles have slowed the team to a crawl in 2011, which has resulted in a modest 5-8 record. 
The Chiefs' 37-10 loss to the New York Jets on Sunday was likely the final straw. 
Just hours after Haley's firing was announced, the firing of Sparano was made public as well. 
Sparano took over the Dolphins in 2008 and led them to an 11-5 record after the team went 1-15 in 2007. It was one of the best one-year turnarounds in NFL history. 
After a 7-9 record in both 2009 and 2010, along with a 0-7 start to the 2011 season, the Dolphins relieved Sparano of his duties following a 26-10 loss to the Philadelphia Eagles on Sunday.
The two firings came just 13 days after the Jacksonville Jaguars let go of Jack Del Rio, who has been the Jaguars' head coach since 2003 and left with a 69-73 regular season record. 
Is Spagnuolo Next?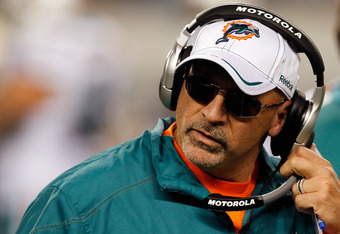 Tom Pennington/Getty Images
Since the Rams have a Monday Night Football matchup against the Seattle Seahawks, Steve Spagnuolo is obviously safe for now and will not be the third head coach to be fired on Monday. 
However, if the Rams leave Seattle with an embarrassing prime-time loss on their hands, then the sudden trend of firing head coaches could continue—this time in St. Louis. 
The Rams already have one embarrassing loss against Seattle this year. They lost in front of their home crowd at the Edward Jones Dome in a humiliating game that ended with a final score of 24-7. 
Furthermore, the Rams have not won in Seattle since 2004, so escaping the state of Washington with a victory is a tall order. 
With the recent firings of Del Rio, Haley and Sparano, Rams owner Stan Kroenke may follow the lead and let Spagnuolo go sooner rather than later if he wants to be in the mix for a top coaching candidate such as Jeff Fisher or Bill Cowher. 
The Spagnuolo era is clearly in shambles, so it might not make sense for Kroenke to merely delay the inevitable. 
Spagnuolo is 10-34 (.294) as the Rams head coach, which actually gives him a worse winning percentage than his predecessor Scott Linehan, who was 11-25 (.306) and widely regarded as a catastrophic disaster of a head coach. 
It made sense for the Rams to keep Spagnuolo on for the remainder of the season since a coaching change with a 2-10 record and only four games remaining would not change the outcome of the season, but now that there's suddenly clear competition in the market for a new head coach, the Rams cannot afford to wait.
The last thing fans in St. Louis want to see is for their team to miss out on a experienced head coaching candidate, which would force them to once again settle for a promoted coordinator with no head coaching experience whatsoever.