Tim Tebow and Britton Colquitt: The Guys To Credit for the Broncos Success
December 12, 2011
Justin Edmonds/Getty Images
With the Broncos' recent success, football fans everywhere are left asking who or what is responsible for the Broncos' success.
Simply put, the answer goes to two people: Britton Colquitt and Tim Tebow. 
The first person who has been talked about as deserving the credit is Matt Prater. Prater hit a great long field goal against the Bears, but really, Prater hasn't been all that impressive. He's kicking field goals at 72 percent which ranks him as the 30th-best kicker in the NFL. Not too impressive.
He has also kicked three field goals over 50 yards. While that's good, guys like Phil Dawson in Cleveland have hit a pretty incredible seven over 50 yards. He also hit his slump in the middle of the Broncos' recent successes. Prater deserves credit like every contributing player, but by no means, does he deserve the bulk. 
The next group that people attribute to the Broncos' success is their defense. The defense is absolutely playing out of their mind and deserve credit. To give the Broncos' defense full credit for their success doesn't seem to make sense to me. It's literally the same 11 guys on defense who were 1-4. So to argue that the credit lies with them, is to argue that at the same moment that Tebow started, the defense clicked into an elite defense all of the sudden.
Because I am not a big believer in sudden coincidences, the only real difference has to be Tebow and the plays Mike McCoy is calling. What I am saying is that Tebow makes the defense better. He does it by bringing two big changes.
1. Time Of Possession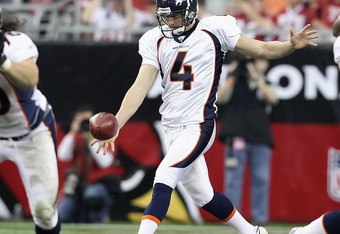 Christian Petersen/Getty Images
Under Tebow, the Broncos simply hold the ball on offense longer than we did with Orton. Sure, Denver may have more three-and-outs, but the nature of the plays (running) extend the drives. This is because of both McCoy's play-calling and Tebow's execution. It keeps the defense off the field and resting. Any defense that plays less, plays better.
2. Turnovers are way down
Orton threw seven interception in his abysmal five games for Denver. Tebow has had one interception in his next seven. Denver, under Tebow, ends almost every single drive with a kick. We are either kicking PATs, field goals or punting to end our drives. As a result, the defense has 60, 70, 80 yards of grass behind them when they take the field. Any defense will look better with a 50-yard plus cushion behind them.
No one has helped to make that cushion more than Britton Colquitt. Colquitt has punted more than any other punter in the NFL and still averages an eighth-best 47.7 yards per punt. Colquitt also holds the fifth-best net average at 41.5 yards per punt.
Basically, Tebow is keeping the defense off the field, and Colquitt is forcing opposing offenses to go a very long way before they score. That's why the defense is playing better. That's why the Broncos have found success.