2011 NFL Power Rankings and Week 15 Winners: 116-88 Versus the Line
December 12, 2011
Jonathan Daniel/Getty Images
Your Number One team in the NFL is the Green Bay Packers.
#1  Green Bay Packers
Destined to finish at 16-0, this team may go down in NFL history as the best ever. Aaron Rodgers is scheduled to break Dan Marino's record for most yards in a season.
The loss of one wide receiver will hardly impact this team as they move forward to play Kansas  City and get their record to 14-0. As in every week, take the Packers, give the two touchdowns, and play the over.
My record was 10-6 last week against the spread, to reach 116-88. At $1000 per game wagered, that is 116 games at $900 per wager pays $104,400.
With 88 games lost at $88,000 the net profit so far is $16,400 ahead.
The Saints won again to reach 10-3, plus they will win this weekend in Minnesota against a depleted Vikings defense that gives up plenty of points to opposing quarterbacks.
Even a healthy Adrian Peterson probably could not score enough points to keep New Orleans from winning again this week. Saints win this one by seven.
The Niners lost last week to a hot Arizona squad with nothing to lose. Overall at 10-3 and facing the Steelers this week, they will stay at number three or slide down a few notches.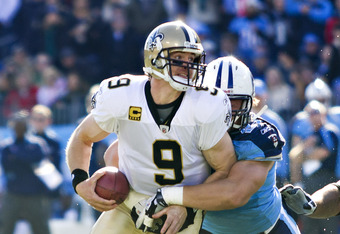 Wesley Hitt/Getty Images
Pittsburgh is at Number Five, right behind the Ravens who beat them twice this season.
Niners win a squeaker at home by maybe one to three points. If the line is more than three, take the Steelers.
Beating the Steelers twice gets you up to number four, Raven fans.
Thie week is a huge test on the road for Baltimore meeting the San Diego Chargers out west.
San Diego is hot right now, and they must win out to have any shot at Denver, who is leading that division right now.
 San Diego will score too many points, thus putting too much pressurre on Flacco to try to win the game in the air. San Diego wins this game at home.
The Steelers will face one of the best teams in football this week and all eyes will be on Alex Smith as he tries to beat a very good defense, perhaps without James Harrison, who is facing a possible suspension for the hit on Colt McCoy last week.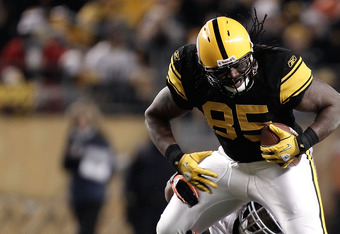 Jared Wickerham/Getty Images
The Steelers might have trouble with a better run game than their's, plus a defense that might be just as good.I like the 49ers to win a close one.
Tebow will come down to earth this weekend versus New England. No way Denver is even close in this one.New England wins by 14 points.
Houston is in the playoffs for the first time in franchise history and will pose a problem to a team in the first round because of the outstanding defense they are playing this season. Beware, New England.
TJ Yates, the third string quarterback, is playing very well. The running game is solid. This team is dangerous and hungry.
# 8 Atlanta Falcons
The Falcons reached 8-5 with a huge game against Carolina last week, and control their own wild-card destiny.
Playing at home against Jacksonville will have the Falcons in a good spot at 9-5 after week 15. Falcons cover up to 10 points in this game.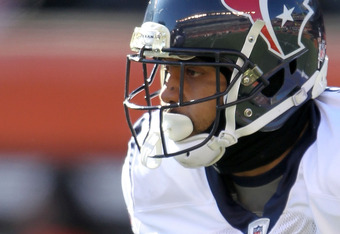 Andy Lyons/Getty Images
# 9 New York Jets
The Jets have reached 8-5 also and face Michael Vick and the Eagles in Philadelphia this coming Sunday.
Philadelphia becomes a spoiler to what might have been a good season for New York leading up to Sunday. After this week the Jets might be on the outside looking in.
The Eagles win in a not very close game.
# 10 Detroit Lions
Offensively, this team is pretty good. Stopping the other team is another matter entirely. They play the Raiders in Oakland this weekend.
The 7-6 Raiders are in a battle for the division and their playoff lives.They could win this game. That being said, I think the Raiders are still an 8-8 team, therefore they lose this one. Take the Lions by 4-5 points.
# 11 New York Giants
Knocking off Dallas was big last week as the Giants push towards that division title, most likely keeping the Cowboys out of the playoffs.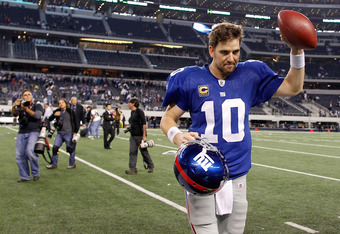 Tom Pennington/Getty Images
This week they have Washington in a game they should win. The Giants will reach 8-6 this weekend. Take New York by 6-7 points.
#12 Tennessee Titans
The Titans are flying under the radar, trying to quietly get a wild card without anyone noticing.
 Perhaps the most important game of the season is this week versus Indianapolis. This is a must win game for Tennessee, but Indianapolis is scoring more points lately. Titans win a close one on the road.
# 13 Denver Broncos
This is a temporary position for Denver. They will lose the next three games and miss the playoffs.Win a game and I am proven wrong.
# 14  Dallas Cowboys
The Cowboys had some very close games and major lapses of concentration by the coaching staff, keeping Dallas out of the playoffs. Better luck next season as you continue to slide out of the playoff picture.
# 15 San Diego Chargers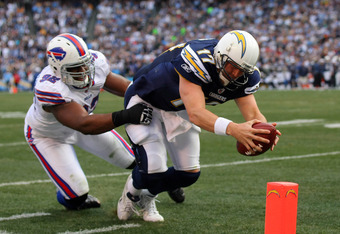 Donald Miralle/Getty Images
The Chargers do this every season. Win out the last 4-5 games and somehow make the playoffs. The most important game of the season is this week at home versus Baltimore.
If the Chargers can win out, 9-7 just might do it. Denver could easily lose the last three to finish at 8-8. Oakland could possibly do the same. Stranger things have happened.
# 16 Cincinnati Bengals
A good opening season for Andy Dalton should pave the way for a good 2012 season. No playoffs this year I'm afraid.
#17 Oakland Raiders
It comes down to this weekend for the Raiders. They must beat Detroit to have any hope of the division. This just does not happen and the Raiders have San Diego breathing down their necks.
# 18 Arizona Cardinals
Winners of the last 4 out of 5 the Cardinals have plenty to look forward to next season. The defense is playing pretty well, and the quarterback position should improve next season.
# 19 Seattle Seahawks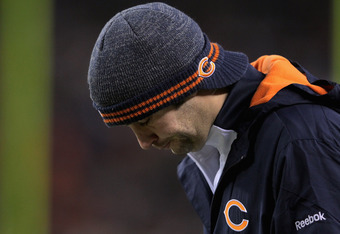 Doug Pensinger/Getty Images
Another outstanding defense is here in Seattle, but offensively this team lacks punch, except for Marshawn Lynch who kept them in a number of games this year.
Seattle can reach 7-7 if they have a good game against a Chicago team lacking Matt Forte and Jay Cutler.
# 20 Chicago Bears
What might have been will have to wait until next season for Chicago
# 21 Buffalo Bills
They had a hot start but were exposed midway through the season with defensive flaws. Losing Fred Jackson was a huge blow as C.J. Spiller did not take up the slack.
# 22 Kansas City Chiefs
Injuries kept this team from realizing it's true potential as they wait for a good draft and next season.
The Redskins did not have enough skill players to compete in that division.
# 24 Philadelphia Eagles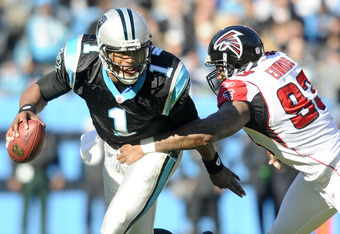 Jared C. Tilton/Getty Images
The dream team will have to relive nightmares until 2012.
# 25 Jacksonville Jaguars
Or should I say the Los Angeles Jaguars?
Beating New Orleans this season was the high point for Tampa Bay.
# 27 Minnesota Vikings
This has to be the best 2-11 team ever.
# 28 Miami Dolphins
A bad start for the Dolphins will give this team a coaching shake-up in 2012. The Dolphins could get better next season with a couple defensive players that make a difference. And as everyone else agrees, a quarterback.
# 29 Carolina Panthers
They could have been ranked higher, but until next season, who cares?
#30 Cleveland Browns
I'm not quite sure when this team will ever be relevant again.
#31 St. Louis Rams
Bradford was alright. Stephen Jackson is a good running back. That's about it.
# 32 Indianapolis Colts
The Colts will be drafting Andrew Luck on the first pick.