Tony Sparano Firing Rumors: What Does Possible Firing Mean for Dolphins in 2012?
December 12, 2011
Ronald Martinez/Getty Images
After Sunday's debacle against the Philadelphia Eagles, Miami Dolphins beat writer Armando Salguero of the Miami Herald reported something that Dolphins fans have been waiting since September (or in some cases, last January) to hear:
The Dolphins plan to let Ireland continue in his job with the team beyond this season. The plan is also to replace Sparano after the season although no final decision has been made on this front.

I know this as fact. Period.
Miami now faces the task of replacing a coach that thus far has gone 29-33 during his tenure in Miami, which included a division title in 2008. The Dolphins next head coach will likely be someone who—
Wait, Jeff Ireland is staying? 
Let me read the rest of that article. 
Ireland is another story. He stays, barring some unexpected circumstance, regardless of who the new coach is or is not. It is as solid as something of this matter can be in the NFL.

Owner Stephen Ross is convinced the Dolphins are a team that is underachieving despite considerable talent. Yes, Ross believes the roster needs some upgrading. But he also thinks Ireland, who has full control of the personnel department since October 2010, can do the job. (Bill Parcells was in charge of personnel from Jan. 2008 to October 2010.)

So Ireland stays once this season is over. And Tony Sparano does not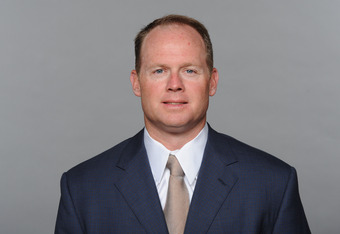 Handout/Getty Images
That's not a change at all. If anything I'd rather the Dolphins keep Sparano and get rid of Ireland (the ideal scenario would be for both to leave, though). 
Jeff Ireland will now be forced to enter 2012 as a lame duck general manager. If they underachieve as Stephen Ross puts it, then Ireland will be shown the door. 
So why would any potential head coach want that? 
The reason the Dolphins have been struggling has as much to do with poor talent evaluation as it does with poor coaching. If anything you might say Sparano overachieved considering that other than Chad Pennington, he never had consistency from the quarterback position. 
A position where the Dolphins passed up on Andy Dalton and Ryan Mallet in last year's draft. 
With Jeff Ireland on board as general manager, say good-bye to any chances that the Dolphins will draft Robert Griffin III. Say hello to a possible trade for Tony Romo (possible because of Ireland's Cowboys ties as well as the fact that Jason Garrett can't seem to trust Romo) or Peyton Manning. 
Say hello to absolutely no change, no contending for Super Bowls and more draft busts. 
Miami has the chance to change the culture of their organization, and for Stephen Ross, he'll get to hire his first NFL head coach and first NFL general manager. 
But instead he chooses to keep on one half of what has failed the Miami Dolphins. 
Stephen Ross will likely regret that decision. If he thinks any big names available (Jeff Fisher) will come to the Dolphins now, he's sorely mistaken. He's going to either have to offer the job to Mike Shula to save face, or go for a coordinator desperate for a head coaching job. 
Don't even be too surprised if coaches that have failed elsewhere come to Miami off the retread line (Marty Mornhinweg, Dick Jauron, Mike Tice). 
As Palm Beach Post columnist Ethan J. Skolnick tweeted out:
As I wrote at 0-4, most dangerous thing for Dolphins would b winning a few games. Not about Luck. About Ross deciding not to clean house.
Those words couldn't be any more true. 
Now if Stephen Ross would like to reconsider his idea to keep Jeff Ireland, maybe he could read this piece written by a super-genius back in October, and if he needs a guide as to what to do this offseason, then this piece written in November might be able to help him out. 
Because right now, Stephen Ross and the Miami Dolphins need all the help that they can get. 
Jeff Ireland isn't the man to get that help from.