Miami Dolphins: Jeff Ireland Must Go as GM, and Must Hold Himself Accountable
October 31, 2011
Handout/Getty Images
I have a good question: we hear all the blame from the media and fans hurled towards Sparano, Stephen Ross and Bill Parcells, but there's someone else who should get the blame.
We've heard plenty from Stephen Ross (more so sources close to him leaking information to Armando Salguero and other Dolphins beat writers), and we hear from Sparano every week.
But while we've heard from the man bankrolling this dinner that makes Miami-Dade Public School cafeteria food look appetizing, and we've heard from the chef cooking up this putrid excuse for a dish, how come we don't get to hear from the man who bought the ingredients?
How come Jeff Ireland isn't being held accountable? How come he's not holding himself accountable?
He doesn't speak at press conferences, doesn't speak to fans, he's been quiet.
This isn't a good thing. While Tony Sparano, a man who's supposed to be his friend, is left out there twisting in the wind week in and week out, Ireland just sits in his ivory tower in Davie looking on, wondering when the Cowboys are going to release someone next.
Sad part is, if there's anyone in the Dolphins administration who's not in danger of losing his job, it's Jeff Ireland.
Ireland should hold himself accountable and actually speak to the media more throughout the season. At the end of the season he should resign (or be released from his contract) if for no other reason than this.  
I was having problems sleeping last night after putting the finishing touches on my Week 8 Winners and Losers Story. 
I don't know if it was a result of it being the night before Halloween or the fact that the last thing I saw on TV was the Cowboys-Eagles debacle where Tony Romo went 18-of-35 for 203 yards, with one touchdown and one interception and looked awful the whole night. But, I had a scary nightmare. 
It started with me actually at a Dolphins' press conference in January. Stephen Ross spoke and was ready to name the Miami Dolphins' newest head coach and general manager. 
He named Mike Shula the head coach (a lot better than you probably think it is now, he'd be great for the job), but then before the Junior Shula could speak, he named his new general manager. 
It wasn't a new GM at all, instead Jeff Ireland was given a three-year extension. 
Fast forward to the week before the draft, and the Miami Dolphins have the No. 1 pick. Now I'm a fly on the wall in Jeff Ireland's office as he's on the phone with Cowboys owner Jerry Jones. 
"Jeffrey, I've always liked you, and I thought it was very messed up of Bill [Parcells] to leave you and Tony high and dry like that down in Miami," said the Cowboys owner, who continued, "I know you have the talent and ability to be the best GM in the NFL, and do I have a deal for you."
"Mr. Jones, I'm all ears," said the embattled Dolphins GM adding, "What do you have in mind?"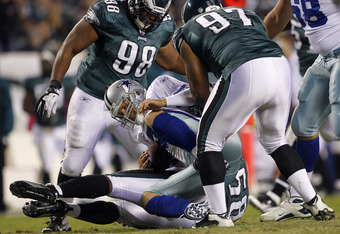 Rich Schultz/Getty Images
Fast-forward to the next day. I'm at a press conference with Tony Romo holding up an aqua Dolphins jersey with the No. 9 stitched on it while Stephen Ross is boasting that Romo will be "the greatest Dolphins quarterback since Marino!"
The final details of the deal: Dallas receives Miami's first-round pick (Andrew Luck) in exchange for Romo and a conditional fourth-round pick. 
Ireland of course didn't speak at the presser in my dream to defend the deal, didn't make any appearances on talk radio, and just stayed quiet, much like he does now.
I woke up in a cold sweat after that, and if you're a Miami Dolphins fan then you know that if Ireland is still in Miami than this isn't just a scary Halloween story, but a possible foreshadowing of events to come. 
Bottom line, Ireland needs to go, pronto. 
I'd give Sparano a chance next season before I'd bring Ireland back. At least Tony has the decency to own up to his mistakes, something Jeff Ireland (and Bill Parcells) should learn a thing or two about.
Thomas Galicia is a Miami Dolphins Featured Columnist who also writes about other goings on in the NFL. Follow him on twitter, @thomasgalicia, and follow him on Facebook as well. Be sure to check out his archives at www.thomasgalicia.com.