San Francisco 49ers: Can They Really Win with Alex Smith at Quarterback?
December 9, 2011
Ezra Shaw/Getty Images
One of my favorite Cole Porter songs is, "At Long Last Love" (and the best arrangement is on the "Ella Loves Cole" album with Ella Fitzgerald, circa 1972).  With typically delightful Cole Porter lyrics, the tune asks, in the later parlance of Tower of Power, if this time it's real.  (Sample couplet from Mr. Porter:  "Is it a cocktail, this feeling of joy?  Or is what I feel the real McCoy?")
Such are the questions now being asked in a far less romantic vein about San Francisco 49ers quarterback Alex Smith. 
Is he really a playoff quarterback, ready to lead the Niners to the Super Bowl, or at least a hot date with the Green Bay Packers?  Or, in the face of playoff pressure and first-class opposition, will he revert to being the lost soul whom we saw for his first six years?
It was, as we all know, a wretched apprenticeship. Smith endured multiple head coaches, including one, Mike Singletary, who was a good man but grossly underestimated the importance of quarterbacking.  He saw about 10,000 offensive coordinators, each with his own scheme.  He labored behind an offensive line that, until this year, deserved less respect than Rodney Dangerfield.
And now we have this shiny new version.  Call him Alex 2.0.  He's won 10 games.  He converts third downs.  Heck, last Sunday, he threw two 50-plus-yard touchdown passes (with a third dropped), and led the Niners to their first NFC West division title since 2002.
Do we dare believe what we see?
Indeed, many say Smith and the 49ers have benefited from a notoriously weak schedule.  Of their 10 wins (versus two losses), six have come against teams without a winning record.  The two division leaders on the card—the Dallas Cowboys and the Baltimore Ravens—both beat San Francisco.  Of the remaining four opponents, only the Pittsburgh Steelers are a legitimate team (currently tied for first at 9-3 with Baltimore in the AFC North).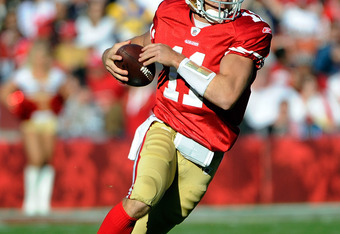 Thearon W. Henderson/Getty Images
With that kind of opposition—and a losing performance against other first-place teams—how can 49er fans consign their hopes and their hearts to Smith?
Well, look at the stats.  Smith ranks seventh in the league in quarterback rating with a 94.9.  (Yes, the Packers' Aaron Rodgers is first, with 125.3, and no one needs another reminder that the Niners could have had Rodgers all these years.  That's Chardonnay under the bridge.)
His completion percentage is a workmanlike 63.2 percent, but it's the touchdowns-to-interceptions ratio that grabs the eye.  Smith has found his receivers in the end zone 15 times, and opposing defensive backs only five.  That's a 3-to-1 ratio and less than one interception every two games.
It's more than just avoiding costly mishaps.  It's emblematic of the way Smith is now throwing the ball.
For perhaps the first time in his career, he's showing confidence.  Last Sunday against the St. Louis Rams, Smith's 52-yard touchdown to Michael Crabtree was a picture of beauty.  The dropped ball he threw to Vernon Davis—40 yards, right into his hands—was equally splendid.  (After that egregious miss, it was a testament to Davis that he returned to the game instead of just jogging out of the stadium and hailing the Third Street bus.)
Finally, there was the short pass to Kyle Williams that turned into another long touchdown.  Williams ran a little turnaround route to midfield, and when he spun, the ball was right there.  Perfect timing—no waiting.  Williams grabbed it, spun again and was gone.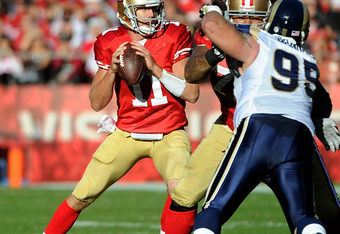 Thearon W. Henderson/Getty Images
Those three passes capture what's different about Alex Smith this year.  He's throwing with authority, and when he hunkers down over center, you can even hear it in his voice.  It's actually loud, like it belongs to someone in command. 
Has he got a ways to go?  Absolutely.  The Niners squandered three first-half opportunities for touchdowns against the Rams, settling instead for David Akers field goals.  They could get away with it against St. Louis.  In the playoffs, no way. 
The 49ers' remaining schedule consists of NFC West fodder, save for one game that may speak volumes.  The Steelers invade San Francisco's Candlestick Park on Monday night, December 19.  They may still be locked up with the Ravens; if so, they will be sporting game faces worthy of Pittsburgh legends Jack Lambert and Mean Joe Greene.
On that night, we'll see what Alex 2.0 can do. 
Until then, download that Ella Fitzgerald arrangement and enjoy the ride.  Or, if you prefer Tower of Power—well, this time it might just be real.