Houston Rockets: Are They Giving Up Too Much for Pau Gasol?
December 9, 2011
Jeff Gross/Getty Images
A reported three-way deal is in the works which would land LA Lakers forward Pau Gasol in Houston.
The Rockets would send Luis Scola, Kevin Martin, and Goran Dragic to the New Orleans Hornets, who would also receive Lamar Odom from the Lakers.
Star point guard Chris Paul would join Kobe Bryant in LA.
Are the Houston Rockets giving up too much in this trade?
Pau Gasol is a four-time All-Star, but at 31, is nearing the end of his prime.  The Rockets would only have a couple of years to build a contender around him.  He is a true seven-footer with All-Star talent, however, and that's something the Rockets have been missing since Yao went down during the 2009 playoffs.
Here's a breakdown of what Houston would be giving up in this trade:
Luis Scola
Scola is a fan favorite in Houston, who plays hard and runs the floor on every play.
He is also incredibly durable, having never missed a game until last season. Like Gasol, Scola is also 31, and they are both primarily finesse players around the basket.
Gasol, however, is a few inches taller with a much longer wingspan, and can challenge shots and protect the basket.
The comparison is between a borderline All-Star and a bona-fide All-Star.
With Gasol likely playing at center for the Rockets, second-year forward Patrick Patterson will probably start at power forward.
Patterson has a good mid-range jumper and is crafty around the basket.  He played under control, took good shots, and played surprising well defensively.
Patterson shot 56% from the field last season and as a starter averaged 10 points, 6.7 rebounds, and 1.1 blocks.
With more playing time and some pointers from Kevin McHale, Patterson should be ready for the starting role.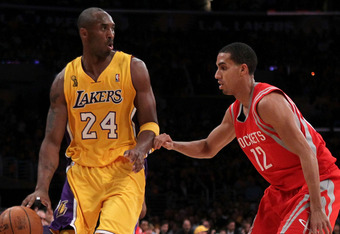 Jeff Gross/Getty Images
Kevin Martin
Martin is another borderline All-Star—an ultra-efficient scorer who can put up big numbers on relatively few field goal attempts.
Kevin Martin can score from behind the three-point line, or from his frequent trips to the charity stripe.  He does, however, have a few glaring flaws, most notably on the defensive end.
Martin is not strong enough to defend most of the elite wing scorers in the league.  His quick first step often starts with a shuffle, contributing to his 2.3 turnovers per game.
Finally, Martin's game is not suited to the playoffs, when referees often swallow their whistles in the fourth quarter.
Waiting in the wings is Courtney Lee, who started at shooting guard in the NBA Finals as a rookie with the Orlando Magic.
He's a good defender, can shoot from outside, and is incredibly athletic.  Lee is also a good ball handler, moonlighting as a backup point guard last season when Aaron Brooks went down.
Lee likely won't put up monster 40-point games like Kevin Martin, but he is more than capable—putting up 25 points in his lone start last season.
Goran Dragic
Dragic may seem like a throw-in to satisfy New Orleans' obvious hole at point guard, but he was a valuable member of Houston's bench last season.
Able to play off the ball alongside Kyle Lowry or as a bigger backup off the bench, Dragic gave Rick Adelman options last season.  With the trade for Jonny Flynn, something had to give. 
Dragic is a restricted free agent after this season, and the Hornets might lose him to a bigger offer.
Flynn's game and size are similar to Kyle Lowry's, so Kevin McHale will have fewer matchup options during games.
Backup point guards aren't very difficult to find, though, so if the Jonny Flynn experiment doesn't work out, the Rockets have options.
Conclusion:
So did the Rockets give up too much for Pau Gasol?
Houston gets a massive size upgrade in the frontcourt, and with Lee and Patterson possibly joining the starting lineup, the Rockets already appear to be much improved defensively.
The loss of Scola, Martin, and Dragic is mitigated by the fact that Houston has players ready to step up to starting roles, and in that respect this looks like a good trade for the Rockets.