Chris Paul Says Goodbye to the Bayou, Hello to Hollywood
December 8, 2011
Jeff Gross/Getty Images
The ball is officially rolling in the NBA.
ESPN reported minutes ago that the trade rumors swirling Chris Paul are rumors no more.
With rumors that CP3 might end up with Golden State, New York, Boston and either Los Angeles team, it was widely believed he would suit up somewhere other than New Orleans on Christmas Day.
The three-team trade scenario involving the Hornets, Lakers and Houston Rockets, surfaced as a rumor just this afternoon.
Hours later, speculation became reality.
Initial reports say Chris Paul is joining Kobe Bryant in LA, Pau Gasol becomes the man in Houston and Lamar Odom has a new home in New Orleans.
What does this move mean for each team?
The picture remains unclear for the Rockets and Hornets because it still has not been decided who New Orleans will receive.
It looks as though Kevin Martin, Luis Scola and Goran Dragic will all move to New Orleans.
That means the Hornets can field a nice, young nucleus of Jarrett Jack, Martin, Trevor Ariza, Scola and David West (if he re-signs). The only other signed players on the roster are Patrick Ewing Jr. and Quincy Pondexter.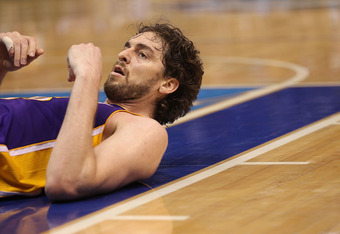 Ronald Martinez/Getty Images
New Orleans has to be happy with this outcome for two reasons: 1) Golden State and the LA Clippers were not going to give them the packages they wanted in return for Paul, who was likely walking away for nothing next year, and 2) they wanted to get a deal done before the season began in order to avoid a nasty Denver Nuggets-Carmelo Anthony season-long drama.
If the Rockets do indeed give up Scola and Martin, this trade leaves them heavily dependent on the free-agent market. WIth Chuck Hayes signing with the Kings, Houston will have lost its three best players in a short period of time.
Players like Jonny Flynn, Jordan Hill, Courtney Lee and Chase Budinger will be leaned on heavily for production unless Houston makes some serious moves in the coming weeks.
Houston has seemingly thrown up the white flag in looking to enter a rebuilding phase despite their new centerpiece, Gasol, being 31.
The Lakers' biggest roster advantage until moments ago was size. With two seven-footers and the 6'10" Odom, LA could bang in the paint with any team. Now the onus is on Andrew Bynum to fill the paint. As of now, he is the only Laker above 6'9".
This represents an obvious shift in philosophy surrounding Kobe. Now 33, Bryant no longer has the pressure to create his own shot, and can move deeper in the paint. He will finally be paired with a true point guard who can be counted on to run the offense and score.
It remains to be seen how Los Angeles will replace the size lost in acquiring CP3.
Enter Superman, stage left?
The Lakers hope to send Bynum in the revolving door and have Dwight Howard come back out.
But do they have enough pieces without Gasol or Odom to entice the Magic into a move?
Draft picks won't mean much to Orlando; neither will Metta World Peace, Derek Fisher, Steve Blake or Derrick Caracter.
Unless Jerry Buss can figure out how to repeat the wizardry from the Pau Gasol-for-a-pack-of-peanuts trade he worked with Memphis in 2007, the Lakers should plan on looking to the free-agent market for a rotational big man or two.