NBA Rumors: Spurs Cut Richard Jefferson Via Amnesty Clause, Who Should Sign Him?
December 7, 2011
Harry How/Getty Images
The San Antonio Spurs have reportedly decided to use the amnesty clause on the contract of Richard Jefferson, which will leave other teams free to pursue him.
Jefferson has been a major disappointment since joining the Spurs in 2009, and the team no longer wanted to expose themselves to such a liability.
While Jefferson is a shell of the high-flyer he once was, there are a number of teams who should consider taking a look at him now that he will hit the open market.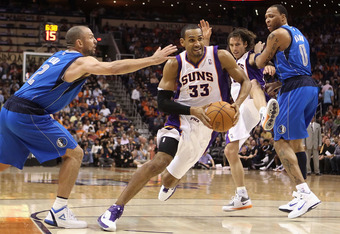 Christian Petersen/Getty Images
The Knicks have taken a look at other free-agent veteran small forwards like Caron Butler and Grant Hill, so entertaining the notion of adding Jefferson to the mix isn't all that far-fetched or illogical.
While Jefferson's athleticism has diminished and he can hurt his team on defense, he is just the outside presence New York is looking for. He moves well without the ball and can hit the three if given enough room.
In a less significant role, Jefferson stands to make an impact. The Knicks can, and should at least consider, offering just that.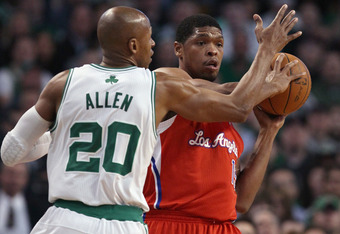 Elsa/Getty Images
The Clippers may or may not be on the verge of a blockbuster deal to acquire Chris Paul, but Jefferson remains a good target regardless of how that endeavor pans out.
Los Angeles is clearly in need of an upgrade at small forward as Ryan Gomes just isn't cutting it. Jefferson gives the team another threat from the outside, as well as a capable shooter whom Blake Griffin can pass the ball out to when double-teamed.
If the Clippers wind up acquiring Paul, the star-studded point guard may be able to find ways to utilize Jefferson that Tony Parker couldn't. He commands more attention and is a better passer than Parker, which means he creates more opportunities for his teammates.
Even without Paul, Jefferson should serve as a viable option to fill the Clippers' void at the small forward position. He is likely to sign at a steep discount after having been paid off by San Antonio, which would make him a great pick-up.
Should Los Angeles actually execute a trade for Paul and wind up taking Trevor Ariza back as well, this becomes a moot point. For the time being however, it makes sense.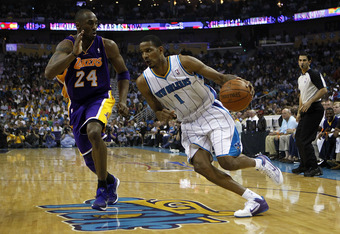 Jeff Zelevansky/Getty Images
Whether or not Chris Paul sticks around is irrelevant, as the New Orleans Hornets need some serious help at the small forward spot.
Ariza is a capable perimeter player, but he is best served coming off the bench. Jefferson, while no longer a star, is still at least capable of being an everyday starter. There is also the fact that Ariza stands to be shipped out in any Paul deal as well, which would create an opening at the 3 anyway.
Looking at it from the other end of the spectrum, should by some miracle Paul wind up remaining in New Orleans, Jefferson presents him with a more formidable option on the perimeter than Ariza, who prefers to drive the ball.
With or without Paul on board, Jefferson is an athlete whose name should appear on the Hornets' radar.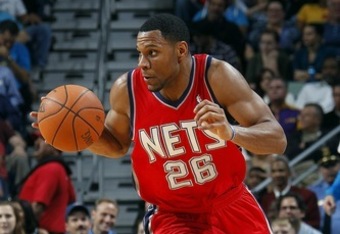 The Nets should most definitely consider a reunion between them and Jefferson, as he is a clear upgrade over Stephen Graham.
Jefferson thrived along the pass-happy Jason Kidd at one time, and while Deron Williams is more aggressive at finding his shot, he is just as unselfish and commands enough attention where there would be opportunities for Jefferson to make a significant impact.
While he is not likely to be one of the players that entices Williams to stick around long-term, Jefferson would be a solid addition if only for the year. He will most likely want to play beyond next season, but again, after his payday from the Spurs, he may not be opposed to a modestly priced, one-year deal.
Until Dwight Howard's situation is resolved, the Nets need to focus on obtaining competent role players who can help Williams lead the team into the postseason.
Jefferson fits that bill.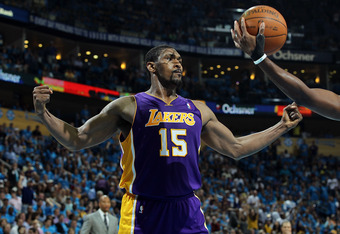 Ronald Martinez/Getty Images
The Lakers seem poised to shakeup their roster somehow, and in between shopping Andrew Bynum, Pau Gasol and Lamar Odom, they should consider taking a look at Jefferson as an upgrade at the small forward position.
Metta World Peace can still make an impact, but he is too inconsistent now, and Luke Walton is a wash. Jefferson is not as defense-oriented as Peace, but he provides the offensive punch that Peace doesn't. 
Having Peace and Jefferson potentially split minutes at the small forward slot is not necessarily a bad idea. Given their opposite play-styles, it could become a situational type of rotation where Peace is inserted for defense, and Jefferson for offense.
One way or another, the Lakers are staring down the barrel of change, and while amnestying Walton and adding Jefferson doesn't hold the same clout as acquiring Chris Paul or Dwight Howard, it is a move that would help the team remain competitive.
You can follow Dan Favale on Twitter here @Dan_Favale.