New York Giants: Eli Manning's Best Plays of His Career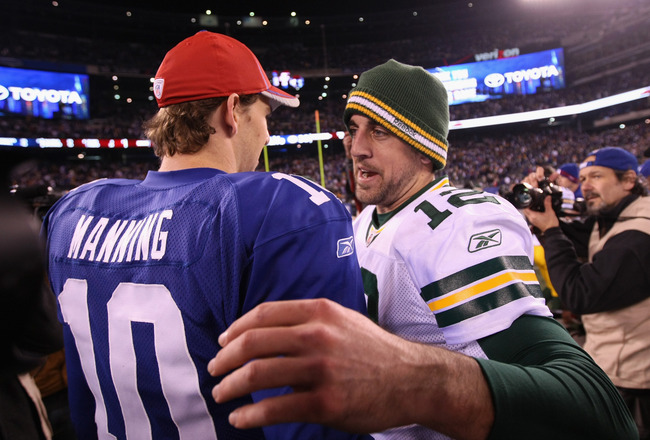 Eli Manning being embraced by Aaron Rodgers
Al Bello/Getty Images
After watching last Sunday's game between the New York Giants and Green Bay Packers, I think we can all agree that Eli Manning is truly elite. After going touchdown for touchdown with Rodgers all night long, his early-season claim of believing he was one of the best quarterbacks in the NFL is not too far fetched.
Eli Manning has been the one constant for a Giants team that is as inconsistent as they come. This season he has burned secondaries for 3,075 yards. He also has a quarterback rating of 96.
However, this transformation to elite status did not happen overnight. This Super Bowl champion worked hard to get away from his older brother's shadow, and one of the results is the countless amazing plays. Let's take a look back at these great plays Eli Manning has completed in his tenure as a Giant.
5. Eli Manning's 92-Yard Pass to Mario Manningham

Eli Manning's Longest Completion

With the Giants up three at the beginning of the second half against the Washington Redskins in a Week 17 tilt last season, they knew they had an opportunity to blow the lead open.
So on one of the first plays of the drive, Eli Manning aired it out to Mario Manningham, who was covered by DeAngelo Hall, for 92 yards and the score.
Not only was this Eli's longest completion to date, but he completed on a Pro-Bowl corner. This proved to be the dagger, as the Redskins ended up losing the game.
4. Eli Manning's Perfect Pass to Hakeem Nicks

Eli Manning Over the Shoulder Throw

This was the play from last week that gave me the inspiration to make this list.
I thought this was one of Eli's most accurate throws in his career. Not only did Manning beat one of the best corners of all time in Charles Woodson, but he put the ball in the only place that Hakeem Nicks could make a play on it.
An elite throw by an elite quarterback.
3. Eli Manning Bombs It to a Covered Cruz

Eli Manning decides to bomb it to Cruz

This is just a ridiculous play, occurring during the Giants' 29-16 Week 3 win against the Eagles.
Not only did Manning have Pro-Bowl caliber players Cullen Jenkins, Jason Babin and Trent Cole breathing down his neck, but he somehow had to get the ball to his wide receiver Victor Cruz, who was draped by the infamous Nnamdi Asomugha.
This play just screams elite!
2. Plaxico Burress' Makes Good Preseason Debut with Giants

Manning airs it out to the new guy

This was a fantastic play by the former Ole Miss quarterback, during a preseason game against the Browns in 2005. Manning puts this ball in a position where only wide receiver Plaxico Burress could make a play on the ball.
Showing elite potential at an early stage of his career.
1. The Greatest Play in Super Bowl History

Eli Manning airs it out to a heavily covered Tyree

The greatest play in Eli Manning's career? Yes
The greatest play in New York Giants history? You bet!
The greatest play in NFL history? No doubt.
This play has gone down in history as "The Helmet Catch." This was truly a remarkable play. First Eli has to escape the whole Patriots defensive line, while being grabbed by the shirt. Once out of the pile, Eli heaves a remarkable pass to a little-known wide receiver named David Tyree.
When David Tyree came down with the ball, the stadium went insane. This ultimately led to a Plaxico Burress touchdown, which sealed the deal against a team thought to be unbeatable.
Elite players don't give up.
Honorable Mentions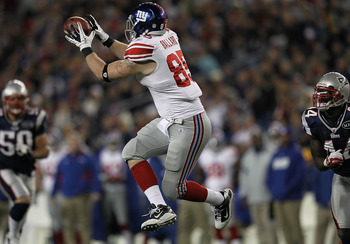 Jake Ballard's remarkable catch
Jim Rogash/Getty Images
1. The final touchdown in Super Bowl XLII between Eli Manning and Plaxico Burress.
http://www.youtube.com/watch?v=Iv0bc8CtcWI
2. Eli Manning hits Jake Ballard in stride on a remarkable catch t move the chains during the 4th quarter rally against the Partiots this season.
http://www.youtube.com/watch?v=6pvLOqFoTVY&feature=related
3. Plaxico Burress's one handed grab over Ronde Barber for a touchdown in 2006.
http://www.youtube.com/watch?v=3y0lPdX1aV0
Keep Reading

New York Giants: Like this team?