Lakers Rumors: Chris Paul Should Only Be a Target If Dwight Howard Is First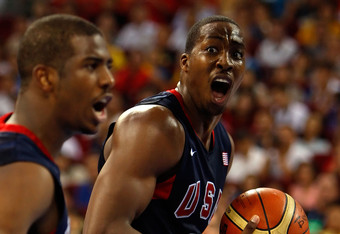 Streeter Lecka/Getty Images
Adrian Wojnarowski of Yahoo! Sports recently reported that the Los Angeles Angeles Lakers have had some contact with the New Orleans Hornets regarding point guard Chris Paul, but no formal offers have been made.
The Lakers and Hornets are supposed to talk again later this week, but it is generally understood that in order for the Lakers to acquire Paul, they will have to part with center Andrew Bynum or Pau Gasol, and according to Yahoo!, preferably Bynum.
As much as I respect and admire Paul's game, it's not enough to convince me the Lakers should trade Bynum for him, or Gasol for that matter.
Paul certainly fits the bill as an elite NBA point guard, and the Lakers are in desperate need of backcourt help, but in this case they can afford to settle.
The Lakers must upgrade the lead guard position if they hope to absolve themselves of last season's playoff embarrassment and make a serious bid for the 2012 NBA Finals. But they don't need a player like Paul, especially if it costs them Bynum.
There are numerous players the Lakers will be free to court due to the relaxed rules in the new CBA, and someone like Kirk Hinrich brings the same type of value to the team as Paul without risking the dynamic that forms the strength of the their core.
Sometimes it seems like people forget the Lakers won two championships in a row in spite of Derek Fisher.
Lakers fans have been complaining about Fisher's declining skills for several seasons, regardless of his clutch tendencies, but the team thrived on the backs of what is arguably the NBA's biggest and most talented frontcourt.
When you consider Lamar Odom and his cache of skills, you could probably add versatile as well.
A trade for Paul that includes Bynum or Gasol would mostly negate that advantage, and while the team will certainly improve on the perimeter, it will suffer in the paint, and unfortunately none of the Lakers' recent championships were won because of point guard play.
The price of acquiring Paul is not worth destroying the thing that makes the Lakers special. In fact, the Lakers should not even consider parting with Bynum or Gasol unless the return is Orlando center Dwight Howard.
The Yahoo! story also mentioned the Lakers as possible suitors to Howard, and that doesn't sound as far-fetched as it might have during the NBA lockout.
The owners' dreams of a hard salary cap have gone up in smoke, but the sign-and-trade clause still exists, and while the league's luxury tax was increased, it's not enough to scare away the free-spending Lakers.
A Lakers package for Howard that includes Bynum may be just as attractive as Chicago's "take any two or three players besides Derrick Rose" approach, or anything else another team could offer for that matter.
According to Yahoo!, the Lakers very well may be in the hunt for Paul as their next point guard, but in my opinion they should only make that move if they are really feeling ambitious. The only thing that would induce that feeling is if Howard is already on the roster.
Of course, Paul would look great in a purple and gold uniform, but how would Gasol look alone in the paint without Bynum to back him up?
This article is
What is the duplicate article?
Why is this article offensive?
Where is this article plagiarized from?
Why is this article poorly edited?

Los Angeles Lakers: Like this team?