Minnesota Vikings: 5 Reasons Vikings Will Make Playoffs in 2012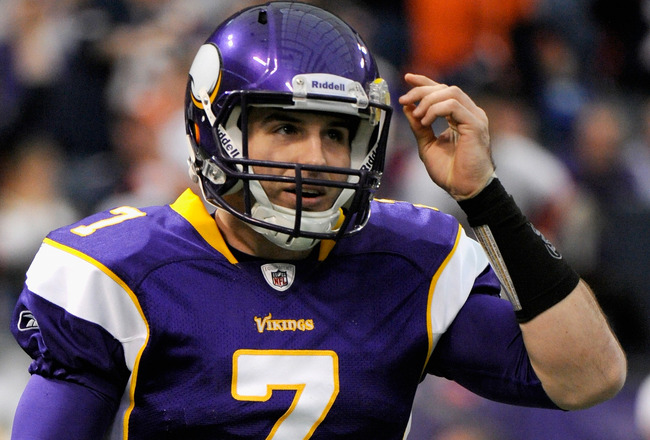 Hannah Foslien/Getty Images
The 2011 season for the Minnesota Vikings and rookie quarterback Christian Ponder has been filled with growing pains and lessons learned.
It's also been filled with growth and promise of much better things to come.
Not all rookie QBs rush out of the gate and lead their teams to the playoffs like Ben Roethlisberger or Mark Sanchez have done. Most who get thrown in find that they have much to learn and that the road is long.
Luckily for the Vikings, they have critical pieces already in place on both sides of the ball. What they need now is to fill the gaping holes and they will be primed for the playoffs in 2012.
Here are my five reasons why Ponder and the Vikes make the playoffs next season.
Christian Ponder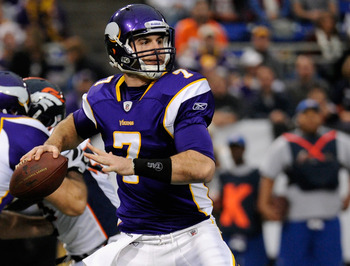 Hannah Foslien/Getty Images
The main thing Ponder does well is making good decisions with football. He currently sits at nine touchdowns and eight picks, but a couple of those weren't his fault.
Most rookie QBs get shaky feet in the pocket and tend to get happy feet, which leads to mistakes being made.
Ponder has displayed a level of calmness and maturity within himself while standing in the pocket. He's not afraid to stand there and take a hit while delivering the football down field.
When he does throw it down the field, he's deadly accurate and that will compensate for his lack of arm strength.
Another part of his game that doesn't get talked about much is his ability to tuck the ball and scramble.
People think I'm nuts, but when watching him run he reminds me of how a certain quarterback in Green Bay looks when he takes off and runs.
I'm not going to sit here and compare the two as quarterbacks, but their scrambling ability looks strikingly similar.
Adrian Peterson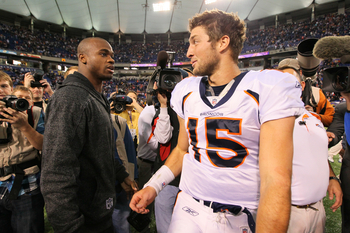 Adam Bettcher/Getty Images
The Minnesota Vikings were smart to lock up Adrian Peterson with a contract extension at the start of this season, rather than wait until he became a free agent.
Getting that out of the way allows for the team to focus their energy on fixing their offensive line woes in free agency and through the draft.
AP suffered a high-ankle sprain a couple weeks ago that forced him to miss the last two games.
With the season the way it's going, there is no need to rush him back. This injury should be completely healed and not be an issue at all in 2012.
Offensive Line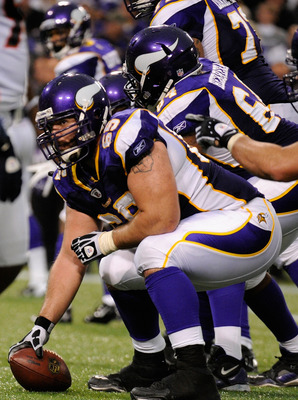 Hannah Foslien/Getty Images
It's no secret: The Vikings offensive line has been atrocious this year—mostly when called on to pass block.
They've had a hole at left tackle for the last few years and it needs to be addressed this offseason.
Barring any chance that the Vikings win out, they should have a Top 3 pick secured in the upcoming 2012 NFL Draft.
It's paramount that they use this pick wisely, and the only two players that make sense here are OT Ryan Kalil of the USC Trojans and Jonathan Martin of the Stanford Cardinal.
Both are big, meaty road-grater types that can push the pile in the run game, as well as defend the defenses best pass rusher.
If GM Rick Spielman and head coach Leslie Frazier go any other direction, owner Zygi Wilf needs to send both packing instantly.
Secondary Improvement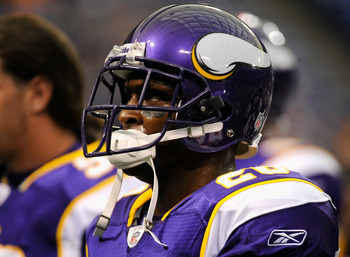 Hannah Foslien/Getty Images
Maybe the most glaring weakness on this team is the secondary. They're currently tied for the 26th-ranked pass defense, but rank dead last in passing touchdowns allowed—they gave up two touchdowns to Tim Tebow.
Chris Cook has yet to return to the team after he was accused of violently assaulting his girlfriend. Antoine Winfield hasn't played a full game since Week 4 due to recurring injuries, and he's 34 years old now so keeping up with young, speedy receivers is getting harder to do.
Cedric Griffin just isn't the same now with two reconstructed knees and Jamarca Sanford just doesn't look like he knows what he's doing out there.
Cornerback Marcus Sherels shows some promise, but he's just a rookie, as is free safety Mistral Raymond.
The coaching staff needs to take a hard look at moving Winfield to safety and then going out and getting a couple quality veteran corners to solidify that secondary.
Doing that will go a long way in this team getting back in the playoff hunt.
Better Coaching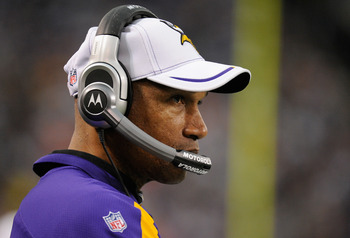 Hannah Foslien/Getty Images
Most coaches are given a three- or four-year window period to install their system and get the players they want in order to run their operation effectively.
Leslie Frazier is 5-12 in his young coaching career and a rough-going 2-9 this season.
That alone should not warrant his departure yet, but the way he looks overwhelmed at times on the sidelines should raise an eyebrow.
He never shows any emotion on the sideline which is fine, but you also never see him laying into his team when it's needed and it looks as if he doesn't have complete control of his players.
It's because of this that coach Frazier may be on a much shorter leash than people realize and if he doesn't clean up some of the on-field miscues such as better utilizing the challenge flag, he could be gone before even seeing this team make the playoffs.
Check out more of Brian Dezelske's articles.
Brian can also be found at Out of My League, where he compiles fantasy football rankings each week.
Follow Brian on

Keep Reading

Minnesota Vikings: Like this team?