San Francisco 49ers: Should Backup Quarterback Colin Kaepernick Be Traded?
December 5, 2011
Thearon W. Henderson/Getty Images
Former San Francisco 49ers backup quarterback Steve Bono used to tell a great story about his son. When he was about four years old, he saw that his dad went off to play football every day, whereas other fathers plodded to their tech jobs in Silicon Valley. Nonetheless, the Bonos lived comfortably, and seemed to lack for nothing.
"Dad," the kid finally asked one day. "Do you steal money?"
It brings up a good question about the purpose of a backup quarterback. It's a role that may be among the most under-appreciated in football. In exchange for rarely getting into the game, the backup has to be intimate with the playbook, mentally ready to take over at a moment's notice and, despite handling limited snaps in practice, have sufficient timing and rapport with his receivers and running backs that he can move the offense.
With that in mind, a few people seem to be questioning the value of the Niners' rookie backup QB, Colin Kaepernick. Actually, a lot of people questioned his value when the 49ers drafted him in the second round out of Nevada-Reno. A star player at a second-tier school, Kaepernick was greeted with choruses of "Colin who?"
Now, with Alex Smith at last playing like a professional quarterback, some fans are suggesting that Kaepernick may be expendable and that the 49ers might be well-positioned to trade him.
To which I reply, "Whatever for?"
Every draft pick—and especially a quarterback—is a multi-year investment. One does not learn to run an NFL offense in three-quarters of a season, especially while sitting on the bench.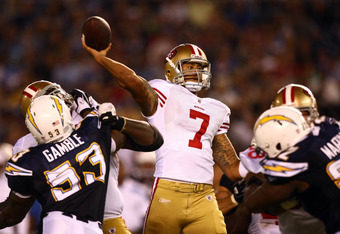 Donald Miralle/Getty Images
In greatly limited action this year, Kaepernick has thrown three completions in five attempts, for 35 yards. That's certainly promising, but doesn't reveal one way or the other if he can cut it at this level.
And that's really the point. We just don't know yet what Kaepernick can do. 
In that respect, he's a bit like a stock you may have bought last week. It hasn't gone up, but it hasn't gone down. After holding it just a few days, should you sell?
I say no—especially since 49ers offensive coordinator Greg Roman, speaking to Cam Inman of the San Jose Mercury News, said last week that the coaching staff was open to giving Kaepernick a greater role.
In the coming four weeks, now that the Niners have clinched the NFC West, we may well get to see how Kaepernick can perform with a talented first-string offense. From his college career, we know he can bring it in big games, such as Nevada's 34-31 victory last year over Boise State. 
Now he may get his chance to play the big stage, and we'll see if his highly touted arm can zip the ball in to Michael Crabtree, Vernon Davis and the rest of the 49er receivers. 
We'll see his timing in the backfield with Frank Gore and Kendall Hunter. We'll see how he responds to a blitz. We'll see if he can read defenses, look off receivers and scramble out of trouble.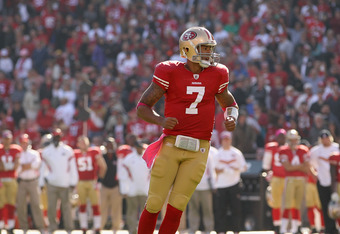 Ezra Shaw/Getty Images
And if he looks bad? Remember, this isn't Cam Newton we're talking about. And by that, I'm not referring necessarily to talent. I simply mean that Newton, also a rookie, has played all year, with his first-string offense. That's three-quarters of a season's worth of snaps under pressure—a far different scenario from Kaepernick's.
Frankly, I expect Kaepernick to stumble a little. He faces a steep learning curve, and the NFL game is frighteningly faster than college ball. 
Kaepernick may find himself confused, may throw interceptions, may get sacked a few times.  It's all part of getting acclimated, and so long as the coaches don't leave him in too long—either for Kaepernick to become demoralized or for the Niners to blow their chance at a first-round bye—there's little to worry about.
And you never know—the 24-year-old Kaepernick may shine. After all, he's got a strong arm. He's got a first-class group of players around him. And, like Smith, he's got a head coach who knows a thing or two about how to play—and teach—the position.
All of which brings us back to the original question.
Trade Colin Kaepernick now, after just three-quarters of a season?
Are you nuts?