Chicago Bulls: 5 Reasons To Believe Why They Will Win It All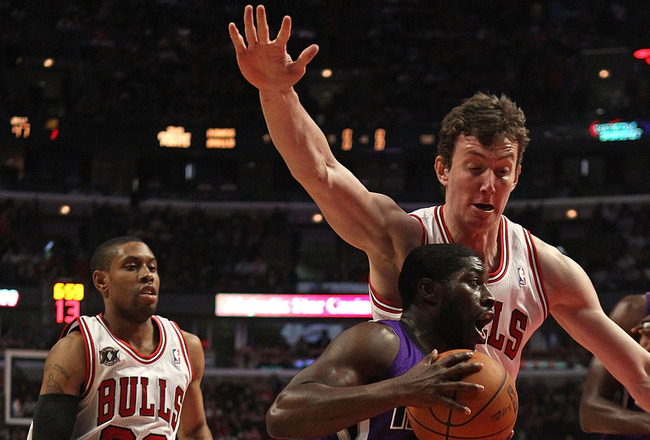 Jonathan Daniel/Getty Images
The Miami Heat will win the NBA Championship after beating the Los Angeles Lakers in seven games! Are you excited? I am not.
What I love about the NBA preseason talk is the "LeBron James is great and will win his first ring" hype. We have heard it every year since he's been in the league and quite frankly, I'm tired of it. I find myself rooting against LeBron year after year.
There is no denying his talent. He's the second-most talented player I have ever seen (to those of you who never got to see Len Bias before his untimely passing, you missed out). He can do whatever he wants when he wants and eventually will get his ring. Just not this year.
You have the much-improved New York Knicks, Oklahoma City, Boston, Dallas, the "Black Mamba" himself, Kobe Bryant, and the Lakers and what about the team up there in the NBA Central? You know who. The Chicago Bulls. My choice to win it all this year and here are five reasons why...
5. Derrick Rose's Will To Win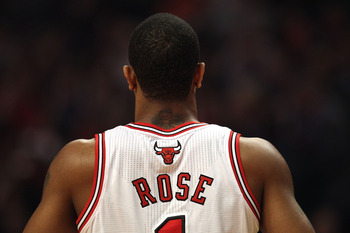 Jonathan Daniel/Getty Images
Great players have to go through some losing in order to truly understand what it takes to win. This is what has plagued LeBron James.
The Eastern Conference finals loss is just what Derrick Rose needed to get over the hump. One of the biggest differences between Rose and several other players is the fact that losing really gets to him. His less-than-stellar performance on the big stage was one that many superstars have endured before winning it all.
This is his time. He may not win the MVP award this season, but he will help return the Bulls to championship glory. He will not settle for anything less.
4. Frontcourt Cohesion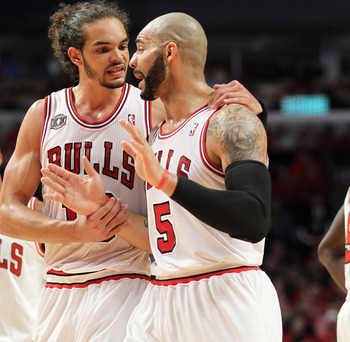 Mike Ehrmann/Getty Images
Carlos Boozer missed all of training camp last season, and the chemistry between him and Joakim Noah suffered as a result. Both players appeared to get in each other's way every time a rebound was up for grabs and on defense. Once it appeared that they were gelling, one of them got hurt. For Boozer it was turf toe and for Noah it was the ankles.
This time both players are healthy and, despite a shortened training camp, the cohesion will be much improved. If the Bulls can get 35 points and 24 rebounds from the frontcourt pairing, the Bulls will become the beast in the east.
3. Coach Tom Thibodeau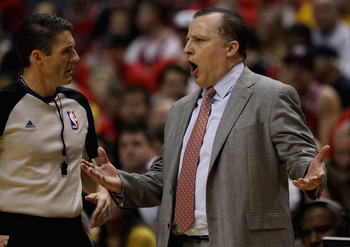 Jonathan Daniel/Getty Images
First-year coaches usually do not win titles. Even if they are good, hard-working and tough as nails like coach Tom Thibodeau.
In my opinion, he made a mistake in going for the top seed in the playoffs last season. What it did was burn out the team a bit when the players should have rested. Having already clinched the best record in the east, there was no need to push ahead of the Spurs for the best overall record.
The Spurs were locked in a tough playoff matchup with the Grizzlies, and no one expected Memphis to make it to the NBA Finals, let alone past the first round. I believe that Thibodeau has learned from that experience, and hopefully he will take a page from the old Boston Celtics teams he helped coach and give them optimum rest.
2. Weak NBA Central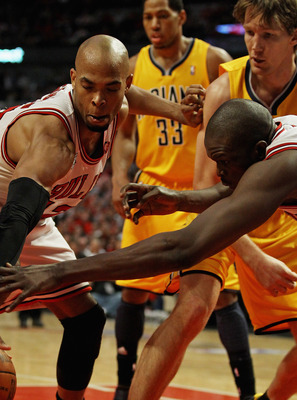 Jonathan Daniel/Getty Images
The first round of the playoffs between the Bulls and the Indiana Pacers featured a preview of things to come in the central division. They were a tough opponent, and that playoff experience will only make Indiana tougher.
The Pacers saw firsthand what they needed to become, and they have the cap space to do it. Of all the places to play, why don't players such as Chris Paul not want to play there? Forward Danny Granger has top-15 talent, Roy Hibbert is a solid NBA center and Paul George may be the second coming of Hall of Fame Bulls player Scottie Pippen.
If I were Paul or any other superstar looking to leave, I'd want to play for Indiana.
Thankfully for the Bulls, after Indiana, the rest of the central division stinks. With that said, the Bulls need to pile up wins in order to get homecourt advantage again.
Does Milwaukee scare anyone? They were talking about moving Andrew Bogut in the offseason, and the addition of Stephen Jackson only makes them a team in the hunt for eighth seed.
Also, Detroit is a mess and Cleveland is rebuilding, and the Bulls should feast on both teams.
Dare I say cakewalk? The division could be the key.
1. The Bulls Will Add a Shooting Guard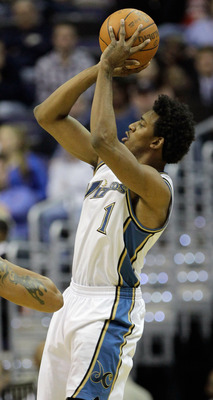 Rob Carr/Getty Images
After coming up short to the Heat, the Bulls brass realized a fatal flaw in their team—the need for another scorer. The Miami series was very close in all honesty. If Derrick Rose had just a little more help offensively, the NBA Finals would have been very different.
Going against Miami, one shouldn't expect a lot of scoring from forward Luol Deng. Having guarded LeBron James very toughly, the energy wasn't there. Knowing this, the Bulls will have another scorer added to the mix, even if it is Jamal Crawford.
Crawford brings everything to the table on offense, but he needs the ball in his hands a lot. If this is who the Bulls have to settle for, then I'm hoping Coach Thibodeau can find ways to make it work. But I'd rather they sign Nick Young or Aaron Afflalo.
Young offers a big scoring punch and could become the Bulls' version of Ray Allen while Afflalo offers the stifling defense and three-point shooting ability that would make Derrick Rose's job easier and cause nightmares for anybody that stands in the Bulls' way.
Other potential candidates are Grant Hill, Caron Butler, Courtney Lee and Shannon Brown.
What It's All About!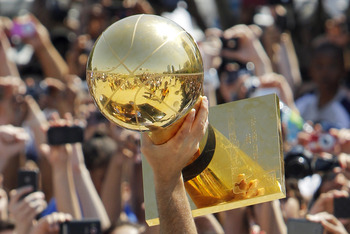 Brandon Wade/Getty Images
The trophy awaits, and this year the Bulls have as good a chance as ever to win it.
Keep Reading

Chicago Bulls: Like this team?