Indianapolis Colts at New England Patriots: 3 Keys for Pats on Sunday
December 3, 2011
Elsa/Getty Images
The New England Patriots hope to have plenty of difficult games ahead of them over the course of the season. This Sunday won't be one of them.
The Indianapolis Colts are coming in, and it's fair to say they're not exactly raring to go. They're 0-11. Dan Orlovsky will be starting at quarterback. They gave up over 60 points the last time they faced a potent passing offense.
This won't be like those Peyton Manning games, in other words, during which your face turns a bluish hue from holding your breath for 60 minutes. Instead, the Colts will just want to get the game over with.
That doesn't mean there won't be objectives for the Patriots. It's hard to do a strategic breakdown for this game for New England, which doesn't need to excel in any one area to get a win Sunday, but the Patriots will undoubtedly come in with a checklist of goals to accomplish while improving to 9-3.
Stay Healthy
This is, of course, a goal for every week, but in the middle of a stretch run, an injury to a key player can be a devastating blow.
And if that injury comes in a game against a winless team that you're a three-touchdown favorite against? That would just be inexcusable.
The Patriots should make it a priority to come away from Sunday intact. They've had a tough time staying healthy this year, especially in the secondary and along the offensive line, but they should be able to come away from their easiest remaining game with no personnel losses.
If players are dinged up, rest them. If a player goes down during the game, don't push him. The Patriots should make it a point to get the win and come away from the game in the same shape they went in. Of course, the second goal would go a long way in making that happen.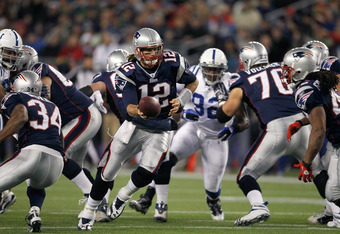 Jim Rogash/Getty Images
Score Early
The Colts aren't trying anymore. They're already dead and buried in the playoff chase, and they're on the fast track to winning the Andrew Luck sweepstakes. And they definitely don't think they can beat the Patriots in Gillette.
So prove them right. Blow them away from the start. Put them behind 14-0 before Orlovsky can even get a first down. Put more than 20 points on the board by halftime.
Simply put, get it done. Quickly.
The Patriots should try to avoid repeating that nonsense from the first half against Kansas City. There shouldn't be any reason for Tom Brady to start off completing 40 percent of his passes or for New England to be holding a 6-3 lead going into halftime.
If that happens, well then, maybe the Colts wake up. Maybe they forget about Luck for a bit and try to change that zero in the win column. Indianapolis may not believe it can hang with New England for 60 minutes, but it might feel better about 30. Maybe the Colts come out chippy and with some attitude, putting that first goal at risk.
This doesn't need to be a game. The Patriots can quickly prevent it from becoming one.
Find That Form

It may be difficult for a team to keep its edge against a winless team, but Bill Belichick will be trying to get the Patriots to do just that, and they'll be wise to listen.
The Patriots are playing their best football of the season right now, and with December already here and the playoffs coming up, now isn't the time to slack off and introduce bad habits. Bad tackling, blown coverage and turnovers still might not be enough to cost the Patriots a win Sunday, but those errors could make their impact when New England can least afford it.
The Patriots have had their miscues while protecting Brady. They'll face an elite pair of pass rushers while going up against Dwight Freeney and Robert Mathis. Letting them run rampant and get their shots in on Brady would be inviting trouble. New England could shut down the duo and figure out some pass defense tips from this game that will come in handy later on.
The Patriots have had a difficult time recently starting off hot. As was already mentioned, this would be a great week to reverse the trend. Execute on offense and defense, and practice the form that will be necessary once the real games begin next month.
This may be a tune-up, but it's still a test. There's no reason for the Patriots not to come out and ace it.