NBA Trade Rumors: Boston Celtics Smart To Choose Rajon Rondo over Chris Paul
December 3, 2011
The Boston Celtics could easily have jump head-first into the Chris Paul sweepstakes, and might still, but for now it appears as though general manager Danny Ainge has made the right choice by pulling Rajon Rondo off the trading block.
Rondo has been the subject of much trade speculation around Beantown lately, which has left the star point guard a bit upset heading into the resumption of business as usual following the NBA lockout. Bill Duffy, Rondo's agent, cleared the air with Ainge while in town on behalf of his client, who's still prohibited from contacting front office personnel. Said Duffy of the situation to Comcast Sportsnet New England:
Rajon is here, he wants to be here and from what I can gather, they want him here. It's kind of just getting re-engaged before the season starts. I think everything will work out.
Rondo must hope it will, as should Celtics fans. As great a point guard as CP3 is, Boston would still be better off hanging onto its own star. The Celtics' championship window of opportunity is closing fast, with Kevin Garnett and Ray Allen going into contract years and Paul Pierce getting up there in age right along with them.
That would seem to be all the more reason to give Rondo away for Paul, even if it means ending up with neither of them after the season, right?
Not so fast. If anyone is going to lead this Boston outfit back to the promised land, it's Rondo. He's taken the Celtics to the NBA Finals twice before, winning a title in 2008. He knows how, where and when to set up Boston's Big Three better than anyone, Paul included.
Both guards have dealt with their fair share of injuries, though Paul has missed far more games over the course of his career on account of knee and ankle injuries, while Rondo has managed to fight through a litany of nagging knocks to keep Boston at or near the top of the Eastern Conference over the last four seasons.
Statistically speaking, one could even argue that Rondo is the better pure point of the two right now. CP3's numbers have declined across the board in recent years while Rondo's have improved. In fact, Rondo nearly led the league in assists last season with 11.2 per game—1.4 better than Paul's average.
Realistically, then, whatever gap exists between Rondo and Paul on a purely isolated and objective level isn't as wide as some would make it out to be. Granted, CP3 has a markedly more accurate shooting stroke.
But with the Celtics, the task of nailing jumpers falls on the shoulders of Allen and Pierce, not whoever happens to be manning the point.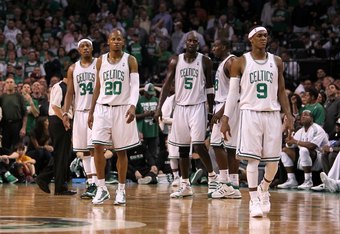 Jim Rogash/Getty Images
Context is everything for Rondo in Boston. He's spent his entire NBA career there. He got a taste of the Celtics' lean years as a rookie before Ainge assembled Allen, The Big Ticket and The Truth at the Garden to form a microwave-safe title contender.
Rondo undoubtedly knows what lies ahead after this year—a long and likely treacherous rebuilding process—yet he remains broken up about the possibility that he'll be shipped out by the only pro team he's ever known. The kid's dedicated to the cause in Beantown and, if the team will have him, he'll signed through 2014 at a reasonable hit of $11.5 million per year on average. 
And who knows? With the way Rondo's game has grown from year to year, he may yet surpass Paul among the hierarchy of the NBA's elite point guards.
Simply put, the Celtics were smart to pull Rondo off the trade block, if only temporarily, and would be foolish to put him back in that position, regardless of the time-frame in mind—long-term or short-term.