Chris Paul Trade Rumors: Why Hornets Point Guard to New York Knicks Is Possible
December 1, 2011
Patrick McDermott/Getty Images
Here at Bleacher Report, our beloved King Kaufman reminds us: Never begin a piece with a cliché.
So there you go. I didn't BEGIN with the cliché, but here it comes...
History always repeats itself.
I told myself I wouldn't get too involved in these Chris Paul-to-the-Knicks arguments. For goodness sake, the CBA hasn't even been ratified yet.
But on the heels of silly reports by some of the big dogs in the media, it seems rather obvious that everyone is missing the point.
Follow me...
Carmelo Anthony was traded to the New York Knicks on Presidents' Day 2011. It took longer than he and his representatives wanted, but it happened. It happened because Carmelo was determined to end up on the Knicks and he and his representatives let the Nuggets' head honchos—Josh Kroenke and Masai Ujiri—know it from the beginning.
Yet, if you listened to the likes of Peter Vecsey of the New York Post or anyone who wrote for ESPN during Melopalooza that is not named Chris Sheridan, you would have never thought that the Knicks had a shot at getting Carmelo.
Less than a year later, history is repeating itself. In all fairness, this time around, the Knicks have far less to offer in any trade. The Carmelo deal left the cupboard bare and the only assets the Knicks have to offer in a trade—Chauncey Bilups, Landry Fields, Toney Douglas and an unproven rookie in Iman Shumpert—do not even begin to represent adequate value in return for Chris Paul.
But so what?
I still can't figure out why media pundits hide behind the rhetoric that says the Knicks can't get Paul because they lack assets. It's something that has left me stumped for quite some time. It seems like even the big dogs across the major media outlets don't fully explain or represent to fans that don't study the sport the simplest of concepts.
Like I said when I wrote—in this same space—that Dwight Howard could end up a Knick if he so chose: Assets be damned.
If you're Orlando and Dwight says he's leaving for Team X and Team X has cap space to offer him close to the max, you hunker down with Team X, get one or two more teams involved and work out a deal.
Even if you don't get equal value in return, you simply cannot lose your franchise for nothing. 
Obviously, Brook Lopez is no Dwight Howard. But if Dwight told Otis Smith he was going to New Jersey, with or without Orlando's help, what would Otis Smith do? Let him walk away for nothing? 
PUH-LEASE.
You take what you can get. If you act early—like the Utah Jazz did—you can make out like a bandit. If you wait too late (Toronto Raptors) you get scraps. But certainly, the Melodrama should have taught you this: Teams will take what they can get.
Of course, this will only work if Team X has cap space because that's where the leverage comes from.
Again I ask, don't you know the meaning of the term "free agent"?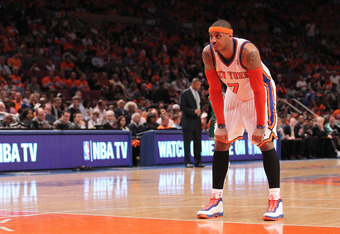 Nick Laham/Getty Images
Now, back to Paul and the Knicks. Based on the details of the to-be-drafted CBA, the Knicks will likely have about $13.5M in cap space next summer. Many have tweeted and asked how I arrive at that number.
Brief explanation: the Knicks only have Stoudemire, Melo, Shumpert and Balkman under contract for 2012-13. Combined, they represent about $42 million. The new CBA will preserve the way the cap is calculated. It is a direct descendant of total BRI and since this season is shorter, it stands to reason that total BRI for 2011-12 will come in less than what it was for 2010-11 ($3.8 billion).
However, the NBA has agreed with the NBPA to not shrink the cap for this season or next season. So, at this point, odds are, the salary cap will be $58 million for 2012-13. That would leave the Knicks $16 million under the cap.
But the NBA also has a thing called "cap holds." The minimum roster size is 12, so for every open roster spot, the league subtracts a minimum salary from a team's cap space. Under this scenario, the Knicks would have eight open roster spots, and the cap holds will cost them another $4 million. That leaves $12 million for Chris Paul, or, like I said, $13.5 million if the Knicks decide to amnesty Renaldo Balkman (or, if they manage to trade him). 
That was a rather long aside. Here's the point: If the Knicks maintain that cap flexibility, they will be in a good position with regards to acquiring Paul. Paul would have to convince the Hornets—and other teams that would trade for him—that he would be willing to accept $13 million from the Knicks.
It's worth pointing out that if Paul becomes a free agent and goes to the Knicks via free agency, he would be eligible for 4.5 percent raises per year, and a maximum length of four years. The most the Knicks could offer him would be four years for $58 million.
Meanwhile, if he decided to sign as a free agent with a team that could offer him the non-Bird maximum, he'd get $17.2 million in year one and 4.5 percent raises each year for four years, working out to four years at about $73 million.
If Paul became a free agent and stayed with the Hornets, since they have his bird rights, they could sign him for a fifth year with 7.5 percent raises. His Bird Rights maximum, thus, is five years at about $99 million.
Knicks Max: four years, $58 million
Non-Bird Max: four years, $73 million
Bird Max: five years, $99 million.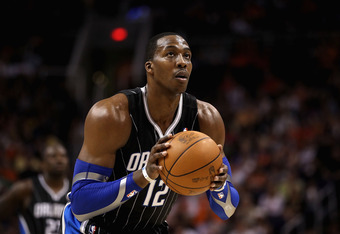 Christian Petersen/Getty Images
Yes, there's a huge difference between all three of those offers. But what if I told you it was possible—despite the new rules of the CBA—for Paul to end up with a Bird Max contract from the Knicks?
Ah hah! That's what the big dogs in the media have failed to tell you.
Follow me...
Carmelo forced his way to the Knicks and got a Bird Max extension. Under the new CBA, this is no longer possible. The 2011 CBA stipulates that any "Extend-And-Trade" deal can add, at most, two years. So, if Paul forced an extend and trade to ANY team, he'd only get two more years out of the deal.
Nobody seems to realize that. Under that scenario, he'd get two additional years at $35 million.
What nobody also seems to realize is this: Under the new CBA, the maximum amount of years ANY team can offer ANY player in an EXTENSION—whether they have Bird Rights or not—is three additional years.
In Paul's case, an extension with the Hornets can be, at most, three more years. The terms? Three additional years at $56 million. 
Extend-and-Trade Max: two years, $35 million
Bird Extend Max: three years, $56 million
But here's the most important thing that nobody seems to realize: The most lucrative option for ANY player, based on the new CBA, is to become a free agent and re-sign with the team that holds their Bird Rights. That's the only way to get the fifth guaranteed year.
What that means is this: Paul can only maximize his earning potential if he does not sign an extension with ANY team, including the Hornets. Under the new rules, his most lucrative option is to become a free agent and re-sign with whatever team has his bird rights.
If he wants to leave New Orleans, he could force a trade to the team of his choice, without the extension, and then opt out at the end of this season and become an unrestricted free agent. Since Bird Rights travel with a player who is traded, his new team would have his Bird Rights when he becomes a free agent and could sign him for his Bird Max.
In such an instance, there is significant risk to both Paul and his new club. Paul could blow out his knee post-trade and never have the Bird Max. offer tendered. Likewise, Paul could force a trade to the new team under the assurance that he wants to play for them and then bolt after he opts out and becomes an unrestricted free agent. 
But the point is this: Those that assure you that the Knicks don't have a chance of landing Paul due to financial constraints or a "lack of assets" simply don't know what they're talking about.
Even worse, they're ignoring history.
Whether or not Paul ends up with the Knicks will boil down to two things: whether he can convince New Orleans that he'd take less money to play for the Knicks, and whether or not the Knicks will maintain their cap flexibility.
If both happen, he will be wearing orange and blue by the Spring.
The only thing Knicks fans should be worried about is whether or not the NBA decides it cannot trade Chris Paul due to its apparent conflict of interest and if the NBA is unsuccessful in finding a purchaser for the team.
Under that scenario—the worst case for Knicks fans—Paul would not be traded and would become an unrestricted free agent. If that happens, there are plenty of teams that could offer him $73 million while the Knicks could offer only about $58 million. If it came down to that, I wouldn't bank on Paul leaving $15 million on the table.
But again, it's worth noting that Paul and his agents will realize that the only way for him to get the fifth year is to forgo ANY extension. The fifth year can only be had via Bird Rights and unrestricted free agency. Once they let that be known, how many teams do you think would be willing to trade for him? If you don't think the Knicks are alive in this pursuit, you're simply wrong.
Just as wrong as you were when you assumed that Lebron, Wade and Bosh would not leave money on the table either.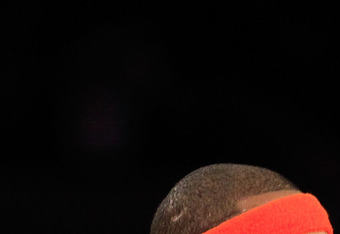 Chris Trotman/Getty Images
There are no guarantees, but if Chris Paul wants to be a Knick and can convince the Hornets that he would take a  four-year deal from the Knicks for $58 million—even if it's not true—he will be.
Keep that in mind, and from now until when Paul's fate is decided, try to not pay attention to anything else. Remember: the Knicks had no shot at Carmelo. He was a Net, he was a Laker and he certainly had a better shot of being a Rocket. 
So, here you go, Knicks fans. Blunt facts, outside the box thinking and hope.
Chris Paul, and only Chris Paul—whether it be based on money, winning or friendship—will decide where he plays.
It won't necessarily be New York, but Carmelo taught me this: in the NBA, PDE (Post-Decision Era), a team will trade its franchise player rather than risk losing him for nothing. Melo knows it. Deron Williams knows it... And Chris Paul knows it.
We've seen this before; haven't you learned anything in the past year?
--------------------
Moke Hamilton is a National NBA Writer for Bleacher Report and the NBA Salary Cap Analyst for SNY's TheKnicksBlog.com. Follow him on Twitter for the latest in the world of the NBA.