Rajon Rondo Trade Rumors: Boston Celtics PG Is Perfect Fit with Indiana Pacers
December 1, 2011
Kevin C. Cox/Getty Images
Rajon Rondo has just been placed on the trading block; a move nobody saw coming. However, after a season with many ups and downs for the young point guard, it seems that Boston's future does not include Rondo.
As the 2011-2012 NBA season approaches, trade rumors are in full effect.
The prominent names that have controlled the rumor-mills for months now, like Dwight Howard and Chris Paul, are at it again, while there have been a few surprising appearances, like Al Jefferson, Pau Gasol and O.J. Mayo, making it into the headlines.
There is one name that has popped up that took everyone off guard. This name is, of course, Rajon Rondo.
Out of all the players on the Boston Celtics, many people saw Rajon Rondo as the only player deemed untouchable in trades. But this is just not the case, as GM Danny Ainge isn't just listening to Rondo offers, but aggressively shopping him. 
The most frequent rumors for the talented young PG have the Oklahoma City Thunder involved.
However, a team not widely thought of as a superstar destination that has come forward is the Indiana Pacers. At first I was skeptical of the whole situation, but Rondo to the Pacers could be a perfect fit.
The first thing Indiana Pacers general manager David Morway has to try accomplish is acquiring Rajon Rondo without giving up Roy Hibbert and Paul George. After watching those two play last season, I believe that the Indiana Pacers organization considers them untouchable.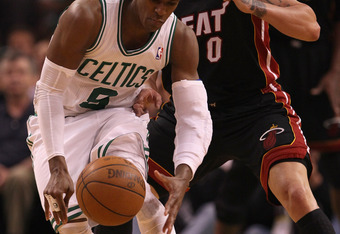 Elsa/Getty Images
With those two out of the equation, I see a trade that includes Danny Granger, Tyler Hansbrough and Darren Collison being exchanged for Rajon Rondo.
This trade is completely fair for both squads, as the Pacers acquire their point guard of the future, while the Celtics receive youth for the future and a star that could help their title aspirations in the present. 
A starting lineup of Rajon Rondo, George Hill, Paul George, Josh McRoberts and Roy Hibbert would be absolutely dominant in a few years, as not one of those players is above the age of 25.
Plus, they would still have sharpshooter Brandon Rush and athletic Lance Stephenson coming off the bench.
I have a feeling a dynasty could be forming in Indiana.