Arsenal Transfer Talk: Andrei Arshavin and 5 Players Arsene Wenger Should Ditch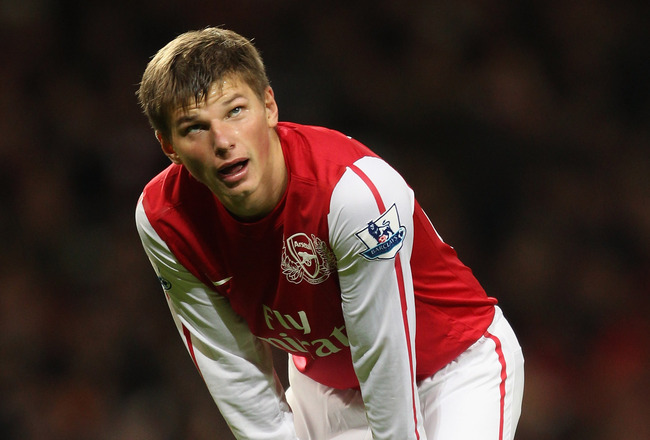 Scott Heavey/Getty Images
For those who watched Arsenal's latest game against Fulham in the English Premier League over the weekend, one of the things that arguably stood out most from seasons past was Andrei Arshavin.
The Russian midfielder, who made such a great impact upon his arrival in the league nearly three years ago, seems to have, by his own admission, lost "sparkle." His sudden decline in form and perceived ability has turned the one-time highly adored midfielder into something of an unneeded enigma amongst the Arsenal faithful.
Unfortunately for the Gunners, he's not alone in this category.
Check out this slideshow to see which other players Arsene Wenger should ditch in the January transfer market.
Go crazy!
Sebastian Squillaci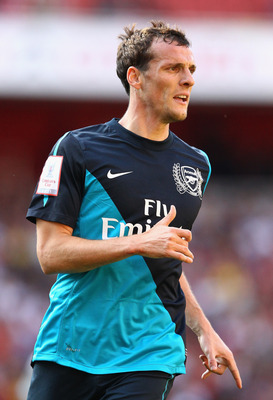 Richard Heathcote/Getty Images
The initial news of Sebastian Squillaci's transfer to Arsenal brought a sigh of relief among all corners of the Emirates Stadium, as Arsene Wenger seemed to finally have bought that experienced, no-nonsense defender that the team so clearly lacked.
Unfortunately for Squillaci and Arsenal, it all went so wrong.
The Frenchman seemed unable to put a foot right, as he was found wanting on more occasions than you'd expect a seasoned center back to ever be. Essentially, the Frenchman seemed a shadow of the player fans were expecting, as he seemed prone to putting in subpar performances every time he took to the pitch.
With the arrival of Per Mertesacker, after which Arsenal now boast four imposing center backs (excluding the Frenchman), Squillaci is now deemed as not needed by the club. His age means he'll take up space in the 25-man squad sheet, while his wages, despite not being considerably high, could be better utilized in other departments.
Marouane Chamakh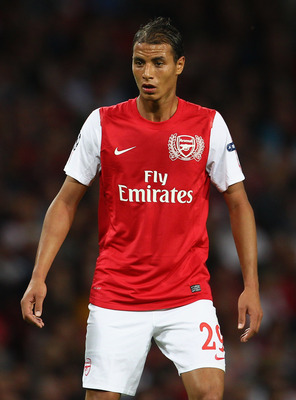 Julian Finney/Getty Images
Another player seemingly unable to put a foot right these days is Marouane Chamakh, whose name on the squad sheet is often met with discontent from the fans nowadays.
The Moroccan, despite making a strong start to his career in North London, is currently a player devoid of any confidence and form. Of course, it doesn't help when you're playing backup to one of the current best strikers in the world (Robin van Persie). But the fact remains that when presented with the opportunity, Chamakh has been unable to make the most of it.
Perhaps the most telling stat in Chamakh's case is his goal scoring, or lack of it. In the 2011 calendar year, he's only managed to score twice! It's a far cry from what's expected of a striker, and it's one of the reasons, besides the fact that he was brought on for free, for Arsene Wenger to consider selling him as soon as possible.
Abou Diaby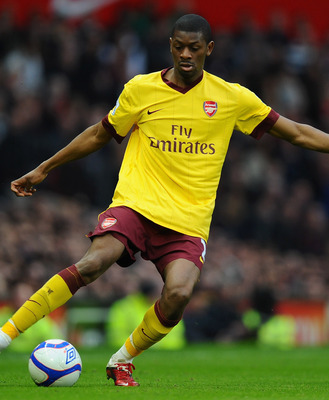 Clive Mason/Getty Images
There's little sense, and even less reason, to keep a player that rarely ever plays on the club's squad sheet, and more importantly wage bill. To make matters worst, that player is "the enigma," Abou Diaby, who Arsenal could have made a substantial amount of money off in the summer, according to Arseblog News.
Diaby is a player possessing great skill and technique on the ball. His ability to glide through the midfield is unparallelled by any other Arsenal player, as he seems the best "box-to-box" midfielder on the team. Unfortunately for the Frenchman, and the rest of the Arsenal faithful, Diaby rarely ever makes an appearance, or at least a string of them.
Of course, the blame cannot solely lie on Diaby, as it was Dan Smith's horrendous tackle four years ago that led to his current lack of fitness. However, Arsene Wenger must put his sentiments aside and sell a player that's been a bit-part player for the better half of his Arsenal career.
Tomas Rosicky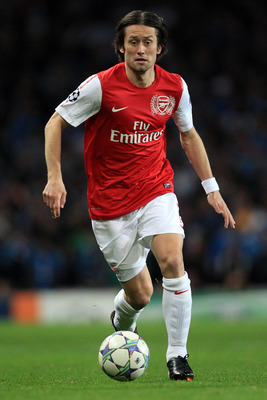 David Cannon/Getty Images
Tomas Rosicky is a player possessing immense ability and talent. He's turned into one of the senior players of the Arsenal team, and he's captained the squad on numerous occasions. Unfortunately though, the Czech midfielder is also extremely injury prone, making his justification of an Arsenal player all the more difficult.
Of course, it could be argued that when Rosicky is fit, he'd be an excellent squad player, as his vision and passing range is second to none on the current Arsenal team. However, the fact remains that, more often than not, the Czech playmaker finds himself on the injury list, as he seems unable to put a string of consistent performances together.
His departure would be mutually good for both player and club, as the team can use the money recuperated by his sale into another, more fit squad player, while Rosicky himself might find more first-team action elsewhere.
Manuel Almunia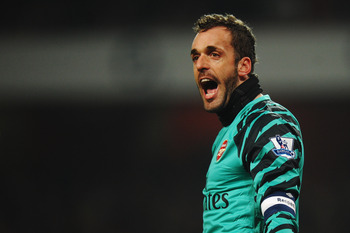 Laurence Griffiths/Getty Images
I'm not even going to bother explaining this slide.
Suffice to say, his departure would be a breath of fresh air for both player, who could yet rejuvenate his career in a less competitive league elsewhere, and club, that literally have no room for him.
If, or more likely when, he does leave, he'll be remembered fondly by Arsenal fans as a loyal servant that just couldn't cut it in England's top league.
Agree or disagree? Post your thoughts in the comments section below, or simply tweet/follow me @saqibddb.

Keep Reading

Arsenal: Like this team?