Amongst purple & gold?
Jonathan Ferrey/Getty Images
November 30, 2011
Amnesty! That's what the Los Angeles Lakers are searching for right now as they look to add some stocking, locker fillers before the new NBA season unwraps on Christmas Day. In their quest to find their way back into championship contention, everyone from Dwight Howard to Chris Paul has been linked to the Lake Show.
Still, with everyone in the league all the way to New York interested in these top guns, LA is cruising the market to take a shot at other potential deals that may fly. Buss, Kupchak et al are  looking at potential free agents who may be cut and waived via amnesty like Baron Davis and Rashard Lewis. Still, one of the most intriguing prospects could be star player Brandon Roy and those knees of his.
You would think that with Andrew Bynum the Lakers would have had enough with players going down on one knee, but then again maybe an engagement with Roy may just be worth it. The married old romantic man and all-star could help the Lakers find matrimony with Larry O'Brien.
Still, if the rumors become true and the Lakers' B-Roy proposal is accepted, then LA will have to take him for better or worse. The better being that there isn't much in this league greater then Roy when he's at his very best; the worst being that there really isn't  much between those knees of the superstar...literally. All the cartilage was down to the bone last year, meaning Roy needed arthroscopic surgery to repair what could of been irreversible damage.
Still, let's take into account the dedication of this player, who never gave up and played to he was literally worn down to the bone. A player who literally risked his last legs for a good team, but a Portland Trail Blazers team. A team that was never going to make it out of the first round of the playoffs. Playing like it was for the championship but in the early doors of last season, Roy had all the marbles, but was hit with the roll of the injury dice.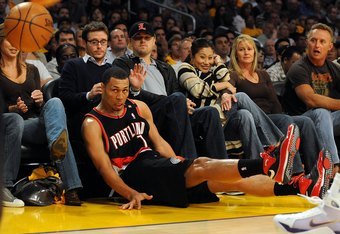 Will DiCaprio get an even closer look?
Harry How/Getty Images
Even though doctors orders saw season-ending surgery for Roy, the Trail Blazing No. 1 still returned for Portland's playoff push right after the all-star break. Sure, the three time all-star—who can hit as much as 52—may have returned with career lows, but he still had some clutch in him and was a great hand off the bench as the Oregon team were blazed by the eventual champions of last season, the Dallas Mavericks.
So it's not just the Lakers that want to prove themselves to the Texas titans and the rest of the National Basketball Association. Roy and LA may just be the perfect fit. "The Natural" could find a seamless transition to Hollywood as he looks to get his "star power" back and, more importantly, the ultimate award come next year.
Right now the Lakers are looking for a point guard. Playoff king Derek Fisher is still clutch and still great, but as he gets older more backcourt minutes next to Kobe Bryant become more readily available. The Lakers may just be looking for more than valued veteran Steve Blake and rookie Darius Morris as they look to quarterback with the big boys of the NBA.
Baron Davis is an option, but his chemistry and conditioning may be a championship problem. The dream scenario for these Lakers would be for them to go all Karl Malone and Gary Payton again by signing superstars Dwight Howard and Chris Paul, but in these rushed lockout "star wars" the Lakers may have more luck seeing gold with C3PO then CP3. So if the Blazers cut their star, the Lakers could print a more affordable contract and the Roy deal could be a wrap.
Sure, Roy is more of a natural shooting guard and that's Kobe's position and prerogative. Still, Roy is small and experienced enough to get the point  and move to the same spot as his number. Also, this star backcourt could run and shoot everyone else out the building. Or then again this former No. 6 draft choice could choose to come off the bench and follow the Sixth Man of the Year sneaker steps of Lamar Odom.

Yes, Roy's knee problems are as threatening as Bynum's. But like the young center, Roy has shown he's more than the chronic fear of sudden injury, which in all reality is a problem for every player in the league.
With a promising and valiant end to last season, if Roy flowers the Lakers could bloom into the killer unit they are supposed to be, and the competition will be caught in the crossfire. Yes, the Lakers will be taking a shot with Brandon Roy, but if aimed right it could see target a championship bull's-eye.
Like the new article format? Send us feedback!