Boston Celtics: 3 Biggest Needs in 2011-12 Season
Mike Ehrmann/Getty Images
As would be expected, the end to the lockout means that it is time for teams to begin working out the problem areas that they weren't able to address in these last five months.
If the Boston Celtics want to have a chance at making a run in 2012, there is no shortage of improvements that must be made.
Like several veteran teams, the Celtics will attempt to prevent Father Time from catching up to them again this year.
Due to the condensed season, the Celtics will find themselves playing in several back-to-back games. Naturally, this makes things all the more difficult.
Fountain of Youth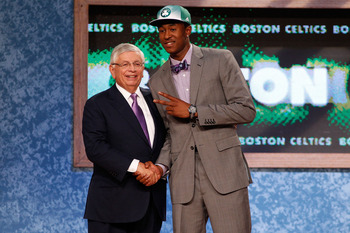 Mike Stobe/Getty Images
The Celtics are hoping that their two rookie Boilermakers, JaJuan Johnson and E'Twaun Moore, will be able to contribute this season, but that is far from a guarantee.
Due to the lockout, both rookies are expected to be far from being in the NBA-type condition that they could have been in should the season have started on time.
This inability to get in proper playing time against high competition will likely hinder both players, while also having an effect on the potential of second-year G Avery Bradley to have an impact on this year's roster.
Bradley has yet to translate his raw talents into NBA-caliber skills, as the Celtics had hoped, and that isn't likely to change with the Celtics having little time to assist Bradley in improving his game.
While F Jeff Green is nearing veteran status, his awareness of the Celtics system made him look more like a rookie after being traded from the Oklahoma City Thunder last year.
Green's play made the heartbreaking, suspect trade of Kendrick Perkins even more of a disaster. The trade marked the third year that a single event left Celtics fans wondering what might have been. The 2008-09 injury to Kevin Garnett, the 2011 NBA Finals injury to Perkins and last year's trade of Perkins have left hardcore fans wondering if three opportunities for banners went by the board.
At age 25, Green still has a lot of time to bolster the talents he showed off much more often in Oklahoma. It is time, however, that Kevin Garnett, Paul Pierce and Ray Allen do not have.
Searching for Size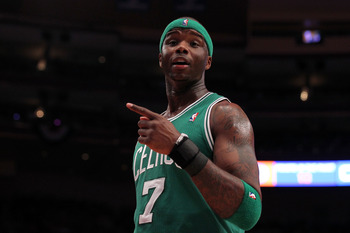 Nick Laham/Getty Images
With the loss of Kendrick Perkins, the Celtics hoped that the trio of Shaquille O'Neal, Jermaine O'Neal and Nenad Krstic would be enough to fill the gap.
However, Kristic's lack of physicality, JO's inability to log significant minutes and Shaq's trouble carrying his own weight—let alone playing basketball—proved to be a great part of the Celtics' second-round demise.
With Shaq finally lugging himself off the court and into the analyst chair, the Celtics are once again searching for an answer down low.
JO contemplated retirement but will return for what will likely be his final season. Also a liability, O'Neal choosing to stick with his contract is just more cap space left unavailable for a potential free-agent acquisition.
Some thought the team might take a chance on a larger player in the draft, but the Celtics went the route of another power forward.
Although JaJuan Johnson has some size/strength, at 6'10" he simply doesn't have the potential to log any minutes at the center spot.
With free agency about to begin again, I am betting that Glen Davis will receive the type of offer elsewhere that will prevent the Celtics from signing him again. Still, the potential loss of Davis is not necessarily a bad thing.
Last season, Davis lacked the kind of gritty intensity that made "Big Baby" a household name in Boston. Davis strayed away from his physical mindset and played with an offensively-geared approach, taking twice as many shots as the year before.
At 6'9", Davis clearly isn't the answer from the Celtics' height woes, anyway. However, he has been one of the Celtics' few reliable answers off the bench.
Bench Reliability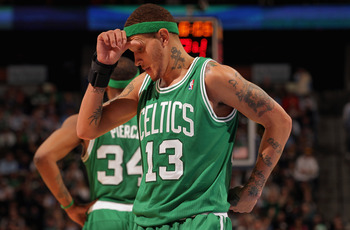 Doug Pensinger/Getty Images
Washing out players like Luke Harangody and Semih Erden helped give way to veteran acquisitions like Sasha Pavlovic, Carlos Arroyo, Troy Murphy and Von Wafer.
While Pavlovic, Arroyo and Wafer showed that they may never have the talent to log important minutes, Murphy gave us no reminders of the player that put up double-doubles in Indiana years ago.
After various off-court incidents, the Celtics were able to get a backup PG in the form of Delonte West at under $1 million-per-season, acquiring the skills of a crafty veteran for very little risk. However, injuries hampered most of his season. The good news for the Boston Celtics is that West has had ample time to recover from the wrist injury that left his game with something to be desired for the remainder of last season.
With what will be a grueling schedule, with more games per week than normal, the Celtics will have to rely on their bench for more minutes than usual. Besides West, the answers will not come easy.
Murphy, Pavlovic and Arroyo are only scheduled to make slightly over $600,000 combined this year in the unlikely event that the Celtics decide to keep all of them on the roster. Fans can expect some free-agent moves and other various pickups throughout the year in an attempt to acquire some reliable role players.
It sure makes you miss Eddie House, Leon Powe and James Posey, doesn't it?
The organization has always seemed to make the best of its role players, and the Celtics have to hope that some additional time will help them to regain some bench chemistry. This is just another area in which the Celtics have been hurt by the lockout.
The upcoming month of free agency should give fans a clearer picture of what the 2011-12 Celtics will look like on the court.
Keep Reading

Boston Celtics: Like this team?