Tim Tebow: Success in Denver Not Sustainable in NFL
November 30, 2011
Doug Pensinger/Getty Images
The name just screams political candidacy.  Much like the debates in Washington, the Denver Broncos' quarterback has an equally polarized following.  His 5-1 record as an NFL quarterback has made believers out of the most critical sports journalist, including Jim Rome and Skip Bayless.  Tebow's performance, much like his record, stays consistent.  This consistency, though, will not be enough for sustainable success in the NFL.
NFL defenses are made up of the absolute best of the best.  They are coached by arguably the greatest football minds ever.  The University of South Florida fell for the same playbook every year, yes.  The Baltimore Ravens will not. 
The attention is cute, but cute is not sustainable. 
Within the NFL, nothing about the current situation in Denver screams remarkable.  It is undoubtedly different, it undoubtedly works, and it is interesting—but, so was the Wildcat offense.  Understanding the unsustainable success of Tim Tebow begins with understanding why exactly it was successful in the first place.
Without further adieu, step one.
Why Tim Tebow has shown to be successful

John Fox has played the cards he has been dealt.  With no fear towards scrutiny or expectations, Fox has played his cards right.  Tebow's success is solely based on 1) play calling, and 2) schedule.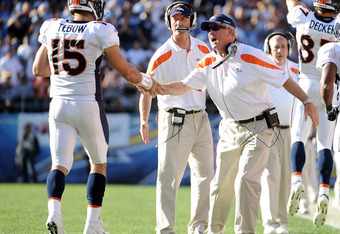 Harry How/Getty Images
Let that sink in for a moment.  There is no algorithm, no HTML coding, or strategically drawn-out plan of action for this success.  NFL defenses just forgot how to address a high-school playbook. 
The exact reasons as to why Tebow has been successful will mimic the exact reasons as to why Tebow will fail.
Welcome to step two: the thesis.
Tim Tebow's success in Denver is not sustainable in the NFL

1) Play calling: Tebow was arguably the greatest college football player ever because in each game he was the greatest athlete on the field.  Urban Meyer realized this and called plays that would give Tebow and the rest of his team the greatest chance to win.
Fast-forward to Denver, where Fox is adopting the exact same model. Fast-forward to Denver, where Tebow is running a power-spread offense, option-keepers and keeping the Broncos' defense off the field.
This play calling was brilliant against Tulsa and Miami (OH). No matter the year, their defense didn't have athletes capable of stopping the play calling.  Regardless of footage, regardless of statistics from the year prior, there were just not enough great athletes on the field to stop Tebow.  Fast-forward to the NFL.
Defenses are packed with what most would define as "great" athletes.  They are stronger, smarter, faster and more established.  Tebow is no longer the greatest athlete on the field.  The play calling works right now because the NFL has not seen it.  If you think high-school, power-spread, option-based play calling will lead a team to NFL supremacy and a player to Canton, I urge you to find out how Ronnie Brown and Ricky Williams are.
Defenses adapt. 
2) Schedule: The Denver Broncos are playing the right teams at the right time.  It is no secret the AFC West rarely gets a vote for NFL's best division.  This 5-1 record are wins over bottom-feeding teams like the Miami Dolphins and Kansas City Chiefs, beat-up teams like the Oakland Raiders and San Diego Chargers and a hugely under-performing New York Jets. 
What is consistent besides Tebow's 70 rushing yards and one touchdown in each game?  The Denver Broncos' defense.  Which is sad because with the remaining schedule (at MIN, CHI, NE, at BUF, KC), the Broncos have the capability of finishing 9-7 and winning the AFC West. 
Of course, this will be attributed to Tebow's performance and not an over-performing defense and outstanding offensive line. 
Oh well, what else could be more fun than a Cinderella story?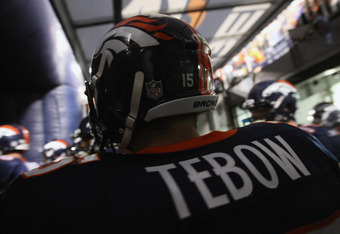 Doug Pensinger/Getty Images
The future of Tim Tebow

Will the Cinderella story stop?  Of course it will.
He lacks the inability to throw downfield, has little-to-no accuracy, the arm strength of a third-string quarterback and absolutely zero pocket presence. It just seems to be an embarrassment to call him a quarterback (see: two-completion game). 
Tebow is marketable, a phenomenal person and an excellent athlete.  There should be no qualms about his ability to play in the NFL. His ability to put his head down and grab an extra yard, or take a hit on the sidelines would be far more admiral traits had he chosen to be a tight end—not to mention it would expand the lifespan of his NFL career. 
One thing is for sure, the polarization that Tebow has created truly is the most remarkable outcome. With the overwhelming scrutiny and support, Tebow should just announce his candidacy. 
Do the liberal followers truly believe NFL defenses will never adapt to the same plays he runs every week (and in college, and in high school)? Is it too conservative to understand that a dismal 45 percent completion and 110 yards per game are not at all reputable?
"TEBOW/FOX 2012?"
Vote "NO."