Lakers Rumors: Breaking Down Team's Financial Situation for Trades, Free Agents
November 30, 2011
Lisa Blumenfeld/Getty Images
Trade speculation and free agency rumors have surfaced non-stop since Saturday when news broke that an NBA season is actually on the horizon.
The labor agreement that ended the lockout will certifiably change the landscape of the Lakers' finances and it's important to be aware of these changes when assessing the reality of the latest rumors.
Here is the Laker-centric view of what these changes do to L.A.'s chances at the bargaining table.
Luxury Tax and When To Reduce Payroll
As Kurt Helin of Pro Basketball Talk notes, big spending teams (read: Lakers, Heat, Mavericks) can still safely spend for the next two years before suffering the consequences of more punitive luxury tax penalties.
In 2011-12 and 2012-13, the league will still charge dollar-for-dollar luxury taxes but come 2013-14, the tax bills get significantly juiced up.
The Lakers can operate with their current roster for two more years before Lakers owner Dr. Jerry Buss is forced to either shell out an unprecedented amount of money for exceeding the luxury tax limit or dismantle his expensive roster to fall in line with cap limits.
I envision Lakers management giving this current group one more shot at another ring before making significant changes that both comply with the new labor agreement and start preparing the franchise for the future.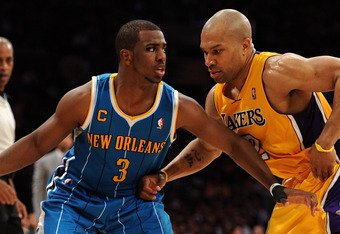 Harry How/Getty Images
Sign-and-Trade Agreements
Also effective in two years, teams more than $4 million above the tax level during 2013 cannot execute sign-and-trade deals. The Lakers are set to pay out $61.5 million for four players in 2013-2014, a number that will increase with certainty over the estimated luxury tax threshold of $70 million once they fill out their future roster.
This bodes well for the Lakers' chances at acquiring Chris Paul and Dwight Howard next year through a sign-and-trade, two players who are both slated to become free agents in 2012.
Once 2013 hits, teams $4 million and over the luxury tax cannot make such a transaction and both Paul and Howard will already be off the market. Any move to get Paul or Howard before 2012 must be through a standard trade.
Amnesty Players
Players cut under the amnesty clause will be available to other teams through a bidding process. To the highest bidder goes the player. The player will receive a reduced salary and the original team will pay the difference between the player's old contract and this new amount.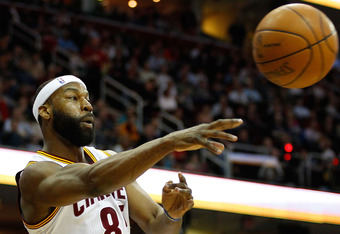 Jared Wickerham/Getty Images
As Mike Bresnahan of the LA Times responsibly points out, only teams under the salary cap can offer big bucks to amnestied players. 
The Lakers, well over the luxury tax threshold, are limited to, at most, a $3.2 million per year bid.
A "mini mid-level exception."
Unless the amnestied players fail to draw interest from teams under the salary cap (about half of the league), the Lakers have little to no shot at a big name waived via the amnesty provision.
Free Agents Under the Mid-Level Exception
If the Lakers do not get a player off waivers through amnesty, they have a shot at signing a free agent through this same "mini mid-level exception."
Unfortunately, they are again limited to what they can offer.
The max the Lakers can offer a free agent is $3.2 million per year over three years, whereas non-luxury tax paying teams can use the standard mid-level exception and offer a free agent around $5 million per year over four years.
With the cards stacked against big market teams, the Lakers can make significant acquisitions only through aggressive trades that drastically alter the current roster or through voluntary pay cuts by players hoping to win a championship and play alongside Kobe Bryant.
Expectations should be measured accordingly.