NFL Fantasy Football Week 13: Who's Hot, Who's Not at the Quarterback Position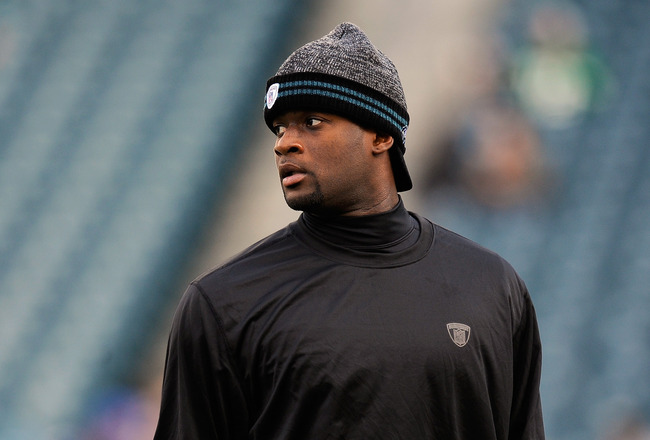 Patrick McDermott/Getty Images
Hot quarterback play is critical at this juncture of the fantasy football season, and if you have guys like Tom Brady, Aaron Rodgers and Drew Brees, you're sitting pretty right now.
It's the rest of the signal-callers out there that you have to worry about having a subpar, single-digit outing that sends your fantasy squad spiraling out of the playoffs, or to the point of not even making the playoffs.
If you can get your hands on a QB that's firing on all cylinders right now, you have a great shot at making a run in the playoffs and taking home some money this year.
Vince Young (Owned in 6 Percent of ESPN Leagues)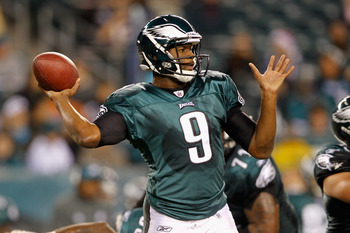 Rich Schultz/Getty Images
Vince Young is coming off a 400-yard, 22-point fantasy performance against the New England Patriots and is penciled in as the starter on Thursday against the Seattle Seahawks.
He's doing a great job of spreading the ball around to other receivers, and he doesn't care who's running routes—indicated by the 58-yard bomb he lofted up to Riley Cooper.
He's simply an every-week starter in that offense until Michael Vick comes back. Go get him.
Tim Tebow (84.4 Percent)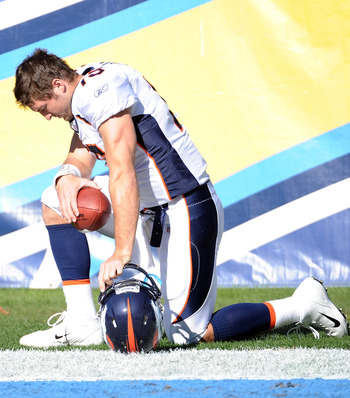 Harry How/Getty Images
Somehow, Tim Tebow is only owned in 84.4 percent of ESPN leagues right now and only started in 34.8 percent of those leagues.
He's averaging just under 12 points per game, and that includes the beating the Denver Broncos were handed by the Detroit Lions.
This past week, he ran the ball 22 times for 67 yards, which doesn't sound great, but he still ran the ball 22 times!
This week, the Raging Tebows head to Minnesota to face a Vikings team that is struggling on all sides of the ball.
My prediction is that he throws for around 225 yards and two touchdowns in a big win.
Ryan Fitzpatrick (78.2 Percent)
Jeff Zelevansky/Getty Images
Ryan Fitzpatrick shredded a pretty tough New York Jets defense for 264 yards and three touchdowns—he would have had four TDs if Stevie Johnson wouldn't have dropped a ball that hit him in the hands on the final drive.
He notched 25 fantasy points on the day and looks to be out of his three-week slump.
If he can put up points like that against the Jets defense, he should have no problem putting up big points against the Tennessee Titans this weekend.
Andy Dalton (28.9 Percent)
John Grieshop/Getty Images
The magic number here is three—as in Week 3. Andy Dalton hasn't posted a single-digit scoring week since then and is averaging 13.8 points over his last five games.
With those numbers, it's hard to believe he's still available in 71.1 percent of ESPN leagues.
He faces a tough Pittsburgh Steelers defense this week and the Houston Texans the following, but he still posted double-digit points against the likes of the Steelers and Baltimore Ravens in weeks 10 and 11.
Carson Palmer (60.7 Percent)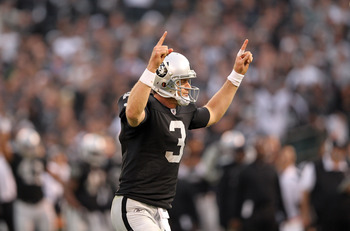 Ezra Shaw/Getty Images
Carson Palmer is averaging 15 fantasy points over his last four games and now faces the Miami Dolphins, Green Bay Packers and Detroit Lions in order—all teams that are struggling with their secondary.
He's still available in 39.3 percent of ESPN leagues and is a must-start QB down the stretch.
Ben Roethlisberger (100 Percent)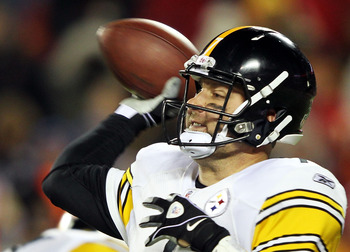 Jamie Squire/Getty Images
I wouldn't say Ben Roethlisberger is cold right now, but he's cooled off a bit.
After a stretch of six consecutive games in which he posted double-digit points, including three games of at least 20 points, he went and laid a nine-point egg against the Kansas City Chiefs.
He's a tough decision in the upcoming weeks, having to face strong Cleveland Browns and Cincinnati Bengals defenses, but he does have the explosive receivers necessary to post huge numbers at any time.
Mark Sanchez (83.5 Percent)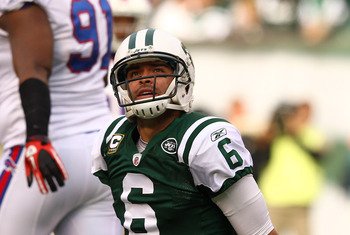 Al Bello/Getty Images
Even though he just put up 21 fantasy points this past week against the Buffalo Bills, he still hasn't posted back-to-back double-digit fantasy points since weeks 6 and 7.
Now, he faces a Washington Redskins defense that's playing tough against all quarterbacks.
It looks like more of the single-digit gloom ahead, so if you have a better option, I'd suggest going that route.
Sam Bradford (47.8 Percent)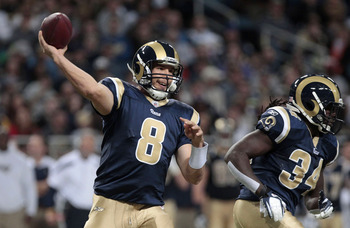 Whitney Curtis/Getty Images
Sam Bradford has more single-digit than double-digit fantasy scores and has yet to throw a multitouchdown game this year.
If he's your best option, I say to you, Godspeed.
Josh Freeman (85.6 Percent)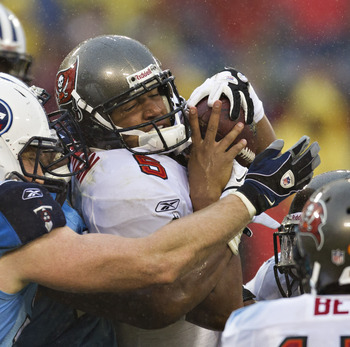 Wesley Hitt/Getty Images
Josh Freeman fooled me this year. I thought he was going to have a breakout season. Instead, he's regressed to the point where dropping him isn't a big deal now.
He could have a solid game against the Carolina Panthers this weekend, but it's not worth rolling the dice on your fantasy season to find out.
Matt Hasselbeck (50.7 Percent)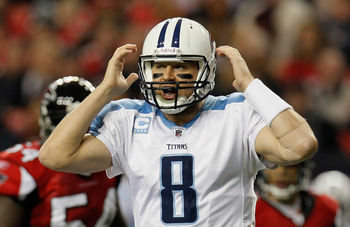 Kevin C. Cox/Getty Images
Matt Hasselbeck was posting great fantasy numbers for most of the season, but now has gone completely cold.
He's posted nine points in the last two games combined and hasn't thrown a multitouchdown game since Week 9.
If he's your best option right now, you may want to see what else is out there.
Check out more of Brian Dezelske's articles.
Brian can also be found at Out of My League, where he compiles fantasy football rankings each week.
Follow Brian on

Keep Reading