Toronto Raptors: Why They Are Destined to Win This Year's Lottery
November 27, 2011
Harry How/Getty Images
Of all the lottery teams from last year's draft, the Raptors are poised to be the least improved team this season and have the greatest chance of winning this year's lottery and the first overall pick in this year's stacked draft. Here's why.
1. No rookies on this year's roster: Jonas Valanciunas will not be playing for the Raptors this season, meaning the Raptors are the only team from last year's lottery who will not have a single rookie on their roster—they did not have a second-round pick last year.
2. Roster will remain relatively the same: It is proposed that the minimum team salary has increased in this new CBA, meaning low-budget teams will now be forced to become more active players in free agency. I am not sure exactly how this will work and where the cutoff will be, but I'm pretty sure the Raptors will be over it—if not, I expect they will be close enough that it won't take a big signing to get over it.
So, provided the Raptors do not use their amnesty clause right away and assuming they are over the minimum team salary, then I do not expect their roster to change nor improve very much from the 22-win team last season, thus giving us a very good chance of landing the first overall pick.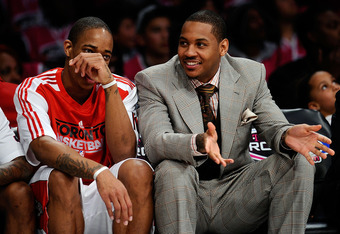 Kevork Djansezian/Getty Images
3. Other lottery teams will improve:  On the other hand, unlike the Raptors, many of last year's lottery teams either got one of the missing pieces they needed and are poised to add even more via free agency or they are either under the minimum or have so much cap room that they will either be forced or are expected to be big players in free agency this year. 
Expect teams like Washington, Los Angeles Clippers, Minnesota Timberwolves and the Sacramento Kings to be either playoff teams or late lottery teams this year.
As for the others, Detroit will benefit from the amnesty clause by waiving Rip Hamilton, thus putting them under the minimum team salary and consequently forcing them to go out and sign some players. Charlotte will likely make some free agent additions as well and should benefit from having Kemba Walker on their roster. Finally, Cleveland, who won last year's lottery, will also add some more wins thanks to their new rookie, Kyrie Irving, and will likely add some more players via free agency once they amnesty Baron Davis. 
Additional Thoughts
Contrary to what many others are saying, I would argue that the Raptors will benefit far more in the long-term (beginning as early as next season) by not making any drastic and expensive changes to their roster this offseason.
No matter whom the Raps acquire this offseason, they will end up with a top-five pick. That being said, by standing pat, they will have a far greater chance of landing the first overall pick in this year's incredibly deep draft class, and if they play their cards right, they may be able to pull off a deal at the deadline and land a second lottery pick.
Remember, if they still have their amnesty, clause they can trade for an overpaid player and a lottery pick and then waive the player with the amnesty clause and reap the benefits of the lottery pick (unlike the Cavs were able to do this year when they had two top-five picks and drafted Tristan Thompson ahead of some players that would have been of far greater value—namely Jonas Valanciunas, who the Raps smartly grabbed with the fifth overall pick).
The Bottom line is…
1. The Raptors need to save their cap space for next offseason when there will be far greater talent available and far less teams with cap room, since many of the current teams under the salary cap will be spending money this year.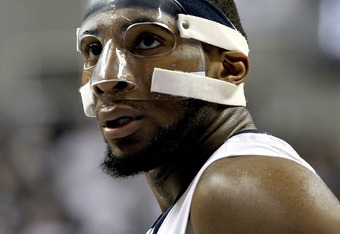 Jim Rogash/Getty Images
2.  The Raptors will benefit greatly from the first overall pick—and possibly from a second lottery pick if they make a trade.
3. The Raptors would then enter next year's free agency with two to three lottery players, one being Jonas Valanciunas, the other being the first overall pick this year (Andre Drummond, Harrison Barnes, Anthony Davis?) and the possible third being another lottery pick from this year's stacked draft class (maybe someone like Marquis Teague or Bradley Beal to fill the hole at PG?) to go along with their current core of DeMar DeRozan, Ed Davis and Andrea Bargnani—who will all still be under contract, save DeMar whom I will get to in the next point. 
This means, by this point, the Raptors will have already used their amnesty clause to free up cap space, and should have enough cap room and such a great core of young talented players that they can make a run at someone like Deron Williams, Chris Paul or Dwight Howard should they decide not to re-sign with their current teams.
4. The 2012/2013 offseason will be CRUCIAL! This is the summer when DeMar DeRozan will become a restricted free agent, meaning the Raptors will need to have enough talent on their roster by this point in order to convince him to stick around. If they are able accomplish everything I just mentioned, they should have no problem convincing DeMar to stay in Toronto!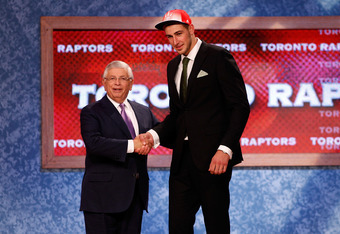 Mike Stobe/Getty Images
Final Thoughts
I understand that, for all this to happen, the Raptors need to have a terrible season, again. This is difficult for us Raptors fans to stomach but trust me: it will pay off as soon as next season. Even better, with the shortened season, we won't have to endure the usual 82 games of horrible play, so really this is not nearly as bitter of a pill to swallow and we will see the results as soon as next year! 
So Raps fans, all I have to say is, let's take one for the team this year and come back next year with a vengeance!
For those who disagree and say there is no point in waiting and trying to rebuild because we will always lose our stars (i.e. Vince Carter and Chris Bosh) before we have the chance to bring in the additional pieces, I would just like to point out that this rebuilding proposal would only take two years, and assuming we do it right, we will not lose our star in DeMar DeRozan, and all of the core pieces will remain intact long enough for this plan to work.
Also to those who disagree, don't fret, there is always the other option, the win-now approach by which we would purse a decent free agent this year (i.e. Wilson Chandler, Nene, Tyson Chandler etc.) which I do not disagree with.
I just think this approach would be far more beneficial in the long-term. 
I will be writing another piece very soon describing how the "win-now approach" would work out, but in the meantime give this approach a chance and let me know what you think.
Welcome back NBA, let's go Raptors!