Toronto Raptors: How Deron Williams Could Be the Team's Answer at Point Guard
November 26, 2011
Warren Little/Getty Images
The NBA players union has filed a disclaimer of interest, which allowed it to file an antitrust lawsuit against the NBA.  The cases were consolidated in Minnesota this, the site of NFL's lawsuit, assuming any decision would be more favourable to the players unlike in New York.
This lawsuit seems to have the desired effect, the players and owners are back at the bargaining table and again there is hope that a deal could be reached in time to allow games in time for Christmas.
To date, most casual fans haven't even noticed the NBA is on strike.  However, diehard fans are missing their basketball as we approach what should be Week 4 of the NBA season.
Those in Toronto, though, are left trying to decide what is the lesser of two evils.  No one wants to see the cancellation of the entire season, but on the other hand, the Raptors are in for a long season, if and when, it starts.
Bryan Colangelo was the member of a panel at the 2011 Sports Management Conference last week and discussed the future of the Raptors.  He spoke about building for the future and the possibility of having as much as $24 million in salary cap space next summer.
Toronto has approximately $34 million committed to seven players in 2012-13.  As well as a $2.9 million caphold for Jonas Valanciunas, presumably, a similar caphold for their 2012 first-round pick, Jerryd Bayless would attract a $4.1 million qualifying offer and a team option for Solomn Alabi at a rate of $890,000.
Also, the new collective bargaining agreement is widely expected to have an amnesty clause, allowing each team to waive one player, at any point in time, during the length of the new CBA.  The likely candidates to be waived by the Raptors are Jose Calderon or Linas Kleiza.
Calderon is set to make $10.5 million in 2012-13.  If he were the player selected this would provide even more salary cap relief for the team in what could be a strong free-agent class.  A few of the top players who might be available that summer include Chris Paul, Dwight Howard and Deron Williams.
It is widely believed that Paul will join the Knicks, provided the team has enough cap space to sign him.  Rumors have been circulating for months on where Howard will land, as he has declined to sign an extension with the Magic.  The rumor mill has been rather quiet when it comes to Williams, though.
Williams was traded by the Utah Jazz to the New Jersey, soon to Brooklyn, Nets without so much of a hint that the team was interested in moving him.  The Nets surrendered Devin Harris, Derrick Favors and two future first-round draft picks in order to acquire him.  However, this might turn out to be a year-and-a-half rental.
Assuming Williams opts out of the final year of his contract there is no telling where he may end up.
He was selected third overall in the 2005 NBA draft and will turn 28 next summer.  It is unlikely he wants to be part of a long rebuild.  Williams is a top five point guard in the league and in the prime of his career. 
The knock on Toronto has always been that star players don't want to come here.  It's a foreign country, it's cold and we don't have ESPN.  I don't see any of that as a deterrent should the team wish to pursue Williams.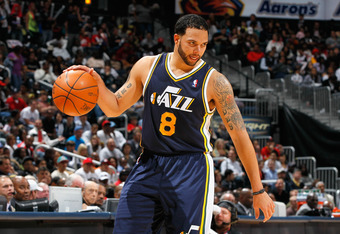 Kevin C. Cox/Getty Images
Toronto will likely have the money to offer him a max-contract, whatever that may be under the terms of the new CBA.  And Williams is spending his time during the lockout playing in Turkey for Besiktas Milangaz.  If he is willing to go to Turkey to play basketball I can see no reason why he wouldn`t come to the Raptors, who will be able to pay him just as much as anyone else.
The question then becomes why would he want to join a team that only won 22 games last year?
The answer is this team has potential.
Toronto hired Dwayne Casey, the defensive architect behind the NBA champion Dallas Mavericks., selected what looks like the steal of the 2011 draft in Valanciunas, have a solid young core of players and will likely have another top 5 draft pick in what is set to be one of the deepest drafts in the last decade.
David Thorpe of ESPN recently wrote an article where he broke down the best fits for prospective lottery picks.  He believes that the best choice for the Raptors come draft time is Harrison Barnes.
Barnes is a 6`8" small forward out of North Carolina.  He is a good shooter and a solid defensive player.  There is no question Barnes would plug the gaping hole the Raptors have had at the three-spot over the years.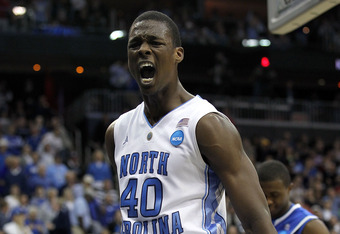 Nick Laham/Getty Images
Imagine a starting lineup of Williams, Barnes, Valanciunas, Andrea Bargnani and DeMar DeRozan.  Depending on each player`s individual development Bargnani could end up being the worst player in the starting five. 
Despite how much Raptor fans love to bash Bargnani, as he hasn`t lived up to his No. 1 overall selection, there is no question he has talent and is capable of starting for an NBA team.
If this team were to bond right away and develop the chemistry needed to be a winning team, there is no question Toronto would be back in the playoffs in 2013.  Not as a seven or eight seed either.  This team could legitimately win the Atlantic Division.
Therefore, if the NBA and its players are able to reach an agreement in the next week or so, I hope Colangelo sticks to his long-term plan and doesn`t spend aimlessly.  Preserve the team`s cap space so that Toronto can have the opportunity to sign a game-changing player. 
The league is becoming run by point guards.  As a result, it is imperative to have a dynamic player leading your team.  Colangelo vastly improved his team in Phoenix with the addition of Steve Nash and I believe Williams could have a similar impact on the Toronto Raptors.