Fantasy Football: 5 Waiver Wires Moves to Catapult You into the Playoffs
November 22, 2011
Gregory Shamus/Getty Images
The bye weeks might be history, but the injuries keep on coming.
Fantasy football owners still have more holes to fill than Dunkin Donuts does, so making the right moves on the waiver wire is ultra-important at this time of the season, especially since many leagues' trading deadlines have already passed. 
Here are five waiver wire pickups who could catapult your fantasy squad into the playoffs:

Kevin Smith, Detroit Lions (RB)
Look who popped out of Doc's time machine with Marty McFly! Four years ago Smith ran for 976 yards in his rookie campaign with Detroit and looked like he had a bright career ahead of him. But several serious injuries sapped him of his speed and he was not even in the NFL as of a few weeks ago.  
But after Jahvid Best got concussed and Maurice Morris failed to emulate Barry Sanders, Smith was brought back to Detroit for the fantasy comeback of the season. Smith had the best game of any running back during Week 11, rumbling for 140 rushing yards, 61 receiving yards and three total touchdowns. That is more than Chris Johnson gives fantasy owners in a month. 
Now take what Smith did with a grain of salt because he did it against the Carolina Panthers, who are as good at stopping the run as Michael Vick is at staying healthy. Heck, the Panthers even allowed the aforementioned Johnson to run for 130 yards against them. 
This breakout/comeback performance stamps Smith as Detroit's starting tailback for the foreseeable future, though. And he is not just a one-dimensional runner. He can catch passes out of the backfield and score inside the red zone, too. He will undoubtedly be the most-sought after player on fantasy waiver wires this week.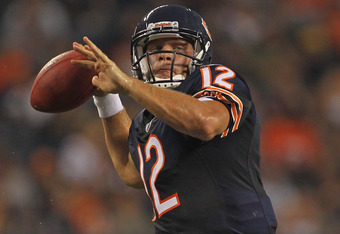 Jonathan Daniel/Getty Images

Caleb Hanie, Chicago Bears (QB)
Fantasy owners will have to move on without Jay Cutler, who will probably miss the rest of the regular season with a broken thumb on his throwing hand. Just when Chicago offensive coordinator Mike Martz had finally figured out how to keep Cutler protected by running the ball more than once per quarter, too.
So in steps Hanie, who we know as much about as American Horror Story's Rubber Man. We do know this—Hanie relieved Cutler in last year's infamous NFC Championship Game and did decently considering the circumstances. We also know Hanie is nowhere near as talented as Cutler and this his fantasy value will be much lower than Cutler's.
Martz will likely make his new conservative system even more conservative (think Mitt Romney flip-flopping on universal healthy care and global warming). I think fantasy owners will come to appreciate Cutler more in the end when they watch Hanie struggle to complete passes to Chicago's fast-yet-mediocre receiving corps.
Look for Hanie to have some 200-yard, one-TD games down the stretch, and maybe better than that if Chicago is trailing and he is forced to throw more often. If you are a Cutler owner and you desperately need a healthy QB, pick up Hanie immediately.      

Jabar Gaffney, Washington Redskins (WR)
The Redskins have been so decimated by injuries on offense that they are one more casualty away from Art Monk having to slap on some pads. At receiver they are down to the all-speed, no-hands Anthony Armstrong, the walking advertisement for designated drivers, Donte Stallworth, and the veteran Gaffney.
Gaffney had not had a 70-yard game until this past weekend against the Dallas Cowboys when he exploded for 115 yards and a touchdown. Other than tight end Fred Davis, Gaffney is quarterback Rex Grossman's only other consistent option.
Gaffney is no speed-burner, but he remains a good route runner and does not drop many balls. Washington is a bad team with no running game, meaning Grossman will be throwing a ton the last six weeks of the season. Gaffney should have no trouble racking up some more 70-yard games from here on out.     

Jerome Simpson, Cincinnati Bengals (WR)
There is no word yet on if or when A.J. Green is returning from his twisted knee, but in the meantime Simpson has proven that he can pick up the slack for however long Green is sidelined. 
Simpson caught passes for 152 yards against a Baltimore Ravens defense not known for letting receivers make them look foolish. And a couple of the catches were so acrobatic that Dominik Hasek would have been proud.
Simpson has mad wheels and can stretch the field (16.5 yards per catch). The only reasons his numbers have not been better is because Cincy runs a mildly conservative offense and Green is normally the one getting targeted the most. While Green is on the shelf, look for Simpson to keep shining like a crazy diamond. 

Jake Locker, Tennessee Titans (QB)
Locker has patiently watched from the sidelines while fellow rookie quarterbacks have taken the NFL by storm. He finally might get his shot to start as soon as this week.  
Locker looked good in bringing his Titans from far behind to make the Atlanta Falcons sweat this past Sunday. With Matt Hasselbeck nursing an elbow injury, Locker sprinted in, sprinted around and sprinkled passes all over the field, especially in Nate Washington's direction.
Locker finished going 9-for-19 for 140 yards and two touchdowns in less than a half. With Hasselbeck questionable for this week's game and beyond, Locker could be a short-term starting QB and possibly a long-term starting QB, too.   
Locker is part-Vick (because of his play-making ability with his feet), part-Rodgers (because he can make throws out of the pocket while on the run) and part-Sanchez (because he is not overly accurate).
If Locker starts, he might have to work with a below-average group of receivers, but his schedule is promising. Tampa Bay, Buffalo, New Orleans and Indianapolis are Tennessee's next four opponents, and none have lockdown defenses. Take a flyer on Locker if you have the roster room.