San Francisco 49ers Alex Smith: Confidence is Reaching Elite Quarterback Status
November 22, 2011
Ezra Shaw/Getty Images
San Francisco-Northern California is known for its rainy days, and the San Francisco 49ers Alex Smith treated the Arizona Cardinals to a wide open passing football game, winning 23-7, and continued to show his confidence and play is rising toward elite quarterback status and improving the 49ers' record to 9-1.
Smith displayed an air attack that showcased the capabilities of the 49ers quarterback's arm strength to zip passes to multiple receivers by completing 20 of 38 for 264 yards, and targeting Michael Crabtree ten times on Sunday.
He gave Crabtree an opportunity to show he's still one of the 49ers big play-makers, and he had an impressive day of 120 receiving yards and was happy to get back on track in the receiving corps of production.
"We're winning, and that's all I think about," Crabtree said. "We have some things to work on, but it feels good to win." 
Smith came into the game with a 7-1 home record in his past eight games and prior to playing the Cardinals he passed for 1,619 yards with 14 TDs and two interceptions for a 103.6 passer rating since October 10, 2010.
The connection between Smith and Michael Crabtree was electrifying on Sunday, connecting on seven passes for 127 yards and an opening drive third-down conversion for a 38-yard completion up the left sideline that started the Smith to Crabtree chemistry against the Cardinals.
Smith became more explosive throughout the day as he found Crabtree in the third quarter on a short pass, and he broke three tackles by powering through Cardinals defenders and picked up 29 yards after the catch up to the 49ers' 46-yard line.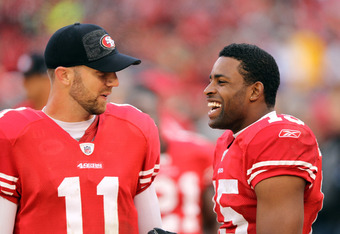 Ezra Shaw/Getty Images
Smith came out on fire in the second half and threw his first TD strike of 8-yards to Kyle Williams, then he hooked up with tight end Vernon Davis for an 18-yard TD strike extending the 49ers lead to 23-0.
"We came out looking to put that first drive together and get back on track," Smith said. "We all realized, especially on offense, how much we left out there, but we needed to come out and set that tone with that first drive of the (2nd ) half."
Alex Smith came out in warm-ups and carried a serious vibe of confidence that carried over into his play during the game. The winning is a contagious virus in the locker room, and the 49ers are wasting no time in getting the fever cured.
His touchdown throw to Davis was the tight end's 34th of his career, and it moved him past former 49er Brent Jones as the all-time TDs leader by a tight end in 49ers' history
Davis, the 49ers captain, is on the same page as Smith and not focused on playoffs, but instead on the next game on the schedule.
"We take each game one game at a time," Davis said. "Someone asked me are you thinking about the playoffs, and I said no, we can't think about the playoffs because we don't want to get ahead of ourselves."
The 49ers offense under the direction of Smith dominated time of possession 44:16 to 15:44 for the Cardinals. They put up 433 total yards to 229 for the Cardinals and it's making a believer out of any doubters that the 49ers quarterback is knocking on the door toward becoming one of the top quarterbacks in the NFL.
Smith will have an opportunity to show he belongs in the quarterback status in a nationally televised game against Baltimore Ravens on Thanksgiving Day.
Mike Walker is a Contributor for Bleacher Report. Unless otherwise noted, all quotes were obtained first-hand or from official interview materials.