Colt McCoy of the Cleveland Browns vs. Other Young NFL Quarterbacks.
November 22, 2011
Matt Sullivan/Getty Images
In today's NFL by far the most important person on the team is the quarterback.
One needs to simply look at the Indianapolis Colts to back this notion. A perennial playoff team and Super Bowl contender, they have yet to win a single one of their 10 games this season without him.
But far too often, quarterbacks are given too much credit for a team's success and too much blame for their failures. When a team is losing, often the starting quarterback is the first player fans like to point the finger at, and unfortunately for some guys they play for an impatient fan base.
Cleveland Browns fans certainly fit this last description, so it should come as no surprise that many fans of the 4-6 team have already started looking to replace the second-year quarterback and first-year starter. If you gave the fans the option of other young quarterbacks around the league they would find one they would gladly have instead, but is perception really reality?
Statistics aren't everything, but they do give a general sense of how a player is performing, so below are some stats of every first and second-year starting QB so far for 2011.
Completion Percentage:
1. 60.0 percent—Cam Newton
2. 59.6 percent—Colt McCoy
3. 59.3 percent—Andy Dalton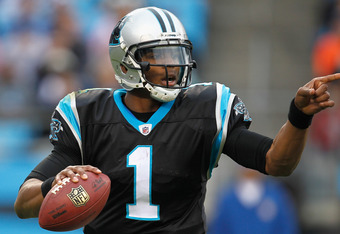 Streeter Lecka/Getty Images
4. 54.5 percent—Sam Bradford
5. 52.1 percent—Christian Ponder
6. 48.9 percent—Blaine Gabbert
7. 44.8 percent—Tim Tebow
*Worth Noting: During Matt Ryan's acclaimed rookie year he completed 61.1 percent of his passes.
 Mark Sanchez has completed 55.2 percent of his passes in his career.
Quarterback Rating
1. 80.0—Cam Newton
2. 79.6—Andy Dalton
3. 79.2—Colt McCoy
4. 78.4—Tim Tebow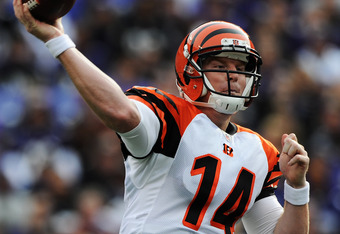 Patrick Smith/Getty Images
5. 70.9—Sam Bradford
6. 67.3—Christian Ponder
7. 64.4—Blaine Gabbert
*Worth Noting: Peyton Manning's QB Rating was 71.2 his rookie year, Matt Stafford's was 61.0.
The League average for QB rating is 77.0.
Yards/Attempt
1. 7.9—Cam Newton
2. 6.7—Andy Dalton
3. 6.6—Christian Ponder
4. 6.1—Colt McCoy 
5. 6.0—Sam Bradford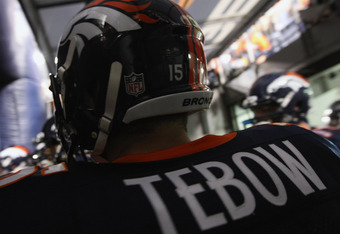 Doug Pensinger/Getty Images
6. 5.7—Tim Tebow
7. 5.3—Blaine Gabbert
*Worth Noting: Matt Stafford's yards/attempt his rookie year was 6.0, this season it is 7.1.
TD/INT Ratio 
1. 7.00/1—Tim Tebow
2. 1.57/1—Colt McCoy
3. 1.25/1—Andy Dalton
4. 1.20/1—Blaine Gabbert
5. 1/1—Sam Bradford
6. .86/1—Cam Newton
7. .83/1—Christian Ponder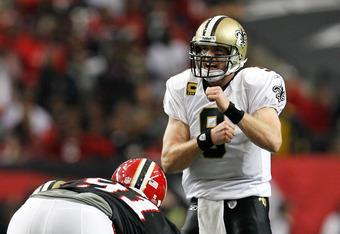 Kevin C. Cox/Getty Images
*Worth Noting: Drew Brees' first two years starting his TD/INT ratio was .903/1.
Passing Yards/Game**
1. 288.5—Cam Newton
2. 247.1—Andy Dalton 
3. 221—Sam Bradford
4. 218.1—Colt McCoy
5. 213.5—Christian Ponder
6. 147.9—Blaine Gabbert
7. 126.0—Tim Tebow
*Worth Noting: During Phillip Rivers' first two years starting he threw for 202.8 yards per game. 
**Stats include starts only. Dalton's Week 1 stats were taken out as he was injured most of the game.
Before I finish let's take a look at one more comparison. The premiere quarterback most people relate closest with Colt is a young Drew Brees, so let's see how he stacks up to Brees' younger days. Colt McCoy now has 18 starts. To make it simple I will compare his stats from those starts to Brees' stats from his first 16 starts (2002 Season).
QB Rating: Colt McCoy 77.4, Drew Brees: 76.9
Completion Percentage: Drew Brees 60.8, Colt McCoy 60.1
Average Yds/Att: Colt McCoy 6.5, Drew Brees 6.2
TD/Int Ratio: Colt McCoy 1.06, Drew Brees 1.06 (Both had 17 TDs 16 Ints)
Pass Yards/Game: Colt McCoy 208.7, Drew Brees 205.3
So what these stats show are that Colt McCoy is one of the more accurate young QBs in the league, and one of the more efficient ones when you compare TD/Int ratio. Looking at Drew Brees' numbers also tells you that sometimes great QBs take time to develop, and Colt may be ahead of schedule if Drew Brees is the reference point.
You also have to consider the talent around a young QB. Cam Newton has Steve Smith to throw to and Johnathon Stewart and DeAngelo WIlliams in the run game. Andy Dalton Has Cedric Benson in the run game and the first receiver taken in the draft, AJ Green. Sam Bradford has Steven Jackson in the run game. Ponder has Adrian Peterson and Percy Harvin. Gabbert has Maurice Jones-Drew. You could make a case that Tim Tebow is the only young QB with less talent around him than McCoy, but even then it would be close.
I know fans are impatient. I have been a big McCoy supporter since before he was drafted and at times even I have been about ready to give up on him. The fact of the matter is though, that he is a young QB and young QBs make mistakes. That is why I made note of current stars and some stats from their younger days. Imagine where their teams would be now if they had given up on their guys with numbers similar to McCoy's.
As I said earlier, stats aren't everything, but maybe these will be somewhere in the back of your mind the next time you think about calling for McCoy's head.
Thank you for reading, I appreciate any feedback positive or negative
Follow me on Twitter @deg4 and go Browns!