Philadelphia Eagles: 5 Keys to Beating New York Giants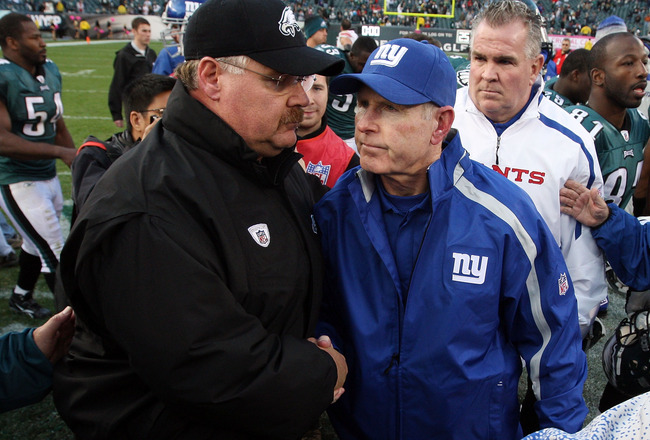 Jim McIsaac/Getty Images
The Philadelphia Eagles might as well not even travel two hours up the New Jersey Turnpike for their Sunday night showdown against their divisional rival New York Giants.
Anyone with an ounce of football knowledge knows the Eagles are walking into an absolute beat-down. But since NBC wants to make their money, the game will go on as scheduled.
Andy Reid has undoubtedly been at the NovaCare Complex trying to figure out how he can possibly win a football game with Vince Young under center and Juan Castillo as his defensive coordinator.
He probably should have thought of those things in the offseason.
Odds are good Reid will overlook the obvious and the Eagles will be led to slaughter off exit 16W on the Turnpike.
If anyone has Reid's e-mail, send him the link to this article, or send him a text and pass along the knowledge, because I don't think anyone in Philadelphia wants to hear Reid talk about doing a better job after the game.
No. 5: Use the Screen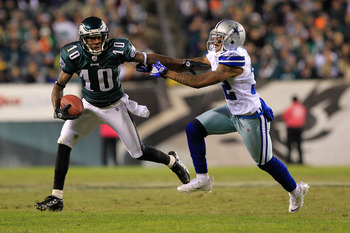 Chris Trotman/Getty Images
Vince Young flat out stinks.
He's an abomination at quarterback in every sense of the word. More on that later though.
One of the best ways to protect Young is through screen passes; a screen pass does not require to read defenses as much and accuracy is not a huge priority (both of which, of course, are lacking in Young's game).
The screen passes allow Eagles skill players such as LeSean McCoy and DeSean Jackson to make plays in the open field.
It also works well for tight end Brent Celek to pick up five, six, seven yards each touch.
Eagles fans know Andy Reid doesn't like to run the ball, so we'll compromise and say it is okay to throw the ball as long as it comes in the form of screen passes.
No. 4: Blitz, Blitz, Blitz, Blitz, Blitz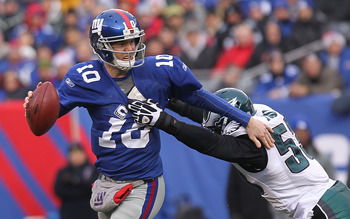 Nick Laham/Getty Images
Does it matter if the defense gives up large or small chunks of yardage while giving up points?
Exactly.
Why not send the house to make Eli Manning uncomfortable and, at the very least, hit him a couple times?
Remind him you're going to be in his face all night long and, if he plans on completing passes, he's going to take a ton of body shots throughout the game.
It doesn't matter if you talk about Aaron Rodgers, Tom Brady or Drew Brees, there is not one quarterback who likes to get hit.
Hey, if you're gonna lose this thing, you might as well knock somebody out.
The best thing about blitzing is it will usually force man-to-man coverage...
No. 3: Play Man-to-Man with Nnamdi Asomugha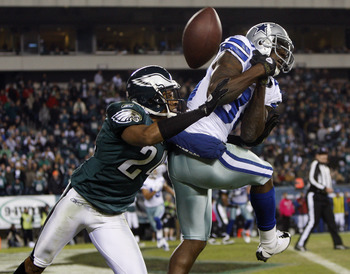 Rich Schultz/Getty Images
The Eagles have a shutdown corner in Nnamdi Asomugha—so, for the love of God, please use him like one.
Stop the zone crap and stick your best cornerback on the receiver who poses the biggest threat. I don't care if the Eagles think it's Hakeem Nicks, Mario Manningham or Victor Cruz, just identify who is playing well and shut him down.
Eli Manning can look like one of the best, or worst, quarterbacks in the league depending on the coverage. If you give him the opportunity to pick apart a zone with time in the pocket, he will do it.
Why not force him to make throws against your best cornerback while under duress?
No. 2: Run the Ball with LeSean McCoy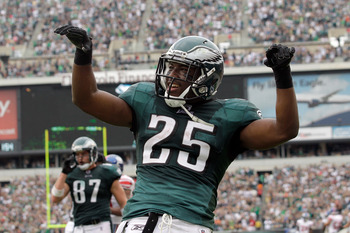 Rob Carr/Getty Images
LeSean McCoy, the second-leading rusher in the NFL with 906 yards, somehow disappeared against the Cardinals last week.
It was a contributing factor to an embarrassing loss. If the Eagles forget about McCoy this week against the Giants, things will get even uglier in New Jersey.
In years past Andy Reid could rely on Donovan McNabb to protect the ball. He isn't the most accurate quarterback of all time, but McNabb is one of the best at not throwing picks in the history of the league.
Reid also had the luxury of leaning on Michael Vick, who is the greatest running quarterback of all time, and also had quarterbacks like A.J. Feeley, Jeff Garcia and Koy Detmer (who actually possessed intelligence).
With Vince Young under center, Reid needs to reevaluate his traditional game plan and stick with running game even when it becomes tempting to throw the ball.
And that leads me perfectly into the next point...
No. 1: Don't Let Vince Young Throw the Ball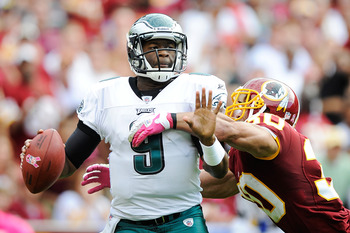 He's perfect to Washington defensive backs.
Patrick McDermott/Getty Images
Vince Young has 22 wins when he has attempted 25 passes or less; when he's attempted more than 25 passes, he's only picked up eight wins.
Even scarier is his 2-5 record when he throws the ball 35-plus times.
The Eagles are averaging 35 pass attempts per game, and that doesn't even take into account the times Andy Reid dialed up the pass only to see Michael Vick take off for his life.
If the Eagles have any shot in this game, Reid will take the ball out of Young's hands.
Young is not only inaccurate, but he's simply not smart enough to figure out how the offense works.
Backup Mike Kafka is still giving Young a run for his money, as Young is too lazy and must be pushed each day to learn the offense.
For evidence, I give you Exhibit A—a recent quote from Young this week:
"It's somewhat tough," he said. "It can be tough if you're not paying attention and you're not focused. One thing about Andy is he won't let you not pay attention. He's always going to be asking you questions. That's the good thing about this team and (these coaches)."
It's tough? Is it tough to know a team actually shelled out a couple million and you agreed to take the money knowing you would take on the role of being a backup for an injury-prone quarterback?
If that doesn't set the red flags off for Reid to not let this weasel make plays, nothing will.
Keep Reading

Philadelphia Eagles: Like this team?