NFL Week 11 Picks: New York Giants and Teams Sure to Be Shocked
November 19, 2011
Ezra Shaw/Getty Images
Week 11 of the 2011-12 NFL season will bring more surprises and upsets with it. These teams are all favored in their games, but when it's all said and done, they will not be celebrating a victory.
The Buffalo Bills travel to Miami to take on the Dolphins this week. While the Dolphins are 2-7, the Bills have been sliding and will fall once more.
The Bills are susceptible to athletic, versatile running backs, and Reggie Bush fills that mold.  Bush is going to run all over Buffalo at home while Miami's defense comes up big.
The Dolphins are good at containing running backs, and Fred Jackson has become the only element of Buffalo's offense.
Take him out of the equation and all you have left is a Harvard quarterback in a slump throwing to a few undrafted wide receivers and one seventh-rounder. Miami can stop them.
The Raiders travel to Minnesota to take on the Vikings this week. The Raiders rely heavily on their impressive run game, but without McFadden, they will be forced to rely on Michael Bush.
While Bush is good, he is not good enough to beat a defense that ranks sixth against running backs.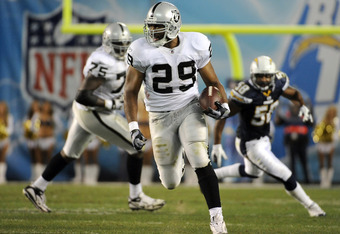 Harry How/Getty Images
The Vikings can use their top-five running attack to score some serious points against one of the worst run defenses in the NFL.
The Raiders are in for a big surprise come Sunday, as Adrian Peterson shows them just how good he really is.
The Giants are hosting the Philadelphia Eagles this week. While the Giants beat the Eagles on the road, they will not do so at home. 
I know this is a radical prediction, but the Giants will face another devastating loss at home against the Eagles (the same as last year).
The Eagles should have Michael Vick, and even if they don't, the way to beat the Giants is on the ground. LeSean McCoy is arguably the best running back in the NFL this season, and he helps lead the leading rushing attack.
The Eagles are going to be able to run effectively against the Giants, which rank near the bottom of the league in rushing yards allowed per game.
The Giants pass well, but the Eagles cornerbacks have the talent to stymie Eli Manning, and they are almost a top-10 pass defense.
While this game will certainly be very close, I see the Eagles heading out victorious (this coming from a huge doubter of the Dream Team).