Week 11 NFL Picks: Home Favorites Ready to Rough Up Opponents
November 19, 2011
Ezra Shaw/Getty Images
The New York Giants, San Francisco 49ers and Chicago Bears may have not carried huge expectations into the season because of last year's results, but these three teams will pick up another big win in Week 11 of the NFL season.
Here's a look at why these three teams will get the job done on Sunday.
New York Giants
Ezra Shaw/Getty Images
The Philadelphia Eagles simply can't close games. They've got all the talent in the world, but they're not meshing. Blame whoever you want, but the Eagles won't be able to string anything together in terms of a playoff run.
However, they are a threat to win any game. The Giants are playing better football right now, with Eli Manning as confident in the pocket as I've ever seen him. The Giants' lack of a running game won't matter in this contest because the Eagles can't tackle big backs.
The Giants see the Eagles' struggles better than anyone and will control the ball enough to put away the Eagles season for good.
Prediction: Giants 31, Eagles 23
San Francisco 49ers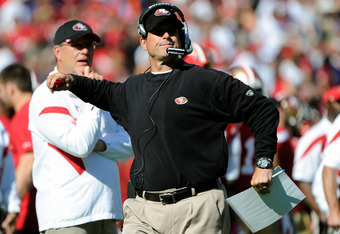 Thearon W. Henderson/Getty Images
The 49ers had the talent last year, but the addition of head coach Jim Harbaugh really pushed them over the edge.
San Francisco is 8-1 this year, and all they needed was a some help in the secondary and a little confidence. The Niners play the division-rival Arizona Cardinals on Sunday, who they've held to single-digits the last three times they've faced.
The Cardinals may have won two straight, but neither win was against a team with a winning record.
Prediction: 49ers 38, Cardinals 10
Chicago Bears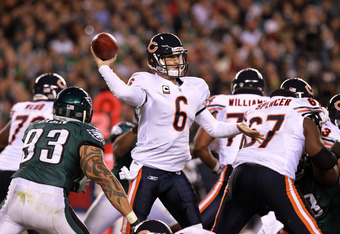 Nick Laham/Getty Images
Every week, Jay Cutler proves me wrong by showing signs of the quarterback he was in Denver. It seems as if his days of throwing off his back foot are gone, and he and the Chicago Bears can finally start playing offense.
Yes, Matt Forte is a huge reason this team is playing well, but Cutler deserves some credit too. Let's just hope—at least Bears fans should—that he'll continue playing even if he gets a long-term contract.
The Bears host the San Diego Chargers this week, and the Chargers struggles will continue as Rivers is forced to play from behind.
Prediction: Bears 26, Chargers 17