Fantasy Football: Ranking the 15 Best Young Quarterbacks of 2011
November 18, 2011
Streeter Lecka/Getty Images
It used to be difficult for fantasy football owners to find decent quarterbacks, but shopping for signal-callers has gotten a lot easier thanks to the recent influx of young, talented throwers in the NFL. 
You can make a strong argument that pro football has never had such a dearth of good young quarterbacks. Rookies used to have to stand on the sidelines with clipboards for a couple years before getting on the field. This year they have been thrust into starting spots immediately and have performed like veterans.   
So here are the 15 best young quarterbacks in fantasy football this season! All these QBs are 26 years old or younger. 
1. Cam Newton, Carolina Panthers
Playing in a spread offense at Auburn really stunted Newton's chances of playing well in the NFL, didn't it? Sometimes football experts should be ignored like political pundits. 
Newton kicked off his pro career with back-to-back 400-yard games. He is seventh in the NFL in passing yards, throwing for over 200 yards in eight of his nine starts. Newton has also thrown for 11 touchdowns and revitalized Steve Smith's flailing career (although he has further ruined the fantasy values of teammate tailbacks DeAngelo Williams and Jonathan Stewart). 
Better yet is how Newton's running bolsters his fantasy worth. He has barreled for 374 yards and seven touchdowns. If you eliminated his passing totals and went strictly by his rushing numbers, Newton would be ranked as a top-30 RB in fantasy circles. The sky is the limit for the ultra-skilled Newton.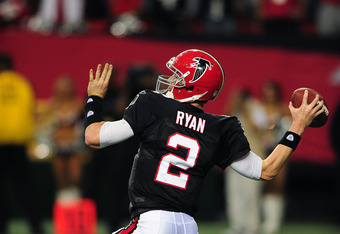 Scott Cunningham/Getty Images

2. Matthew Stafford, Detroit Lions
Fantasy owners have never been treated to an injury-free Stafford season, and although Stafford isn't exactly 100 percent currently, he has been healthy enough to be one of fantasy football's most productive quarterbacks. 
Stafford's 20 touchdown passes are fourth in the NFL, and his average of 279 passing yards per game is eighth-best. With no running game to speak of and with Calvin Johnson as his go-to guy when he throws, Stafford will keep throwing early and often and should rack up tons of touchdowns and yards before season's end.   
The bad news is that Ryan is on pace to throw more interceptions this season than he ever has in his four-year career. Luckily, that is it for the bad news.
The good news is that Ryan is on pace to throw for 4,000 yards for the first time and should finish with 26-28 touchdowns. Having Roddy White and Julio Jones at receiver has made Ryan more dangerous and valuable as ever, and with his mechanics and intelligence, he should be a top-10 fantasy QB for the next decade.   
Tebow does not produce fantasy points the old-fashioned way by throwing the ball, that's for sure. But with the little he does through the air he more than makes up for on the ground.
While Tebow has failed to throw for 200 yards in a game yet, he has averaged 70 rushing yards per contest over his month-long starting spree. Most running backs would like to average 70 yards per Sunday. Just ask Chris Johnson and Peyton Hillis.  
Considering rushing yards are more valuable than passing yards in most fantasy leagues, Tebow is almost a must-start in many leagues. The guy ends up in the end zone as often as he ends up in church, too—nine touchdowns in five games. 
5. Joe Flacco, Baltimore Ravens
Flacco has been harder to figure out than "Beavis and Butthead" without subtitles. Sometimes you get the great Flacco, who was masterful in Baltimore's two victories over arch-rival Pittsburgh. And sometimes you get the Flacco who belongs in the minor leagues, like the one who went 10-for-31 against the New York Jets on a night that set football back 15 years.
Yet Flacco's numbers are still solid. He has thrown for over 2,300 yards, including four 300-yard games. Flacco is no longer a game manager. Baltimore has had no problem asking him to throw early and often. In fact, he has thrown 150 times over his last three games. The more he throws, the more fantasy points he is bound to put up.   
6. Andy Dalton, Cincinnati Bengals
This red-headed rifleman did not go high in most fantasy drafts and was thought of as nowhere near Newton in terms of skills. With a bunch of rookies and no-names at receiver and a team in transition, it was assumed that Dalton would not make anyone forget Carson Palmer, at least not right away.
Dalton has proved the doubters wrong, though. Despite having an average arm, he has played with the smarts and accuracy of a young Chad Pennington. With 1,866 yards and 14 touchdown tosses he has been one of the most pleasant surprises of 2011.   
7. Mark Sanchez, New York Jets
No quarterback fumbles as often and most are far more accurate, but Sanchez is still quietly having the best fantasy season of his short career. He is in line to obliterate his previous career-highs in touchdowns, yards and completion percentage.
Sanchez may not be wise with his timeout calling, but Sanchez is showing that the Jets no longer need to be just about grounding and pounding.   

8. Colt McCoy, Cleveland Browns
Cleveland's offense is about as exciting as the Oscars when the Best Costume Design and Best Cinematography awards are handed out. No receivers, no running backs, no creativity.
McCoy can only do so much with the hand he has been dealt. His 1,982 passing yards and 10 touchdown passes are mind-boggling when you think about it since not many quarterbacks work with less than he does. It will be interesting to see what this kid can do in future years when he has a No. 1 WR to throw to.   
9. Josh Freeman, Tampa Bay Buccaneers
Forget about taking a step back. Freeman has taken about a mile back. He threw 25 touchdowns passes and only six interceptions in 2010, but this season he has nine touchdowns and 13 interceptions? Something smells funkier than a Burger King bathroom. 
Freeman has been battling a nagging thumb injury. Not sure if that is part of his problem, although having a bum thumb should not cause him to throw into double coverage like he has been doing on a regular basis.
Freeman has all the tools to be an above-average fantasy quarterback. We all saw that last season. But unless he turns things around faster than you can say "Demi and Ashton are divorcing!" then Freeman cannot be counted upon by owners this year.    
10. Sam Bradford, St. Louis Rams
The former first pick overall from the 2010 draft was a fabulous freshman but has suffered through a sophomore slump. He has been injured and inconsistent, ranks 25th in passing yards and has only thrown four touchdown passes all season, something Aaron Rodgers can sometimes do in a half. 
Just write this season off an aberration. Bradford is not as bad as he has looked. I think he will actually do okay from here on out now that St. Louis' schedule calms down and the Rams play more of their pathetic NFC Worst/West foes.    
11. Christian Ponder, Minnesota Vikings
Thank goodness fantasy owners no longer have to sit through Donovan McNabb's 5-yard passes anymore. The jury might be out on Ponder's long-term fantasy value, and he has to tighten up his accuracy (50.5 completion percentage), but Ponder should be good for 200-plus passing yards per game and a weekly touchdown from now until the end of the season. 
12. Blaine Gabbert, Jacksonville Jaguars
Gabbert has not looked like Bart Starr. In fact, he has not even looked like David Garrard. But considering he is a rookie and he has arguably the worst receiving corps in the NFL, Gabbert's numbers can be justified. Still, no fantasy owner in his or her right mind can use him when he is only averaging 128 passing yards per game, worst in the NFL.  
13. Chad Henne, Miami Dolphins
This could have been a breakout year for Henne. Miami hired an offensive coordinator who wanted the Dolphins to be a pass-first team, and Henne responded by throwing for 841 yards and four touchdowns in the first three weeks.
Too bad Henne ended his season by somehow seriously injuring his shoulder on such a harmless play that fantasy owners must think he has the durability of a gingerbread man. 
14. John Skelton, Arizona Cardinals
Skelton's 62.3 QB rating in 2010 did not put him in the top 2,000 on most fantasy owners' cheat sheets in August. But filling in for Kevin Kolb the past two weeks he has thrown for 537 yards and four touchdowns. Sounds like a quarterback controversy could be brewing in Arizona if Skelton plays well at San Francisco this weekend.   
15. Curtis Painter, Indianapolis Colts
Peyton Manning's job might not be safe from Andrew Luck, but it is certainly safe from Painter, who has thrown for under 100 yards in three of his last four outings.