New York Jets Backup QB Mark Brunell Is Broke, and We Don't Even Care
November 17, 2011
Patrick McDermott/Getty Images
The New York Jets watched some old college football earlier this week. A University of Washington game was queued up in the team's film room. A young, spry quarterback danced through the line and scrambled into the defensive secondary. That player's name?

Mark Brunell.

Brunell is 41 years old now, and his left-handedness and propensity for scrambling made him a solid candidate to run the Jets' "scout team" offense in New York's short week of preparation for the Broncos.

Mark Brunell is broke. He's worse than broke, in fact. Recent bankruptcy court filings reveal that Brunell posted $5 million in assets against almost $25 million in debts. It's startling news to fans who realize that Brunell has made close to $50 million during his 17-year NFL career.
Brunell made some bad investments. Bernie Madoff bad. Lenny Dykstra bad.
He got his ass handed to him in the real estate crash. He opened up a bunch of Whataburger franchises in Jacksonville.
Scott Halleran/Getty Images
Five of Brunell's nine known business ventures are now belly-up, and the ones that aren't are struggling in this economy, like every other firm. Well, every firm except the NFL.

Mark would have made a better investment decision if he had taken the $50 million from his career to the Mirage in Vegas and bet it all on "Red" at the roulette wheel. At least in that scenario he would have finished at even, not $25 million in the hole.

Mark Brunell is the latest of a long, sad line of former pro athletes—and former NFL stars in general—whose grace under fire on the field was trumped by their inability to function off it. The NFL athlete's lifespan is short, a fact that all 1,600-plus members of the league's payroll must be painfully aware of.

It's difficult to care about athletes away from the field. As these real human beings fall off of NFL rosters, our attention shifts to the young people that take their respective places. Out of sight, out of mind.
Players that toiled away as backups or on special teams arguably have it worse with lower pay and lower media attention from which to build their second career after football. And if a guy played offensive line? He may as well be a ghost because you never knew his name in the first place.

The NFL took steps in the new CBA to give something back to the players from generations past, an effort universally praised. But as the pile of ex-players continues to grow, one is left to wonder how sustainable such a program can be.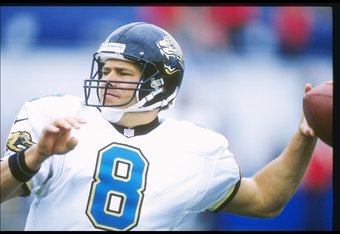 Yes, the NFL is enjoying an age of recession-proof untouchability, great television ratings and unprecedented prosperity, but like the flesh and blood that its 32 teams employ, that level of performance will eventually decline, and other plans will be required.

Any player expecting to find his way on an NFL team would do well to study Brunell's career, and its timeline that's both inspirational and cautionary. Brunell was one of the first-ever players to don a Jacksonville Jaguars uniform, suiting up as an original member of the team in 1995.

He threw for over 4,000 yards the following year, leading his toddling team to the AFC Championship and cementing his place in the game as one of the league's up-and-coming stars. In 2006, he completed 22 consecutive passes in a single game. He spent nine years in all as the man in Jacksonville, making three Pro Bowls.

But prior to 2004, Brunell was traded to Washington and struggled under increasing fan and media scrutiny. After recovering from shoulder surgery in 2007, he was benched.
He held the proverbial clipboard when Drew Brees won the Super Bowl before joining the Jets in the following season. He now serves as the backup to Mark Sanchez, one of the freshest faces of a new generation of NFL stars.

His contract expires at the end of this year. Next September, he'll turn 42.

Generally speaking here, we think of professional athletes as the quintessential self-made men, guys that have the world on a string with expensive cars, homes and women.
We categorize their labor struggles with team ownership as "millionaires vs. billionaires."
We complain about how much money they make, and then we plunk down a wad of cash for tickets or television packages to watch them play.
Millions of us do this every year. Every week, even.

How much do we care about the athletes we watch every weekend? That is, how much do we care about them as people?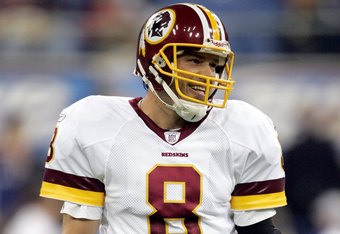 Andy Lyons/Getty Images
It wasn't long ago that Back In The Day, a player stayed with Your Team and he was Your Guy. But in this age of free agency and fantasy sports and national media coverage, who exactly are Our Guys?
Should we have any? Should we be so upset when a player leaves for another team to get a little extra money for his future? Even if that "little extra" is sometimes a couple million dollars?   

There are few things more sad on this mortal coil of ours than seeing someone fail to receive the benefits of his own work.
Mark Brunell may never dig himself out of his $25 million hole. Perhaps the most troubling aspect of this won't be whether he succeeds or fails, but that in a very short time we will have stopped paying attention.
This week, Brunell got to pretend to be a starting quarterback again. Next week, reality sets back in.