Seattle Seahawks: Giving Thanks to Progress in 2011
November 25, 2011
Otto Greule Jr/Getty Images
You never really know what you're going to get this season with the Seattle Seahawks. Every time we think we have this team figured out, they go out of their way to prove the exact opposite of what we believed.  One week they're winning games against teams considered amongst the NFL's elite, the next they're losing games they should have easily won against the league's bottom-feeders.  
Riding a two game winning streak, Danny O'Neil at the Seattle Times asks a fair question of the 'Hawks rebuilding process under Pete Carroll, now in year two...
Today the answer is no. At the same time though we have a lot to be thankful for at this point in a season; a season that looked like a lost cause only a few weeks ago. 
Do we start to believe again? Yes, but with a good deal of caution.
A convincing win against the Redskins on Sunday does not necessarily mean this team is bound for glory any time soon. Yet, any effort less than a close loss would once again burst a bubble that continues to slowly grow over the course of this season. 
Obviously with a 4-6 record the 'Hawks are far from perfect, and with the playoffs likely out of reach, it would seem that wins and losses the rest of the way matter more in the sense of how well the Hawks perform.
So before we get too far ahead of ourselves this Thanksgiving weekend, I wanted to share some thoughts on what I'm thankful for thus far this season...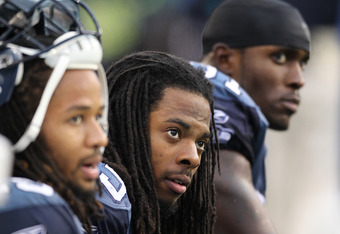 Otto Greule Jr/Getty Images
First and foremost, I'm thankful that we're even playing football right now. The Lockout was painful, but it could have been a lot worse. Just look at the NBA.
As for the 'Hawks, I'm thankful for a young defense that is starting to put some fear in their opponents, especially with a secondary that offers few apologies.
I'm thankful for plays like Richard Sherman's hit on Dez Bryant at the goal-line in Dallas, Brandon Browner's pick six to seal the win against the Giants, and Kam Chancellor's ability, week after week, to make some heavy hits. Meanwhile, Earl Thomas, the potential best player in the bunch, is quietly showing the signs of improvement that could some day earn him a yearly trip to the Pro Bowl. 
The secondary is the last line of defense and if they can find the talent needed to fill just a few gaps on the way up to the line of scrimmage, this unit might be very special for a long time. 
Meanwhile on offense, it's been a struggle at times, but we still have some talent/moments here to be thankful for. Honestly, who can forget Sidney Rice's rainbow to Mike Williams last Sunday against the Rams or Marshawn Lynch literally carrying the running game the past several weeks? 
How about Doug Baldwin making the team as an undrafted free agent from Stanford and then leading the team in receiving yards and receptions?
Even on special teams, you have to give credit to Jon Ryan for putting together a solid season thus far.
So before we complain that the team lacks a quarterback for the future, or that the offensive line is made of porcelain, understand that rebuilding is a process that often requires patience, but it's not to say we can't appreciate some of the bright moments along the way. 
Putting together a collection of players that believe in themselves will ultimately be of greater value than banking on one man to save the day. While I'm not 100 percent sold on what Pete Carroll has done in short time in Seattle, I do believe things are moving forward.  
Fingers crossed, and Happy Thanksgiving 'Hawks fans!