Why Other Fans Don't Understand Philadelphia's Persepective of Andy Reid
November 16, 2011
Chris Trotman/Getty Images
The only thing more frustrating than Andy Reid's time management skills are outsiders wondering why Eagles fans want Reid fired.
Let's start with fans who support the Lions, Jaguars, Browns and other teams who are traditionally found in the bottom half of the standings. They act incredulous when Eagles fans start a rally for Reid, the winningest coach in franchise history, to get the boot.
Eagles fans should be grateful for a coach who made the postseason nine of the last 12 years. They should praise Reid for guiding the Eagles to five NFC Championships, and they should worship the ground he walks on for reaching the Super Bowl.
It's an understandable thought process.
But look at their point of view for a moment. Those fans have experienced so much losing, torment and ineptitude that they would give their first-born child to experience a winning season.
Eagles fans can't have that same perspective because after more than a decade of winning, it is no longer satisfactory to qualify for the playoffs and make a run in the postseason. Their perspective and expectations have been altered with winning.
Don't believe me? Look at the Tampa Bay Buccaneers and Indianapolis Colts.
Tampa Bay missed the playoffs from 1983 through 1996. In 1997, Tony Dungy, coaching in his second season, finally brought one of the worst franchises to the playoffs. Over the next four years Dungy and the Bucs made it to the postseason three times.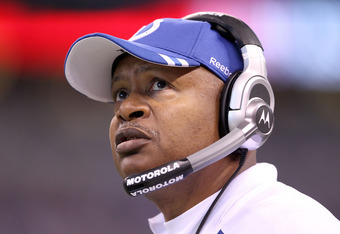 Andy Lyons/Getty Images
He was eventually let go because he didn't have any hardware to show for his efforts. Tampa Bay finally had a good team, but it was no longer okay to just be good enough. 
Imagine that. Tampa friggin' Bay, a franchise that went 0-14 in 1976 and only had three winning seasons prior to Dungy, couldn't appreciate what Dungy did in six seasons. They kicked him to the curb and brought in Jon Gruden.
It gets even more interesting once Gruden arrives.
Tampa won the Super Bowl in 2002, the same season Gruden took over. During a seven-year stint in Tampa, Gruden had four winning seasons and three losing seasons. He was finally fired after his team collapsed in 2008 and missed the playoffs with a 9-7 record.
Where was the appreciation?
Ironically out in Indianapolis, Dungy won a Super Bowl in 2006 for a franchise that only won five playoff games since it moved from Baltimore in 1984.
When Dungy stepped aside in 2009 Jim Caldwell took the reins. In his first year as head coach, he nearly went 16-0 and lost in the Super Bowl.
But now that things are taking a turn for the worse, Caldwell might be on his way out even though Peyton Manning hasn't played a down this season.
All of the patience went out the door the moment those fanbases got a taste of success. People who act surprised when Eagles fans act the same way are either naive or have a double standard.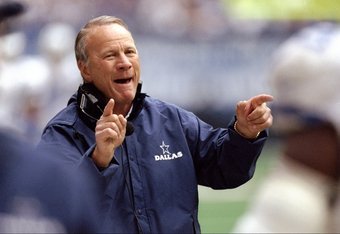 Stephen Dunn/Getty Images
Eagles fans don't want to get grouped into the lowly franchise category. They want to have multiple Super Bowls.
Can you blame them?
Within their own division, Dallas has five Super Bowls, and Washington and New York hold three each. It makes no sense to settle for a bunch of good seasons. Why not demand a couple great seasons?
Speaking of the Cowboys, Giants and Redskins, how would those fanbases and those of other traditional winners tolerate Reid?
They would do one of two things: run him out of town if he didn't win enough, or they would fall back on the luxury of having multiple titles and not worry about his empty trophy case.
Dallas ran Barry Switzer out of town two years after he won a Super Bowl. They thought he inherited enough good players to win more games and possibly another Super Bowl.
But when it comes to Reid, no one wants to acknowledge the talent he inherited at the beginning of his coaching career. Reid inherited Brian Dawkins, Tra Thomas, Duce Staley, Jeremiah Trotter, Troy Vincent and Bobby Taylor.
He's also had the luxury of working with Brian Westbrook, Jon Runyan, Donovan McNabb, Asante Samuel, Terrell Owens, DeSean Jackson, Trent Cole, Hugh Douglas, Jason Peters and several other Pro Bowlers.
But yeah, according to Cowboys fans, Reid gets a 13-year pass.
Up in New York Tom Coughlin has been playing musical chairs on his hot seat since the day he arrived. And if the Giants go on a slide at the end of this season, you better believe he'll be back on it despite winning a Super Bowl four years ago.
The only patient fanbase of a traditional winner that was Pittsburgh.
Bill Cowher might as well be the Pennsylvania West Andy Reid.
He lost four AFC Championship Games at home and one Super Bowl through 13 years as a head coach. He finally won a Super Bowl in his 14th season, and then called it a career after his15th season.
In 12 seasons, Reid has lost four consecutive NFC Championships, three of which came at home. He's lost a Super Bowl and he's refused to address key deficiencies at linebacker, receiver and safety during parts of his career or his entire career.
Would fans in Pittsburgh have stayed patient of their team's last championship came back in 1960?
Maybe fans should stop placing Reid on their team and wondering how they would handle his situation and look at him from an Eagles' fans perspective. If they did, they would see why fans want him gone.