NFC West Week 11: Who's Hot, Who's Not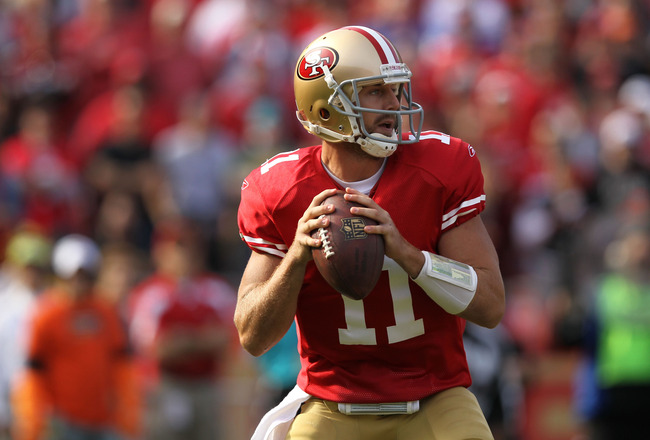 Ezra Shaw/Getty Images
Pop quiz time: Which of the NFL divisions won every game they played last week?
Yes, it was the NFC West. The answer should be surprising because the NFC West is generally regarded as the league's worst division.
And yet all four teams won, with three of them playing decent competition. The San Francisco 49ers won at home against the New York Giants, while the Arizona Cardinals upset the Philadelphia Eagles on the road. The St. Louis Rams beat the Cleveland Browns in Cleveland, and the Seattle Seahawks shocked the Baltimore Ravens in Seattle.
So the division is, at least for now, pretty hot. Who in the division stands out? And who continues to struggle?
Let's take a look.
Hot: Alex Smith & the 49ers Passing Game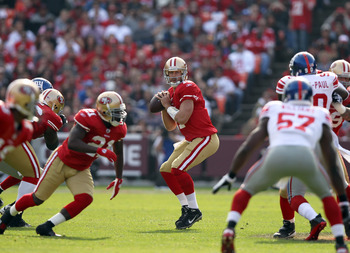 Ezra Shaw/Getty Images
San Francisco only had 78 rushing yards in Sunday's 27-20 victory over the New York Giants, but their passing game was solid enough to pull off the victory.
Alex Smith had 242 yards and a touchdown in the victory. His quarterback rating would have been far higher than 85.8 if it hadn't been for Ted Ginn Jr.'s sloppy handy-work that spun what should have been an excellent pass into the hands of the Giants Corey Webster.
It'd be easy to say that San Francisco had to rely on their passing game with Frank Gore unable to gain a single yard in the contest, but San Francisco's game plan had apparently been to pass from the start. 13 of their first 15 plays were pass plays.
While San Francisco is still a ways away from relying completely on their passing game, Smith and his receiving core have improved all season and should be commanding some respect.
Not: Rams Secondary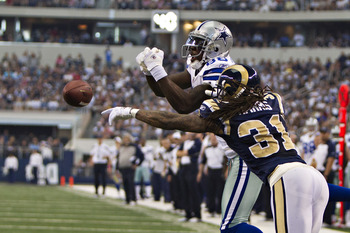 Wesley Hitt/Getty Images
Cornerback Al Harris is done for the season, according to the Rams offical site. Justin King suffered a head injury partway through the win over Cleveland in Week 10.
And St. Louis has already lost Ron Bartell, Jerome Murphy and Bradley Fletcher to the IR earlier this season.
It's not a safe time to be a member of the Rams secondary. At least they'll be facing Seattle this weekend, which won't be a huge challenge.

Hot: Marshawn Lynch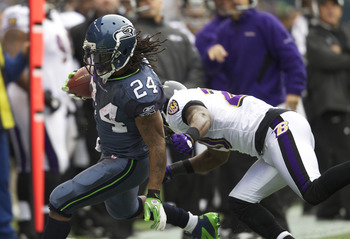 Stephen Brashear/Getty Images
Marshawn Lynch has been white hot over the past two weeks with 244 yards rushing yards and two rushing touchdowns. It's been a welcome relief for Seattle, who isn't getting any offense out of its passing game and desperately need Lynch's hot-streak to continue.
In their Week 9 loss to Dallas, Lynch had 135 yards on the ground and a touchdown. In Week 10, while facing one of the leagues toughest defenses, Lynch ran for 109 yards and a score, while adding five receptions for a team-high 58 yards.
Seahawks fans don't have much to cheer for nowadays, but Lynch deserves a huge heaping of praise.
Not: Frank Gore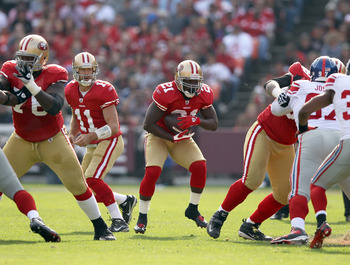 Ezra Shaw/Getty Images
Frank Gore had rushed for more than 100 yards in five straight games going into Week 10's matchup against the Giants, and facing a New York defense that wasn't exceptionally good against the run everyone figured Gore was in for another big game.
Instead, Gore didn't gain a single yard of offense and San Francisco passed for most of their offense. There are growing concerns about Gore's health, from both of his ankles to a knee that he had to have an MRI on this week.
Gore is expected to play in Sunday's matchup against Arizona, but don't be surprised to see San Francisco go a bit easy on his number of snaps.
Hot: Cardinals Secondary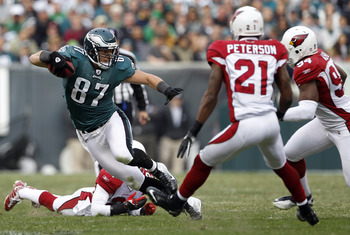 Rich Schultz/Getty Images
Philadelphia is ranked 10th in the league in passing yards, while Arizona gives up the 24th most passing yards a contest.
And yet when the two teams clashed in Philadelphia in Week 10, the Cardinals held Michael Vick to just 128 passing yards, allowed no touchdowns in the air and forced two interceptions. Vick finished the game with a passer rating of 32.5.
It's been two straight weeks of good play by the Cardinal's secondary, as they held the Rams and Sam Bradford to 255 yards in Week 9 and didn't allow a touchdown.
Arizona's secondary hasn't allowed a passing touchdown since Week 7 against the Steelers.
Not: Seahawks Penilties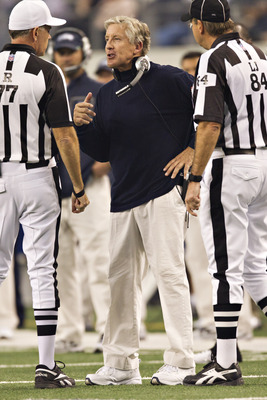 Wesley Hitt/Getty Images
Seattle has given up the 28th most penalty yards in the league so far this year, and their past two performances have been especially brutal.
They committed 10 penalties for 88 yards in their Week 9 loss to Dallas, and managed their victory against the Ravens despite 13 penalties that totaled up to 100 yards.
Pete Carroll doesn't have a ton of talent to work with this year, but he has to be able to teach his team more control than this.
Hot: Larry Fitzgerald
Rob Carr/Getty Images
Larry Fitzgerald hasn't had an easy season. Inefficient quarterback play has resulted in a somewhat disappointing statistical season for Fitzgerald, but he's caught fire since November rolled around.
In his last two games since John Skelton took the Cardinals starting quarterback position, Fitzgerald has 186 yards and three touchdowns in two Cardinals wins.
In Week 10 against the Eagles, facing a very good Philadelphia secondary, Fitzgerald had 146 yards and two scores.
With the Week 11 matchup in San Francisco looming, Arizona will aggressively attack the 49ers secondary, which isn't quite as strong as San Francisco's dynamic run defense. Fitzgerald could be in store for another big game.
Not: Tarvaris Jackson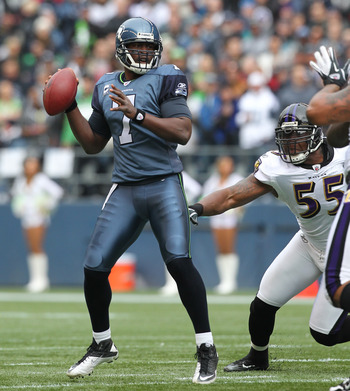 Otto Greule Jr/Getty Images
While Marshawn Lynch has been stellar in the past few games for Seattle, Tarvaris Jackson has been mediocre at best.
Jackson hasn't thrown a touchdown pass in three weeks, and has a combined four interceptions in those contests. He's completed better than 56 percent of his passes in those three games, but he hasn't been able to transition those yards into points and needs to stop giving his opposition the football.
Keep Reading