Is John Harbaugh's Job Safe as Head Coach of Baltimore Ravens?
November 15, 2011
Stephen Brashear/Getty Images
You know the Chinese proverb, fool me once, shame on you; fool me twice shame on you? Well, what the hell happens when you get fooled three times?
That's what the Baltimore Ravens did to their fans, football experts and even themselves in losing to the now 3-6 Seattle Seahawks, 22-17 on Sunday.
The loss marked the second time in a month that Baltimore has fallen hard to a team with a losing record after beating a good team the week before. This one stung a little more, as most losses do later in the season, but with a win versus the Seahawks, the Ravens could have entered next week's showdown with the Cincinnati Bengals alone in first place.
The Ravens failed to once again include their superstar running back in the offense, on the road and versus a bad team. The Ravens also continued to commit costly turnovers and made mental errors that are starting to become more of the rule rather than the exception.
Head coach John Harbaugh seems willing to gamble his future on the play-calling of Cam Cameron and the arm of quarterback Joe Flacco instead of the consistent legs of his Pro Bowl running back. Just like his predecessor, who lived and died with a certain quarterback, Harbaugh may be doing the same with his offensive coordinator.
Six games into the 2006 season, the Ravens offense was struggling badly. Former Giants head coach Jim Fassel was calling the plays as the offensive coordinator in Baltimore. However, the Ravens scored only 10 offensive touchdowns in their first six games and were held to 16 points or fewer three times.
Despite sitting atop the AFC North with a 4-2 record, head coach Brian Billick fired Fassel and assumed the role of offensive coordinator.
Mr. Quarterback guru himself came to realize the team's offensive philosophy needing changing and terminated his best friend. Ranked No.28, at the time of Fassel's firing, the offense went on to finish 17th in the NFL, and eighth in the AFC. Baltimore lost just once more the rest of the season and finished a franchise best 13-3.
You don't need to be a rocket scientist to know that a change in philosophy is needed in this situation. In two losses to teams that currently possess a combined record of 6-12, Pro Bowl running back Ray Rice has 13 carries for 55 yards. The Jaguars, Maurice Jones Drew and the Seahawks Marshawn Lynch combined for 62 carries and 214 yards,
This is unconscionable when you consider how quickly the Ravens abandon the run in both games. Jacksonville and Seattle flipped the script on Baltimore and stuck with the run versus a top ranked defense, while the Ravens seemed to be looking for an excuse to throw early and very often.
Being down by 12 points is no reason to ever abandon Ray Rice, and did you happen to catch Ricky Williams running over Seattle defenders? For whatever reason, Cameron simply quit running the ball. In fact, even Rice quit running the ball, and passed it to himself while the Ravens were on the goal line.
Rice managed to find Ed Dickson for a touchdown, and in the process became the franchise's second-ever non-quarterback to throw a touchdown pass. Wide receiver Mark Clayton hit Derrick Mason for a 32-yard score in Cincinnati during a game in November of 2008.
When the opposing team flips your script on you, not once, but twice in less than a month, there is a problem with recognition, and I'm not talking about blitz pick-ups. Instead of sticking with the run, Ravens QB Flacco threw 90 passes, completing 50 of them, and for only 392-yards combined in both games.
He never completed a pass longer than 20 yards in either game, and looked horribly out of sync with most of his wide receivers. The situation is even more puzzling when you consider that Harbaugh was specifically instructed by Ravens owner Steven Bisciotti to become more involved with the offense this season.
When asked during the Ravens season-ending press conference to give two specific reasons for the under-performing offense last season Harbaugh said, "We need to run the ball better. If we run the ball better and we're more physical, that opens a lot of possibilities from the passing game, play-calling, [and] gives guys a chance to make plays across the board. So, if I was going to say one thing, I'd say that would be the No. 1 thing we need to focus on going forward." 
The offense was the big issue heading into last offseason, and through nine games this season, the issues remain. In fact, one could argue they are worse when you consider another year of experience for Flacco, and Cameron working together.
Harbaugh was admittedly excited about getting more involved with the offense. Whether he actually has become more involved is another question, but I would love to hear the question asked by a reporter in the soft Baltimore media. Anyone seen Mike Preston?
When asked about his specific outline for the offseason, the fourth year coach said, "You take a look at everything, and really, you do that with every phase. You do it defensively. We'll do it special teams-wise. But, probably the first time this year, I'll have a chance to be involved with it on the offensive side from the get-go, and we're excited about that."
So ask yourselves Ravens fans, who's really to blame? The offense isn't the only issue that raises eyebrows on whether Harbaugh can lead this team to the Super Bowl. Let's face it, isn't that the only goal this season, and wouldn't anything less than an appearance in the big game be considered a disappointment?
If this is the year that everyone gives everything they have, than why is David Reed still a member of the Baltimore Ravens tonight? He narrowly avoided disaster in Pittsburgh last week when Ravens fullback Vonta Leech bailed him out, recovering a fumbled kickoff, which could have led to the Ravens being down by 10-points.
On Sunday, Reed fumbled a kickoff against Seattle that led to a first-quarter field goal and was flagged for unsportsmanlike conduct on a kickoff return after he purposely dropped the football on a Seahawk player.
The penalty moved Baltimore back to the 10-yard line, and following a Ravens punt, Seattle had good enough filed position to manage another field goal, taking a 16-7 lead.
As if directly costing his team three points—and possibly six—wasn't enough to warrant a seat on the bench, Reed was given another shot, and once again fumbled the ball back to Seattle.
Three plays and one yard later, Seattle led by 12 points.
Reed cost his team more points than he has catches in his brief career, which is exactly none, and if this were hockey, he would be a minus-3 during his career. He has six points with a returned second half opening kickoff versus the Texans last year for a touchdown, and then there was yesterday.
Harbaugh was classy in his response when asked about Reed in his post-game news conference, and in fact, seemed to give the second-year wide receiver a vote of confidence. 
Harbaugh said of Reed, and his miscues, "You have to protect the football, [Reed] knows that. He will stop that. David Reed is a tough guy. He is a competitive guy. He's done that before. I have a lot of confidence in David, I have a lot of respect for David and he is one of our guys."
Keep in mind, Reed's also been suspended for violating the league's drug policy. He's gotta go, and the fact that he's still in purple speaks directly to Harbaugh's leadership, and lack of discipline. What message does keeping Reed send to young players?
Fear of losing your job has always been a motivator in the NFL. I'm not asking for Harbs to publicly rip the guy, but he needs to go. What if Terrence Cody or Pernell McPhee start taking plays off? Would they respect, or even expect to be benched?
Reed should be gone. He would probably be gone if he were on his brother's team, and most definitely be gone if he were playing in New England, or someplace where a head coach knows that three—or in Reed's case, four—strikes only applies in baseball.
Furthermore, the fact that the Ravens special teams is starting to cost the team points, and yesterday, a game, does not bode well for Harbaugh. Especially when you consider he cut his teeth as a special teams coordinator in Philadelphia. This unit should be one of the best on the team, hell, one of the best in the league.
What Harbaugh has been able to accomplish in his first four years as a head coach in the NFL has been impressive. His Ravens are 38-19 over the past four seasons, and he's led them to three straight postseason appearances. Equally, or even more impressive is the fact that he's 4-3 in the playoffs, having played every post season game on the road.
The Ravens entered the season on and off many prognosticators playoff lists. With a patchwork offensive line and young secondary, many thought 9-7 and even 8-8 as a possibility. But, with an ageless defense, and a sometimes performing offense, Baltimore has managed to win six of nine games.
However, the Ravens are failing to take advantage of every opportunity afforded them. Not being prepared or overlooking two of the worst teams in the league this year will have repercussions if Baltimore fails to make the Super Bowl, maybe even the conference championship game.
In seasons' past, the Ravens suffered from bad luck and poor timing. Peyton Manning and Tom Brady played at levels never before seen by two quarterbacks at the same time. The Pittsburgh Steelers sixth Super Bowl trophy could easily have been the Ravens second. 
This year, the AFC is there for the taking, and simply put, the Ravens are blowing it badly. The fact that Harbaugh cannot get that message across is disturbing. The Manning-less Colts are 0-9, Tom Brady doesn't have a big time play maker on offense, or a defense that can stop anything but Mark Sanchez, and they have already swept the Steelers.  
Further proof that the stars are lining up in spite of their miscues and lapses, is the scheduling this year. The Ravens hosted the Jets and Texans and will also host the 7-1 San Francisco 49ers, which will be making their fifth trip back to the Eastern Time zone, and on a short week.
Pittsburgh lost in Houston earlier this season and will travel to San Francisco in a few weeks.
Today it was learned that Texans QB Matt Schaub is out for the season. While it may seem mean and un-sportsmanlike to consider another player's injury a good break, the Texans play a formula of football conducive to playoff success on the road, and are able to do so because their QB garners respect from every defense he faces.
Houston plays the style of football Baltimore is capable of playing, but chooses not to. The Texans own the No.1 ranked defense in the NFL, and No. 3 rushing attack, and they flat-out run over opposing defenses with Arian Foster, and Ben Tate. Both are ranked in the NFL's top 10 with 1426 combined rushing yards.
Surely the Ravens and Harbaugh have not forgotten that you must bring your defense and running game whenever you play on the road in NFL.
That is not a shot at the defense, which seems to be taking some heat for last Sunday's game. I say, really Ravens fans? The defense is far from the problem. Sunday's game was on the heels of a heavy weight fight with the Steelers, not to mention they had to travel 4,000 miles to play the game.
This on top of the fact that Ravens offense has had them backed up heavily, fighting for their lives in 10 of the last 14 quarters. Cut the defense some slack, Sunday's loss belongs to John Harbaugh and "his guy" David Reed. Sprinkle in 50 plus pass attempts and another poorly called game by Cameron, and I think that's quite enough for a loss out west.
The Texans can no longer be considered a serious Super Bowl contender with Matt Leinart playing quarterback. It's Like I said, the stars are lining up, and this is simply another break for the Ravens. Following last Sunday night's win in Pittsburgh, there was absolutely nothing standing in front of the Ravens and a first-round bye, not to mention home cooking throughout the month of January. However, you wake up this morning, and the Ravens are looking up at, guess who?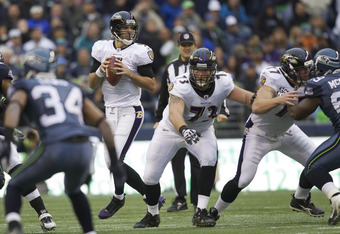 Stephen Brashear/Getty Images
I didn't expect that the Ravens would finish the season 14-2; I honestly thought 13-3, or even 12-4. While that is still a possibility, and probably a real likely hood, who expected one of the losses to come against the 28th-ranked defense of the Seattle Seahawks. 
The Ravens rushing attack has fallen long and hard over the past three seasons. In 2008 they were fourth, followed by fifth in '09, and in a sign of things to come, fell to 14th last season. Currently they are 22nd in the NFL and appear likely to fall even further.
What could be the final straw in all of this, is the fact that Ravens are dropping not because they can't run the ball, it's simply because they choose not to run the football. In 2008, Baltimore averaged 37 rushing attempts per game with a rookie QB. This year, they are on pace for 175 less rushing attempts than in 2008.
If Harbaugh is not involved in the offensive decisions, he needs to be if he wants to guarantee his return. Common sense needs to prevail during this current situation, if you and I know that during the Ravens three losses they averaged 13 rushing attempts, as opposed to 29 in their six wins, than you can bet that Ravens owner Bisciotti knows that stat as well.
Bisciotti is a very successful business man, and believe me, he also knows this has to be the year the Ravens return to the Super Bowl. Bisciotti was sitting right there with Harbaugh in February when he promised changes with offense, starting with his becoming more involved.
You might think I'm overreacting, and I'm sure your comments will reflect that, but stranger things have happened. If "Harbs" cannot get this lack of focus turned around, and the offensive game planning fixed, and the Ravens are not in the Super Bowl, then Harbaugh may be working in San Francisco as a special teams coordinator.
Good record or not, we've seen this in Baltimore before, with the Orioles. Although it was a different set of circumstances, anyone remember what happened to the 1997 AL Manager of the Year? Harbaugh needs to reevaluate the situation, and he doesn't have a lot of time to do it with two games in the next 11 days.
A lot is riding on the next two games, and beyond. The good news is, the tie-breakers they hold over the Steelers, Jets and Texans as a result of beating them will loom large down the stretch.
The bad news? Baltimore can ill-afford another game like Sunday, and with no answers on how to fix it, another loss could force the Ravens back on the road in January and a new head coach next September.