Norv Turner's Hot Seat Now Scorching After Loss to Raiders
November 14, 2011
Harry How/Getty Images
Norv Turner has come to the end of his rope, and nothing short of a miraculous run at the NFL playoffs to finish the 2011 regular season will save his job as the San Diego Chargers head coach.
If not, his failure to take advantage of what has widely been considered one of the league's most stacked rosters will, ultimately, become Turner's legacy. Unless he can somehow how manage to pull yet another late season run out against one of the league's toughest schedules down the stretch, don't expect him to get another shot at a head position in this lifetime.
In retrospect, it's difficult to understand just what Norv Turner has done to justify keeping his job as long as he has, especially given how much the Chargers have regressed under his leadership, or lack thereof.  As well, one doesn't have to delve too deeply in order to see just why the team has underachieved as much as it has since Norv Turner came to San Diego. 
One thing's for sure, though, Turner's had the horses. Since taking over as the Chargers GM in 2004, AJ Smith has turned San Diego into a veritable player mill, uncovering gem after hidden gem.
The long list of All-Pro players developed in San Diego since then is staggering. Sure, the fans may hate to see their favorite players lost to free agency, as has often been the case in recent years. The reality is, though, you can only fit so many Pro Bowl salaries under one cap. The problem is a direct result of the scouting department's success, and it's a good problem to have.
True, Smith hasn't hit on them all, but the truth is that his ability to hit on more than he misses has made Norv Turner the envy of every other head coach in the league not named Mike McCarthy, Sean Payton or Mike Tomlin. Each of these coaches have had comparable talent to work with, but, unlike Turner, they all have Super Bowl rings to show for it.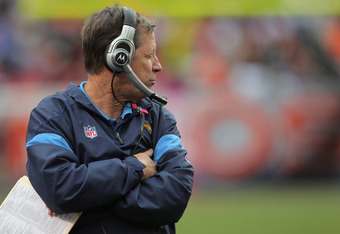 Doug Pensinger/Getty Images
One thing Turner's Chargers do exceptionally well is dig. And while digging a hole might be acceptable provided you can dig yourself out of it in time, the Chargers failed to do just that last year and are headed in the same direction now. In 2008, they benefited by Denver's colossal collapse and squeaked in to the playoffs at 8-8. 
Last season, they went 6-1 over the last seven games and missed the playoffs anyway. This year, they'll be hard pressed to repeat that performance with Buffalo, Jacksonville, Chicago, Detroit, Baltimore, Denver and the Raiders still to play.
But Turner's Chargers have a habit of getting caught with their pants down and coming up short in big games, often against inferior opponents, too. After getting knocked out of the playoffs by the upstart Jets at home in 2009, upsets by the Rams and the Bengals cost the Chargers everything in 2010.
Of course, the fact that Turner will sit on a one-point lead like he's up by four scores with two minutes to play has a lot to do with it. The Loss against the Chiefs and a narrow win against the Broncos earlier this year serve as a prime example of giving the opposing team every possible opportunity to beat you.
Turner sees it as waiting for the other team lose, which, ironically, is how the rest of the league now views the Chargers. Nor does it help that Turner waits until he's down by three scores to turn up the heat like he did against Green Bay and New England earlier this year. It's bad enough to employ such a conservative game plan with so much firepower under the hood, but to wait until the game is out of reach to open it up is just plain criminal.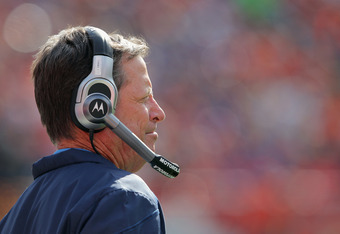 Doug Pensinger/Getty Images
Has there ever been anyone worse than Turner at clock management or, for that matter, running the two-minute drill? Given how much they've struggled in this department recently, you'd think Turner would spend a little more time on that during practice. Then again, maybe they have been.
Some argued that the Chargers 2010 special teams fiasco was far more than enough to earn Turner his walking papers. There's no question that the special teams melt-downs that occurred regularly through the first seven games of last season cost the Chargers the division and the playoffs. Perhaps most disturbing is that it took Turner until the middle of the season to rectify the situation.
Well-respected veteran assistant Steve Crosby, who'd never before experienced anything like it, wound up taking the fall. At this point, though, most would argue that the wrong guy got the ax.
Turner doesn't seem to learn from his mistakes, either. Despite having had the benefit of seeing first hand how much more effective the aggressive, "play to win" style of coaches like Mike McCarthy,  Sean Payton and  Rex Ryan is, Turner has somehow failed to recognize it.
While Mike Tomlin sees 4th and a foot as an opportunity to sustain a drive, Turner sees it as a chance to fail at converting. While Belichick sees 30 seconds left in the second half as a chance to get into field goal range, Turner sees it as an opportunity to turn the ball over. And while McCarthy sees first down, up by 14, late in the fourth as a chance to put the Bolts away with a bomb, Turner is content to run two plays off-guard, throw one to the check-down and punt the ball safely away.
In retrospect, the only clearly identifiable strength one can point to might be Turner's talent for designing a vertical passing game, something pretty special when he actually uses it. We already knew that about Norv, though, and looking back on it now, it appears that the critics who called Turner a great coordinator but not head-coach material were on the money after all.