UFC on Fox: 5 Questions Cain Velasquez Must Answer Before His Next Fight
November 13, 2011
Victor Decolongon/Getty Images
Cain Velasquez lost his UFC heavyweight belt tonight to Junior dos Santos at UFC on Fox 1. It was a tough fight for Velasquez who tried to stand and trade with the striking phenom, JDS.
Unfortunately, now we have to have this conversation about Cain after a big loss in what was the biggest stage of his career.
Five questions for Cain to ask himself after tonight's big loss.
1. Is he able to put his loss behind him?
To be effective, Cain must put his loss to JDS behind him. It was a tough fight, but sometimes athletes let a loss linger and it affects their play. This isn't ALWAYS the case, but sometimes it is and it should be very important to pick up and move on and not let the loss linger.
2. Is his gameplan better?
The big thing about Cain's loss tonight was his gameplan for JDS. Many people have already begun to criticize him for his neglect of shooting for the takedown early on. Granted, this could have been a huge game changer and could have possibly given Cain the win, but hindsight is 20/20.
Next time around Cain should make sure his gameplan is flawless and will be able to give him his best chance at winning.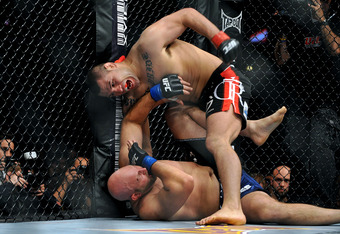 Jon Kopaloff/Getty Images
3. Will he be able to take a strong punch?
For the first time in his career, Cain lost. It was a knockout to perhaps the strongest puncher in the heavyweight division. But Cain doesn't have many other guys out there in the heavyweight division who he can face that don't punch hard.
Brendan Schaub, Cheick Kongo, Brock Lesnar, Alistair Overeem—all these guys can be Cain's possible next fight, and all these guys have either good striking or punch ridiculously hard.
Now, if one of these guys can throw a strong enough punch, can Cain take it?
I'm not so worried about this one, though, because, again, it was a strong puncher like JDS that knocked him out.
4. Is there the possibility of ring rust?
Cain came out and tried to defend his belt for the first time, and it happened to be his first fight in a year after major surgery.
If Cain takes too long off this time around, it could be another setback waiting to happen for the former heavyweight champion.
5. Can this fight get him back into title contention?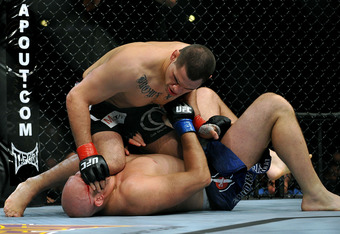 Jon Kopaloff/Getty Images
Cain is 29 years old, so it isn't like he is super old, but he isn't super young either.
He is the former champion and much like his teammate at AKA, Jon Fitch, Cain should only be taking big name opponents for his fights, especially in a division lacking big contenders like the heavyweight division.
Outside of the top five, everybody is really a big step down in competition from his last two fights.
Be sure to stay tuned to Bleacher Report for all things UFC on FOX. B/R is your home for complete coverage of the November 12 fight card, from pre-fight predictions, to in-fight coverage, results and post-fight analysis, which you can find out at our event hub page.